printer friendly version
Periodic valve testing eliminates downtime
February 2017
Valves, Actuators & Pump Control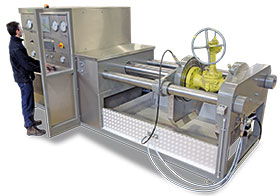 Although plant designers tend to treat them as 'necessary evils', it is obvious that control valves play a key role in process quality and reliability. Extreme care must be taken to avoid costly premature failures, possibly resulting in substantial loss and even plant shut-down. Periodical service and testing allows plants to operate for longer intervals.
AT Technical Services' control valve test units are designed and equipped for:
• High pressure testing.
• Seat leakage classification according to the ANSI/FCI 70-2.
• 'Stroking' of the valve and its controls.
• Total performance testing.
The company's horizontal control valve test unit is complete with a strong clamping system, for quick and easy positioning and clamping of all common Globe, Camflex and Waver type valves in the horizontal position (valve stem vertical). The U-shaped HC10 clamp hold generates a clamping force of 10 tons and the clamp ensures excellent accessibility for assembly and 'stroking'. The stronger HC combines the above with high pressure liquid and gas testing. The standard HC is complete with sealing adapters for DIN/ANSI RF flanges, but it also accommodates the use of 'inner seal' adapters for control valves with socket weld ends.
The unit is equipped with a variety of test systems for common control valve test procedure. Optional features include:
• Windows-operated computer registrations system.
• Vacuum quick-filling system, electronically controlled.
• Hand-controlled test and operation systems for actuators.
• Automatic dynamic scans.
• Digital seat leakage measuring systems for gas and liquid.
• Torque test and measuring system 0-500 000 Nm.
• Valve support trolley, mechanically or hydraulically operated.
For more information contact Chantell Swanepoel, AT Technical Services, 086 100 2887, admin@atts.co.za, www.atts.co.za
Further reading:
The ultimate control valve
Valve & Automation Valves, Actuators & Pump Control Editor's Choice
Zwick has designed its TRI-SHARK range of Triple Eccentric Valves to be used in control or throttling applications as well as for pure on/off functionality.
Read more...
---
Smart pumping – a new era in water management and supply
Schneider Electric South Africa Valves, Actuators & Pump Control
Smart pumping can address the high cost and energy usage challenges faced by private and municipality-managed facilities.
Read more...
---
Schubert & Salzer and Macsteel
Macsteel Service Centres Valves, Actuators & Pump Control
The demand on valves, particularly in tyre production plants, is extreme with tyre curing presses working constantly at high temperatures and pressures.
Read more...
---
Chinese LNG tanker fitted with ARCA anti-surge valves
Valve & Automation Valves, Actuators & Pump Control
ARCA anti-surge valves avoid surging by accurately adjusting the gas circulation or blow-off flow, effectively protecting the safety of the compressor unit.
Read more...
---
Electrified subsea actuator for offshore production
Valves, Actuators & Pump Control
Bosch Rexroth has engineered the SVA R2 Subsea Valve Actuator as a disruptive innovation for electrically actuating valves in the subsea process industry. It can replace conventional hydraulic cylinders 
...
Read more...
---
Eliminate bearing failures in TOVs
Valve & Automation Valves, Actuators & Pump Control
Bearing failures are among the highest root causes of failure in triple offset valves (TOV) for tight shutoff applications. This issue is directly attributed to the need to have metal bearings with very 
...
Read more...
---
Locally manufactured knife gate valves
Bearing Man Group t/a BMG Valves, Actuators & Pump Control
BMG and Abrasive Flow Solutions (AFS) play a major role in the local valves sector, through the design, distribution, supply and support of a broad range of slurry related valves.
Read more...
---
Protect your pump and keep it longer
Elemental Analytics Valves, Actuators & Pump Control
Unexpectedly losing a pump is often an expensive or even a dangerous problem in a chemical plant.
Read more...
---
Locally valves manufactured for tailings pipeline
Valves, Actuators & Pump Control
The AFS manufacturing plant in Benoni is equipped with advanced equipment and is supported by specialists who offer dependable technical support to ensure the optimum safety, efficiency and extended service life of every system.
Read more...
---
New flange monoblock with shut-off valve
WIKA Instruments Valves, Actuators & Pump Control
WIKA's new monoblock with flange design integrates a shut-off valve to separate the process from the instrument side.
Read more...
---