printer friendly version
Accurate water activity measurement in food
February 2017
Sensors & Transducers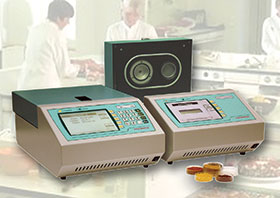 Free water in food products can be jointly responsible for the growth of undesirable organisms, such as bacteria or fungi, as well as chemical or biochemical reactions that react to form polymeric products, usually brown in colour and known as Maillard reactions. For this reason, it makes sense to monitor and control the water activity (aw) levels, which is defined as the current volume and availability of free water. The rate and extent of browning reactions generally increases with increasing aw until a maximum level is reached (usually 0,6-0,8 aw), followed by a decrease in browning rate with further increases above 0,85 aw.
After years of intensive research, Swiss company Novasina, specialists in water activity measurement, released a revolutionary modular, multi-channel water activity device that fulfils requirements of several organisations such as FDA and international regulations such as HACCP concerning traceability and safety of high level food.
With the LabMaster aw system, available locally through Labotec, measurements can be made with unprecedented accuracy. All the newest technologies of sensors, design, electronics and software can be integrated. Intelligent high-precision measuring cells, modular expandability, a temperature controlled chamber, easy operation and a very large working and measurement range are features to make usage easy. Many of the available functions are also innovations in this field and therefore have set new standards.
The concept of water activity is not considered a routine measurement in most food laboratories, however, safe free water levels in products does merit closer attention especially when the control of water activity levels becomes an important way to maintain the chemical stability of foods.
For more information contact Deborah Shaw, Labotec, +27 (0)11 315 5434, sales@labotec.co.za, www.labotec.co.za
Credit(s)
Further reading:
Engineers help British wine growers achieve success
Instrotech Sensors & Transducers
English growers realise that like all developing industries, as production grows so the need for efficiency increases.
Read more...
---
Steierl-Pharma uses smart cameras to modernise its labelling processes
Omron Electronics Sensors & Transducers
Steierl-Pharma of Herrsching, Germany, relies on the support of Omron automation experts for state-of-the-art labelling technology. By using a new labelling system with smart camera technology, the company 
...
Read more...
---
Brewery benefits from IO-Link devices
ifm - South Africa Sensors & Transducers
Marston's recently undertook a review of the fine ale room tank level indication system, to address certain issues.
Read more...
---
Inductive sensors with IO-Link
Turck Banner Sensors & Transducers
Turck's Banner's new non-flush sensors set new standards with maximum accuracy and smart additional information for condition monitoring.
Read more...
---
New compact capacitive sensor
Instrotech Sensors & Transducers
Instrotech has introduced a new series of capacitive sensors with more compact dimensions than older sensors on the market.
Read more...
---
Hot and cold rolling mills
Morton Controls Sensors & Transducers
One of the major consumables in steel production is the oil in water emulsion used to spray on the mill rollers to cool, lubricate and improve the finish of the final product, as well as assist with corrosion prevention and control friction.
Read more...
---
Controlling moisture content is crucial in food processing
SECO Process Instrumentation Sensors & Transducers
When it comes to food processing, excess moisture can ruin products and create unnecessary waste, economic losses and decreased productivity.
Read more...
---
High-performance photoelectric sensors
ASSTech Process Electronics + Instrumentation Sensors & Transducers
Wenglor's Type 2K photoelectric sensors within the PNG/smart product range have robust stainless steel 316L housings with IP69K protection.
Read more...
---
Omron launches new laser sensor
Omron Electronics Sensors & Transducers
New sensing technology detects difficult targets and reduces the need for complex installation design.
Read more...
---
Encoders with SAE J1939 interface
Turck Banner Sensors & Transducers
Turck Banner has extended its encoder portfolio with new encoders featuring the SAE J1939 interface, which is used particularly in mobile equipment.
Read more...
---