printer friendly version
Corrosion effects on valves resolved
January 2017
Maintenance, Test & Measurement, Calibration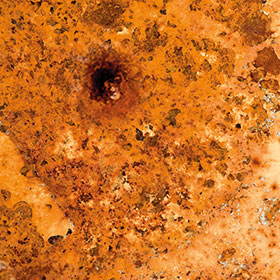 Uniform attack corrosion, also known as general attack corrosion, is the most common type of corrosion and is caused by a chemical or electrochemical reaction that results in the deterioration of the entire exposed surface of a metal. Ultimately, the metal deteriorates to the point of failure. This kind of corrosion accounts for the greatest amount of metal destruction, but is considered a safe form of corrosion because it is predictable, manageable and often preventable.
Unlike uniform attack corrosion, localised corrosion targets one specific area of the metal structure, ending up as pitting, crevice corrosion or stress corrosion cracking. This form is more dangerous and destructive due to its latent incubation and quick propagation. Pitting is encountered most frequently in metallic materials of technological significance, such as carbon steel, low alloy and stainless steels, nickel base alloys, aluminum, copper, and many other metals and alloys.
Pitting and wormholes
Pitting results when a small hole, or cavity, forms in the metal, usually as a result of de-passivation of a small area. This area becomes anodic, while part of the remaining metal becomes cathodic, producing a localised galvanic reaction. The deterioration of this small area penetrates the metal and can lead to failure. Corrosion pits will continue to grow, since the interior of a pit is naturally deprived of oxygen and locally the pH decreases to very low values and the corrosion rate increases due to an autocatalytic process.
A special form of pitting corrosion is wormhole corrosion, which does not spread laterally across an exposed surface, but penetrates at 10 to 100 times the rate of general corrosion, usually at an angle of 90° to the surface.
Wormhole corrosion of discs made of Super Duplex can take place, mostly due to poor Super Duplex casting methodology, impurities on the metal surface (eg, iron particles released when flame-cutting or welding in the proximity), but often due to insufficient passivation. It is essential that valve discs and components made out of Super Duplex are acid-pickled to remove impurities that may lead to such corrosion in service.
It is important to have exact knowledge of the working conditions involved, in order to design and recommend the most suitable valve technology.
In addition to its standard range of valves in metal or plastic execution, GEMÜ also offers a special product range for controlling and shutting off aggressive, corrosive or abrasive media.
Lined GEMÜ diaphragm valves
Lined diaphragm valves from GEMÜ are versatile as they can withstand both corrosive media and high temperatures. They are used, for example, in water treatment, the chemical industry, the paper industry and in mining and wherever demanding operating conditions can occur.
In many cases, a valve with a full metal body cannot be used, since the corrosive medium attacks and can even destroy the material. On the other hand, a purely plastic body reaches its limits e.g. at higher temperatures. GEMÜ has the right solution with its lined metal valve bodies, which meet even the strictest requirements in conjunction with the appropriate diaphragm material and thereby ensure a high degree of operational reliability. In these cases, metal bodies, e.g. made of ductile iron or investment cast stainless steel, are lined with materials such as PFA or PP.
Typical application examples include shutting off media such as sulphuric or hydrochloric acid, chlorine or sodium hydroxide.
A metal valve body with hard rubber lining can be used when processing abrasive media such as slurries from the mining industry or limestone suspensions for flue gas desulphurisation processes. In this case, the lining protects the entire medium wetted part.
Butterfly valve for the control of highly corrosive media
The GEMÜ 490 butterfly valve is fitted with a TFM liner and PFA encapsulated stainless steel disc as standard. TFM is a further developed version of classic PTFE, whereby the outstanding properties of PTFE have been improved even further. TFM thus has an optimised surface quality, reduced gas permeability and lower cold flow properties.
The design of the butterfly valve, especially the liner, the shaft seal and backing has been optimised to reduce actuation torques, while providing increased tightness at the same time. The technical properties of the sealing concept increase the service life and reduce the probability of failure. Thanks to this feature, the 490 butterfly valve is also suitable for use in temperatures up to 180°C as it is usual to be found in roasting and smelting processes.
The GEMÜ 490 butterfly valve is used in all applications where corrosive liquids and gases are to be shut off or controlled. In addition to the chemical industry, such applications can also be found in the treatment of corrosive media in the mining industry. Thanks to its construction, it can also be used in explosion endangered areas (ATEX).
Depending on the application details or the given operating conditions, GEMÜ´s team of specialists can assist in finding the most suitable technology to ensure benefits, like safety for operators and environment with the best cost-performance ratio.
For more information contact Claudio Darpin, GEMÜ Valves Africa, +27 (0)11 462 7795, claudio.darpin@gemue.co.za, www.gemu-group.com
Credit(s)
Further reading:
Infrared inspection windows on ships
June 2019, R&C Instrumentation , Maintenance, Test & Measurement, Calibration
Infrared thermography is a widely-accepted preventive maintenance technology, both for land-based and maritime applications. Electromechanical assets like motors, especially on ships where both vibration 
...
Read more...
---
Vibration tester for rotating ­machinery
June 2019, Comtest , Maintenance, Test & Measurement, Calibration
Vibration in rotating machinery is the oscillation of machine components such as drive motors, driven devices (pumps, compressors, etc), and the bearings, shafts, gears, belts and other elements that 
...
Read more...
---
Effective day-to-day monitoring of essential assets
June 2019, Emerson Automation Solutions , Maintenance, Test & Measurement, Calibration
Efficient operation of essential assets is key in achieving productivity and operational targets. Facilities, manufacturers, operators, and producers can move forward in planning for their output by having 
...
Read more...
---
The Heartbeat of plant processes
May 2019, Endress+Hauser , Maintenance, Test & Measurement, Calibration
Self-diagnostics and predictive maintenance.
Read more...
---
IIoT and electronics ­development solution
Africa Automation Fair 2019 Preview, RS Components SA , Maintenance, Test & Measurement, Calibration
XinaBox is a rapid IIoT and electronics development solution that does not require soldering or wiring, only basic coding. These plug-and-play modules are reconfigurable chips that can be used in both 
...
Read more...
---
Multifunction motor-drive analysers
May 2019, RS Components SA , Maintenance, Test & Measurement, Calibration
RS Components has announced the availability of two motor-drive analysers from test and measurement maker Fluke, which help to locate and troubleshoot typical problems on inverter type motor-drive systems. The 
...
Read more...
---
Powerful electronic deadweight testers
May 2019, Comtest , Maintenance, Test & Measurement, Calibration
Comtest now offers the latest Fluke E-DWT-H electronic deadweight tester, an electronic calibrator designed to deliver traditional hydraulic deadweight tester performance with digital measurement features 
...
Read more...
---
Solutions for test, measurement and broadcast
Africa Automation Fair 2019 Preview, Concilium Technologies , Maintenance, Test & Measurement, Calibration
Concilium's focus is ontest and measurement, enterprise network performance and testing, and professional broadcast. The company is a trusted provider of equipment, applications, services and solutions 
...
Read more...
---
Implementing an infrared thermography maintenance programme
Technews Industry Guide: Maintenance, Reliability & Asset Optimisation 2019, Comtest , Maintenance, Test & Measurement, Calibration
This article discusses the benefits and outlines the steps that will help to grow thermographic imaging into a key component of any modern maintenance strategy.
Read more...
---
Improving power plant performance with a modern calibration process
Technews Industry Guide: Maintenance, Reliability & Asset Optimisation 2019, QTEK Instrumentation & Calibration Solutions , Maintenance, Test & Measurement, Calibration
Calibration is an essential activity in power plants and there are various reasons to establish a proper calibration process.
Read more...
---