printer friendly version
LVIT technology offers flexibility in factory automation
January 2017
Sensors & Transducers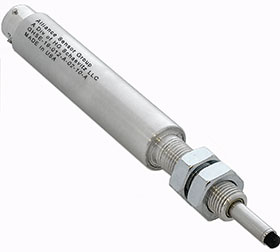 LVITs (linear variable inductive transducers) are relatively low-cost, contactless position sensing devices, which utilise eddy currents induced in the surface of a conductive movable element that is mechanically coupled to the object whose position is being measured. The common form of an LVIT uses a small diameter inductive probe surrounded by a conductive tube called a 'spoiler'. Modern electronics utilising microprocessors make possible outstanding performance, achieving linearity errors of less than 0,15% of FSO and temperature coefficients of 50 ppm/ºC, along with either analog or digital outputs.
They are used in many factory automation applications, including packaging and material handling equipment, die positioning in plastic moulding machines, roller positioning and web tension controls in paper mills or converting facilities, and robotic spray painting systems. Being contactless, the basic measurement mechanism of an LVIT does not wear out over time due to rapid cycling. LVITs also offer a lower installed cost than that of most other contactless technologies.
Better stroke to length ratios
LVITs can also be spring loaded for use versus other spring-loaded technology solutions such as an LVDT gauge head. In fact, LVITs can be used in place of traditional gauge heads primarily because, electrically, an LVIT offers the same resolution and repeatability and, mechanically, the same outer diameter and an external mounting thread, but with about half of the length of the gauge head, making the stroke to length ratio of an LVIT substantially better. LVIT-based gauging applications in factory automation typically mirror those for traditional gauge heads.
When compared to LVDT pencil gauging probes, a spring-loaded LVIT can satisfy many of the same applications. Pencil probes are typically selected for one of two reasons: resolution and repeatability; or size. Pencil probes are smaller than LVITs, however, a pencil probe requires a separate LVDT signal conditioner, making the cost per channel typically double the cost of an LVIT. If an application does not require the specific features of a pencil probe, a spring-loaded LVIT is a lower cost alternative.
Some factory automation applications traditionally solved by proximity sensors, can be better satisfied with LVIT technology with a proportional analog output, giving greater control flexibility than merely an NPN or PNP TTL switching signal. With an LVIT's short body length, the sensor can fit in places or mountings where previously a proximity probe was used.
All LVIT products offered by Alliance Sensors Group also feature ASG's proprietary SenSet field programmable scaling, which allows a user to adjust for any mechanical variations after installation simply by pushing a button or grounding a single connection.
For more information contact John Matlack, Alliance Sensors Group, +1 856 727 0252, jrm@alliancesensors.com, www.alliancesensors.com
Further reading:
Multi-colour touch sensors with ­IO-Link
June 2019, ifm - South Africa , Sensors & Transducers
The new multi-colour touch sensors from ifm bring flexible adaptation to any application. Where many different sensors were required before, one individually adjustable sensor is sufficient today. The 
...
Read more...
---
Static and rotational torque sensors
June 2019, ASSTech Process Electronics + Instrumentation , Sensors & Transducers
With the new compact 8661 series of torque sensors, Burster has extended its portfolio to include static and rotating torques over the range from 0,05 to 200 Nm. In addition to the highly accurate measurements, 
...
Read more...
---
Handheld control valve tester
June 2019, Comtest , Sensors & Transducers
In the past, control valve testing meant using complicated testers that required extensive training, the removal of the valve, and often one-to-two hours of test time on the bench. Comtest is therefore 
...
Read more...
---
Magnetic sensors for C-groove cylinders from SMC
June 2019, Turck Banner , Sensors & Transducers
Turck's portfolio of magnetic field sensors is being expanded: The BIM-UNC product series was specially optimised for perfect mounting in the C-groove pneumatic cylinder of SMC. The sensors can be inserted 
...
Read more...
---
Photoelectric sensor for demanding applications
June 2019, Rockwell Automation , Sensors & Transducers
The new Allen-Bradley 42AF RightSight M30 photoelectric sensor from Rockwell Automation is the latest addition to the company's smart sensing portfolio. Built with improved environmental resistance and 
...
Read more...
---
Vision sensors
Africa Automation Fair 2019 Preview , Sensors & Transducers
The VG series vision sensors utilise images captured by integrated industrial camera lenses to determine a target object's presence, colour, size, shape, orientation, patterns and more. On show at Stand 
...
Read more...
---
Radiometric density system
Africa Automation Fair 2019 Preview, Mecosa , Sensors & Transducers
On show at Stand D08 is the new DuoSeries LB 475 radiometric density system from Berthold, which is designed for the cementing and hydraulic fracturing industries. The density transmitter is a state-of-the-art 
...
Read more...
---
IO-Link infrastructure components
Africa Automation Fair 2019 Preview, Pepperl+Fuchs , Sensors & Transducers
Pepperl+Fuchs has on show a range of IO-Link infrastructure components. As a globally established communication standard that is system- and fieldbus-independent, IO-Link offers many advantages. The universal 
...
Read more...
---
High performance sensors
Africa Automation Fair 2019 Preview , Sensors & Transducers
The LE46C sensors from Leuze electronic are reliable and cost-effective, with high performance reserves and large ranges. On exhibit at Stand J13, these sensors are ideal for use in conveyor and storage 
...
Read more...
---
Leak detection in coal-fired power stations
Africa Automation Fair 2019 Preview, Instrotech , Sensors & Transducers
Instrotech's advanced acoustic leak detection system, Inspecta FFT, can detect boiler tube leaks in coal-fired utilities and in oxygen plants and gasifiers. The technology and equipment is in use in power 
...
Read more...
---