printer friendly version
Yokogawa releases enhanced version of ProSafe-RS
January 2017
IS & Ex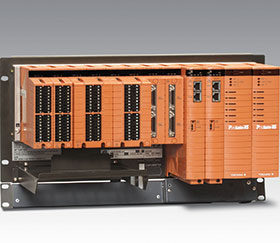 Yokogawa has announced the release of ProSafe-RS R4.02.00. With this latest release of the ProSafe-RS safety instrumented system, a number of functional safety management (FSM) related functions have been added to the Automation Design Suite (AD Suite) engineering environment for ProSafe-RS that will support customers by ensuring safety throughout the plant lifecycle.
In energy and basic materials industries such as oil, gas, petrochemicals and chemicals, various safety measures must be taken to prevent incidents and to protect the environment. One such measure is the introduction of safety instrumented systems, which can safely initiate an emergency plant shutdown if a critical failure is detected.
The initiating causes of such incidents have been investigated by regulatory bodies, which have identified poor clarity in requirements definition and communication as contributing factors. Further to this, increased attention has been paid to the role that FSM plays throughout the plant operational lifecycle in keeping the risks of unsafe practices or failures within an acceptable range. Interest among customers has thus been rising to ensure the safety of their plants by obtaining compliance with the IEC 61508 and IEC 61511 international standards on functional safety. However, FSM is a complex subject requiring a diversity of expertise to carry out tasks such as deciding policies, creating management systems, drawing up plans, managing their execution, and training personnel. To help customers accurately define, test, and understand their systems and to simplify the task of ensuring that a system remains in compliance with the IEC 61508 and IEC 61511 functional safety standards during the engineering phase and while in operation, Yokogawa has added new functions to AD Suite.
Enhancements
Enhanced support for FSM planning and implementation
Yokogawa has added an FSM tool to AD Suite that facilitates the creation of a management framework, the drawing up of working plans, and the management of implementation. With this tool, users of AD Suite can easily draw up organisation charts, workflows, and check sheets. This reduces workload and helps to ensure that FSM is carried out correctly, thus reducing the likelihood that non-compliant activities will pose a risk to plant and personnel.
Enhanced support for hand-over of FSM information
To ensure the proper execution of FSM over the entire plant lifecycle, a system is needed that can help those in charge of operations and maintenance ensure that information is handed over at shift changes. All software created with AD Suite is managed in a database. With this new function, AD Suite is now also able to collectively manage all engineering information such as FSM-related organisation charts and workflows, as well as test scripts and results. This function simplifies master management and helps to prevent problems caused when different groups of personnel are not referring to the same version of information. All changes within the software environment require a configuration change notification and are logged and readily visible to all users. A fully up-to-date version of any document is always available. This helps to ensure that shift changes go smoothly.
Enhanced support for a better understanding of safety instrumented systems engineering and operation
AD Suite now supports the use of high-level engineering and definition languages such as cause and effect matrix and state/transition diagrams for the input and output of specifications that are based on customer requirements and converted into executable code for the configuration of ProSafe-RS 4.02 control logic. By using the cause and effect matrix and the state/transition diagram, users can simulate how the safety instrumented system will operate in an emergency. With this function, our customers can identify and soon correct problems in the safety requirement specification that are caused by factors such as a failure to consider certain user requirements. To help meet the IEC 61151 requirement for operators to have an understanding of plant safety instrumented functions, this function can also be used to provide training in safety instrumentation.
For more information contact Christie Cronje, Yokogawa South Africa, +27 (0)11 831 6300, christie.cronje@za.yokogawa.com, www.yokogawa.com/za
Credit(s)
Further reading:
Optimised fuel blending
May 2019, Yokogawa South Africa , Analytical Instrumentation & Environmental Monitoring
This risk has led the refiners to give more than the norms specify, resulting in a giveaway on quality and profit. The use of near infrared (NIR) technology has helped refiners get real-time data to ensure 
...
Read more...
---
Mobile application for barcode scanning
Africa Automation Fair 2019 Preview, Extech Safety Systems , IS & Ex
Extech is exhibiting the mobXscan app for use in hazardous areas, which adds the capability of barcode scanning to any Windows 10 tablet or Android device. It can be seen at Stand E03. It uses the built-in 
...
Read more...
---
Safety on the pistes
May 2019, Siemens Digital Industries , IS & Ex
Inauen Schätti, a construction company whose areas of specialism include ropeways, is working to improve piste safety for skiers. As part of a pilot test project on the Parpaner Rothorn mountain, the 
...
Read more...
---
Safety technology to improve ­flexibility
May 2019, AC/DC Dynamics , IS & Ex
The new Datalogic concept for robot evolution expects to overtake the competition. Following demanding safety regulations, outdated isolated robotic cells are now replaced with robot-like parts of industrial 
...
Read more...
---
Drone-based gas leak detection
May 2019, ABB South Africa , IS & Ex
Leaks in gas distribution and transmission pipelines present serious safety risks and result in lost revenue and profits to producers. The ABB Ability mobile gas leak detection system is a digital solution, 
...
Read more...
---
Conveyor system fire prevention
May 2019, R&C Instrumentation , IS & Ex
The transport of materials is a key activity for most industries. For many of these tasks, conveyor belt systems offer a cost effective and efficient solution. However, with such a system comes a high 
...
Read more...
---
LSIS achieves Ex rating for HMI range
Africa Automation Fair 2019 Preview, Ana-Digi Systems , IS & Ex
LSIS is rolling out Ex certification for its entire range of HMIs. These products now carry a rating which allows for a maximum pollution degree 2 level. Mounting the HMIs into an IP54 enclosure ensures 
...
Read more...
---
Equipment for hazardous areas
Africa Automation Fair 2019 Preview, Extech Safety Systems , IS & Ex
Extech Safety Systems is showcasing Sensear digital communication and active listening headsets and earplugs at Stand E03. These are for use in high noise and hazardous environments. Sensear's patented 
...
Read more...
---
Digital automation technologies
Africa Automation Fair 2019 Preview, Yokogawa South Africa , IT in Manufacturing
Yokogawa is showcasing the Synaptic Business Automation solution, which can transform business processes by optimisation of supply chains and operations and maximisation of asset performance. This is 
...
Read more...
---
Solutions for the Ex automation industry
Africa Automation Fair 2019 Preview, Stahl Esaco , IS & Ex
Stahl Esaco is presenting leading R. Stahl solutions and products for the Ex automation industry. These include remote I/O systems, HMIs and cameras, which can be viewed at Stand F12. The I/O systems 
...
Read more...
---