printer friendly version
Performance from within
January 2017
Valves, Actuators & Pump Control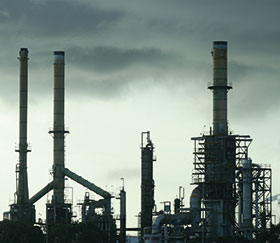 A refinery in South America was approaching its scheduled maintenance shutdown, which is carried out every three years of plant operation. According to the original plan, the refinery aimed to overhaul all the critical emergency valves in the plant. This entails organising cranes, preparing the logistics to transport the valves to the supplier's facility, changing all the valves' wearing parts, and finally putting them back again into operation. This time however, the refinery decided to think twice before going forward with the plan.
The advantage of intelligent valves
The facility's high reliability targets required that every emergency shutdown (ESD) valve must be operated with an intelligent solenoid valve, which could implement partial stroke testing (PST) on a regular basis to identify any degradation in such critical emergency valves. For this shutdown, the refinery decided to take full advantage of the performance information that these intelligent valves could provide.
All the performance information was analysed in advance of the maintenance shutdown, which showed that 40% of the valves were developing performance problems. Yet 60% of the critical valves were still operating at the same performance level as at the beginning of their lifecycle. Based on this information, the refinery decided to carry out full maintenance activities only for those valves that indicated lower performance. The rest of the valves were just double checked to confirm that they did not show signs of any wearing that would cause risk to their performance. This action enabled the refinery to reduce maintenance costs by 58%. Shutdown time was also saved, which led to improved safety since the amount of maintenance work decreased.
Information leads to knowledge
Information leads to knowledge; knowledge leads to understanding; and understanding leads to wisdom. Even if information received from an intelligent solenoid valve is not positive, it is the first crucial step needed to enable more reliable and safe operation in any plant.
In this particular case, it would have been very time consuming and costly to remove all critical emergency valves from the plant, as had been the case in the past. By only carrying out full maintenance on the 40% of the valves experiencing performance degradation, the plant could ensure reliability and safety, plus return to normal operation quicker than before. By using the information prior to shutdown, the entire process could be planned and carried out more efficiently.
The operating personnel also responded proactively by choosing to reevaluate their normal procedure of overhauling all of the valves. The information that the valves could provide, helped the refinery to move forward with a smarter way of analysing, learning and improving its processes. In the end, it makes good business sense to know about and react to specific problems.
Valve vendors can be of tremendous help to the end user when performing such analysis work. Typically, they can help analyse if there is any room to improve the selection and sizing of the valve. Additionally, they can call on their broad experience from other similar valve applications. Such in-depth application knowledge can make a big difference when selecting the most appropriate valves for critical tasks.
Intelligent solenoid valve analyses ESD valve performance
An intelligent solenoid valve is a product specially designed to close the ESD valve in case of a safety demand. A third-party certification body certifies the intelligent solenoid valve in order to operate in particular applications. Typically, the valves have reliability figures that allow them to be operated in SIL 3 applications.
In addition to its main activity of implementing the safety action, an intelligent solenoid valve is capable of analysing the performance of an ESD valve. This is thanks to the fact that all necessary electronics and microprocessors have been built into it, in order to be able to perform the PST. Therefore the intelligent solenoid valve can use this test to identify if the ESD valve's performance has changed over its lifetime.
Using the PST, a valve is stroked only partially so it can move to a specific opening angle, such as 20%. After reaching this opening angle, the valve returns to its original position. When a valve is only moved partially, the PST can be carried out without disturbing the process. Still, the stroke is sufficient enough to identify any performance deviations over the lifetime of the valve. Typical problems that can be identified with PST include valve sticking, valve or actuator corrosion, soft material cold flow, pneumatic leakages and solenoid valve problems. The intelligent solenoid valve is an integrated solution that fulfils end user needs in a way that leads to higher reliability, safety and cost efficiency.
When safety action, PST implementation, high pneumatic capacity and limit switches are added into the same package, the integrated solution provides extensive, but also extremely simple, installation for the critical control of the ESD valve. These benefits target both reliability and safety, while other advantages can also be gained when using the diagnostic information, allowing predictive maintenance activities to be implemented.
Credit(s)
Further reading:
Schubert & Salzer in control at PVS
May 2019, Macsteel Fluid Control , Valves, Actuators & Pump Control
Belgium-based PVS Chemicals produces extremely pure chemicals for use in the semiconductor industry. One of the company's outstanding innovations is the production of ultra-pure sulphuric acid. As the 
...
Read more...
---
Ball sector valves and sliding gate valves
Africa Automation Fair 2019 Preview, Macsteel Fluid Control , Valves, Actuators & Pump Control
Macsteel Fluid Control is exhibiting ball sector valves and sliding gate valves from Schubert & Salzer Control Systems at Stand D17.    The robust, efficient ball sector valves are capable of very precise 
...
Read more...
---
Actuators for precise positioning
Africa Automation Fair 2019 Preview , Valves, Actuators & Pump Control
Beck actuators provide precise positioning of valves, dampers, fluid couplings and other final control elements.    Unlike pneumatic and conventional electric actuators, they can withstand continuous 
...
Read more...
---
Valve island with CoilVision technology
Africa Automation Fair 2019 Preview, Hydramatics Control Equipment , Valves, Actuators & Pump Control
Camozzi Automation's Series D valve island has the ability to combine two different valve sizes in the same island with the help of only one initial electric part, bringing important benefits in terms 
...
Read more...
---
Speedy, reliable mA loop valve testing
Africa Automation Fair 2019 Preview, Comtest , Valves, Actuators & Pump Control
Fluke's new 710 mA loop valve tester allows technicians to source the 4-20 mA signal while it interrogates HART data to collect critical information about a valve's position and status, providing quick 
...
Read more...
---
Extended valve offering
Africa Automation Fair 2019 Preview, Metso South Africa , Valves, Actuators & Pump Control
Flow control specialist, Metso is showcasing the latest additions to its offering for the process industries, as well as the most comprehensive line of control valves available on the market today. Pay 
...
Read more...
---
New Rotork master station for valve actuator control
May 2019 , Valves, Actuators & Pump Control
Rotork has launched the latest generation of its monitoring and control system for valve actuators and plant equipment. Suitable for use in all industries, the Rotork Master Station is capable of operating 
...
Read more...
---
RS Components introduces Fluke valve tester
May 2019, RS Components SA , Valves, Actuators & Pump Control
RS Components has announced availability of the Fluke 710 mA Loop Valve Tester, which is an easy-to-use tool that greatly simplifies the testing of control valves, enabling the quick measurement of critical 
...
Read more...
---
The evolution of partial stroke testing
April 2019, Valve & Automation , Valves, Actuators & Pump Control
The failure of these valves in crucial moments can be catastrophic, potentially rendering useless a Safety Instrumented System (SIS), put in place to reduce the possibility of an accident. Though static 
...
Read more...
---
Stafsjö introduces Linak electric actuator
April 2019, Valve & Automation , Valves, Actuators & Pump Control
Linak's electric actuator is a compact maintenance-free unit for on/off operations with a speed of 7-11 mm/sec. It is available as standard in a 24 V DC version but it can also work on 230 V AC or 120 
...
Read more...
---