printer friendly version
High-quality angle seat globe valves for use in pure steam applications
October 2016
Valves, Actuators & Pump Control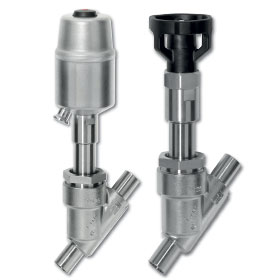 Valve solutions must satisfy strict demands when used in complex pure steam systems, such as those in the foodstuff or pharmaceutical industries. The GEMÜ 505 and GEMÜ 555 pure steam valves are manufactured from high-quality materials, which offer advantages in terms of both functionality and servicing.
In the foodstuff industry in particular, but also in the chemical and pharmaceutical industries, products must sometimes be manufactured aseptically. As a result, stringent requirements are placed on the purity of the working media used during manufacturing and even the steam used. If steam comes into contact with surfaces or directly with liquid or gaseous products during aseptic production, this contact must satisfy the purity requirements of the products. The solution is found in complex pure steam systems at product requirement level. The valve solutions used here must therefore satisfy very strict demands. GEMÜ is able to meet these requirements with the aseptic GEMÜ 505 and GEMÜ 555 globe valves.
Aseptic globe valve impresses in terms of both function and maintenance
The pneumatic (555) and hand-operated (505) angle seat globe valves have been specially developed for isolating pure steam in close collaboration with well-known customers from the pharmaceutical industry and provide a genuine alternative to the valve types which are usually used. They require significantly less maintenance than diaphragm valves, for example, and are easier to clean than ball valves. The globe valves are available in nominal sizes DN8 to DN80. Thanks to the metal bellows and selected seal materials, the temperature of the medium can range from -10 to 180°C. The butt weld spigot connections are designed and available in accordance with common standards such as ASME BPE, DIN 11866 or DIN EN ISO 1127.
High quality at a reasonable price
All media-wetted parts are manufactured from high-quality stainless steel (316L) in order to meet the stringent requirements placed on the quality of the components used in the systems. The valve body is mechanically polished with high precision on the inside and electropolished on the outside. With this surface finish, GEMÜ is able, thanks to the body geometry on the inside of the body as well as extensive technical expertise, to produce Ra values of down to 0,4 μm. Particular importance was also given to the seal materials, which also satisfy the stringent requirements of the FDA. The seals were tested according to USP Class VI at 121°C.
Even in the actuators, the materials and the processing of the individual materials are impressive, as is the case with the stainless steel bellows, which accomplishes up to 100 000 cycles without problems and enables the actuator to use non-ferrous metals, for example. The valve seat is made of inert acid and heat-resistant thermoplastic synthetic material (PTFE). The valve plug itself is welded to the valve spindle and is also smoothed in order to eliminate the otherwise usual 'dirt pockets', which occur with valve plug solutions that are bolted together. The welded valve plug also ensures that this is connected permanently to the valve spindle, thereby increasing plant reliability. Because of these and other finer points, both valve variants provide a long service life including outstanding material properties and body geometries.
Traceability guaranteed
The stringent requirements placed on products in the pharmaceutical and foodstuff industries call for, amongst others, the traceability of all media-wetted parts in order to guarantee product quality and product reliability. For this reason, valve bodies, the retaining nut, seat, valve plug, spindle, bellows and actuator seal of the 555 and 505 are manufactured in specific batches. As a result, material test certificates in accordance with 3.1 DIN EN 10204, amongst others, can be issued and supplied with the product where necessary. In addition to the design of the valve as a low maintenance fitting in terms of material, it was also ensured that an actuator change can be carried out quickly, directly on the piping. This means it is possible to perform cost-effective maintenance and repair work and protects materials over the long term. If desired, the valve solution can also be automated, for example by switching from manual to pneumatic operation or by attaching electrical position indicators or positioners for open/close control.
For more information contact Claudio Darpin, GEMÜ Valves Africa, +27 (0)11 462 7795, claudio.darpin@gemue.co.za, www.gemu-group.com
Further reading:
Robust control valve proves itself in the construction materials industry
November 2020, Macsteel Fluid Control , Valves, Actuators & Pump Control
Ball sector valves from Schubert & Salzer excel in abrasive slurry applications.
Read more...
---
Check valve with redundant sealing
September 2020, WIKA Instruments , Valves, Actuators & Pump Control
The new model CV check valve from WIKA is designed for a wide range of applications in the process industry. Its sealing system reliably prevents backflow of liquid and gaseous media.
Read more...
---
Sustainability through packaging efficiency
August 2020, Valve & Automation , Valves, Actuators & Pump Control
There is probably no other term that has been used and interpreted in recent years in so many ways as the term 'sustainability'. Originating from forestry, today the principle of sustainability is comprehensively 
...
Read more...
---
Flow switches from Honsberg
August 2020, GHM Messtechnik SA , Valves, Actuators & Pump Control
Honsberg has introduced the FF series flow switch that offers a large switching value selection as well as a wide housing spectrum with a valve seat design. Additionally, the FF series is low maintenance, 
...
Read more...
---
Bottling with Schubert & Salzer control valves
August 2020, Macsteel Fluid Control , Valves, Actuators & Pump Control
For the production and filling of beer and other beverages and dairy products, angle seat, sliding gate, sanitary right angle and even ball sector valves from Schubert & Salzer Control Systems are being 
...
Read more...
---
Ceramic vs solenoid valves
August 2020 , Valves, Actuators & Pump Control
The high-performance nature of ceramic valves means they often have a greater tolerance for wear, corrosion, and high temperatures than many other types of valves.
Read more...
---
RS Components announces Fluke 710 valve tester
August 2020, RS Components SA , Valves, Actuators & Pump Control
RS Components has announced availability of the Fluke 710 mA Loop Valve Tester, which is an easy-to-use tool that greatly simplifies the testing of control valves, enabling the quick measurement of critical 
...
Read more...
---
Valves for pump protection
July 2020, Valve & Automation , Valves, Actuators & Pump Control
Thyssenkrupp Steel Europe has opted for Schroeder pump protection valves during the recent overhaul of Unit 4 of its power station in Duisburg. The valves that were installed previously from another supplier 
...
Read more...
---
Stafsjö MV standard knife gate valve
July 2020, Valve & Automation , Valves, Actuators & Pump Control
Do you want to try the MV performance? The MV is an all-round valve with a proven global track record both on dry solids and wet fluids. The valve's ideal internal clearances lower friction and make it 
...
Read more...
---
Advanced pump control
July 2020, Instrotech , Valves, Actuators & Pump Control
Factory automation continues to develop year on year and pumps are increasingly required to supply real-time operating data to control networks so that their performance can be monitored and adjusted 
...
Read more...
---