printer friendly version
Yaskawa's next generation VSD technology
October 2016
Motion Control & Drives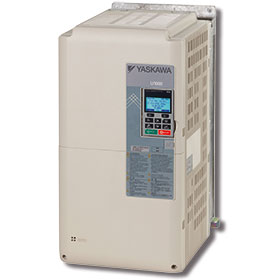 The new U1000 Matrix converter from Yaskawa represents the next generation in variable speed drive technology. It provides users with a reliable, low harmonic, fully regenerative solution without the addition of costly filters. The U1000 functions without a DC bus, using Yaskawa's pioneering Matrix technology. This makes it unique compared to other variable speed drive technologies. The result is that the mains supply currents during operation are virtually sinusoidal, both in motor and regenerative operation.
Clean and efficient power usage
The Matrix technology reduces harmonics to a minimum, resulting in a total current harmonic distortion of less than 5%. Another benefit is the impressive near unity power factor, which means that losses in network components such as transformers, cables and lines are reduced and the efficiency of the system is increased further.
The U1000 also offers an integrated EMC filter. Unlike older technologies, components such as input or DC reactors and LC filters are no longer required. The result is a space requirement up to 50% less than conventional integrated solutions, with reduced harmonic distortion for regenerative loads. Eliminating external components not only simplifies the system structure but also makes the solution extremely simple to install for both new and retrofit requirements. Fewer system components mean improved system reliability and efficiency.
Integrated energy recovery
As the U1000 operates without a DC bus, it automatically has built-in energy recovery capability. The recovery function means that excessive braking energy can be re-used elsewhere on the network, directly reducing the energy requirements of the system. As a result of the inherent regenerative functionality, resistors and choppers are no longer required, resulting in less ventilation or cooling requirement compared to conventional systems.
Safety
The U1000 features a built-in SIL3 STO input and therefore aids the simple implementation of machine safety requirements. User installable and configurable option boards are available for all common fieldbuses and closed loop installations, allowing easy integration into new and existing systems. Varispeed has been the local agent for Yaskawa since 1992 and is also the only authorised drives repair partner for Yaskawa Europe for the southern African region. Stockholding of new units and spare parts results in competitive turnaround times, with service to match.
For more information contact Ralph Real, Varispeed, +27 (0)11 312 5252, ralphr@varispeed.co.za, www.varispeed.co.za
Credit(s)
Further reading:
Space chair automation
December 2019, Siemens Digital Industries , Motion Control & Drives
The Euro Space Centre adventure park in Transinne in Belgium is home to a number of different simulators, including the original NASA multi-axis chair dating back to the 1960s which was used to familiarise 
...
Read more...
---
Superior Filtration relies on Movidrive
December 2019, SEW-Eurodrive , Motion Control & Drives
An industrial water filtration specialist that has used gearmotors from SEW-Eurodrive for many years has adopted its Movidrive inverters with CMP servo motors and customisable iPOS software for its latest 
...
Read more...
---
New XTS functionality enables novel solutions in machine building
November 2019, Beckhoff Automation , Motion Control & Drives
XTS is a smart transport system of magnetically driven movers that travel along tracks consisting of motor modules and guide rails. A Beckhoff Industrial PC is able to control the movers independently 
...
Read more...
---
Couplings for high torque applications
November 2019, SKF South Africa , Motion Control & Drives
Available in a variety of configurations, SKF's range of Disc Couplings provide affordable, lubrication-free service in medium to high torque applications that require torsional rigidity. These innovative 
...
Read more...
---
Belting for food applications
November 2019, Bearing Man Group t/a BMG , Motion Control & Drives
BMG's Light Materials Handling division supplies and supports a comprehensive range of belting products suitable for the food processing, bottling and packaging sectors. "New to BMG's range of belting 
...
Read more...
---
Sawmills and sugar mills underpin growth for SEW-Eurodrive
October 2019, SEW-Eurodrive , Motion Control & Drives
Ageing sawmills and sugar mills in KwaZulu-Natal represent a significant growth opportunity for SEW-Eurodrive to introduce its latest energy-efficient technology. This is an increasing trend as both the 
...
Read more...
---
Smart devices for Ex areas: Unbelievably simple mistakes that prevent control.
September 2019, Michael Brown Control Engineering , Editor's Choice, Motion Control & Drives
I am often astounded by finding really basic problems with controls in plants, which have operated that way for years. These problems are so basic that one can only wonder at how these controls could 
...
Read more...
---
DLM V-Drives
September 2019, Dupleix Liquid Meters (DLM) , Motion Control & Drives
DLM V-Drives control the latest generation of permanent magnet and standard induction motors. DLM offers the AMC (advanced motor control) and EPC (efficient pump control) V-Drives, which are available 
...
Read more...
---
Complete drive solutions to boost efficiency and cut costs
September 2019, SEW-Eurodrive , Motion Control & Drives
The importance of the sugar industry in KwaZulu-Natal to SEW-Eurodrive as a key growth area for its complete drive solutions was underscored when it exhibited at the Congress of the South African Sugar 
...
Read more...
---
RS announces drive controller kit
September 2019, RS Components SA , Motion Control & Drives
RS Components has announced the launch of the K4 Drive System Development Kit (K4DSDK) from ebm-papst, one of the world's leading manufacturers of high-efficiency fan and motor drive products. Targeting 
...
Read more...
---