printer friendly version
Yaskawa's next generation VSD technology
October 2016
Motion Control & Drives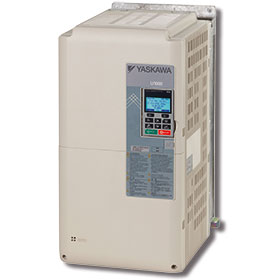 The new U1000 Matrix converter from Yaskawa represents the next generation in variable speed drive technology. It provides users with a reliable, low harmonic, fully regenerative solution without the addition of costly filters. The U1000 functions without a DC bus, using Yaskawa's pioneering Matrix technology. This makes it unique compared to other variable speed drive technologies. The result is that the mains supply currents during operation are virtually sinusoidal, both in motor and regenerative operation.
Clean and efficient power usage
The Matrix technology reduces harmonics to a minimum, resulting in a total current harmonic distortion of less than 5%. Another benefit is the impressive near unity power factor, which means that losses in network components such as transformers, cables and lines are reduced and the efficiency of the system is increased further.
The U1000 also offers an integrated EMC filter. Unlike older technologies, components such as input or DC reactors and LC filters are no longer required. The result is a space requirement up to 50% less than conventional integrated solutions, with reduced harmonic distortion for regenerative loads. Eliminating external components not only simplifies the system structure but also makes the solution extremely simple to install for both new and retrofit requirements. Fewer system components mean improved system reliability and efficiency.
Integrated energy recovery
As the U1000 operates without a DC bus, it automatically has built-in energy recovery capability. The recovery function means that excessive braking energy can be re-used elsewhere on the network, directly reducing the energy requirements of the system. As a result of the inherent regenerative functionality, resistors and choppers are no longer required, resulting in less ventilation or cooling requirement compared to conventional systems.
Safety
The U1000 features a built-in SIL3 STO input and therefore aids the simple implementation of machine safety requirements. User installable and configurable option boards are available for all common fieldbuses and closed loop installations, allowing easy integration into new and existing systems. Varispeed has been the local agent for Yaskawa since 1992 and is also the only authorised drives repair partner for Yaskawa Europe for the southern African region. Stockholding of new units and spare parts results in competitive turnaround times, with service to match.
For more information contact Ralph Real, Varispeed, +27 (0)11 312 5252, ralphr@varispeed.co.za, www.varispeed.co.za
Credit(s)
Further reading:
Energy efficient drive technology for the mining industry
October 2020, Danfoss , Motion Control & Drives
The mining industry must forgo its traditional energy consumption patterns in a bid to ensure that the sector de-carbonises towards a greener and more sustainable method of extraction.
Read more...
---
Modular towel production lines
September 2020, Beckhoff Automation , Motion Control & Drives
Rapid development and configuration of manufacturing systems for terrycloth towels with PC-based control.
Read more...
---
BMG solutions for efficient agriculture
August 2020, Bearing Man Group t/a BMG , Motion Control & Drives
BMG's Boer Slim/Smart-Farming agricultural team works closely with farmers throughout southern Africa, assisting them with the selection, installation and operation of new electromechanical systems. These 
...
Read more...
---
PC and EtherCAT-based control technology in next-generation telescope
August 2020, Beckhoff Automation , Motion Control & Drives
Key factors were the advantages of EtherCAT for site-wide real-time communication connecting all telescope functions. Various embedded PCs and AM8000 servomotors were also tested and specified, among 
...
Read more...
---
Commander series drives
August 2020, Nidec Industrial Automation Southern Africa , Motion Control & Drives
The Commander series are simple and compact AC motor speed controllers that meet advanced requirements in a wide range of applications. Their small footprint makes them ideal for machine builders and 
...
Read more...
---
Belting products for furnace belts
August 2020, Bearing Man Group t/a BMG , Motion Control & Drives
BMG's Light Materials Handling division supplies and supports a comprehensive range of belting products suitable for use in diverse sectors, including high-temperature applications, like glass bottle 
...
Read more...
---
BMG's new generation of IE5+ motors
July 2020, Bearing Man Group t/a BMG , Motion Control & Drives
In 1916, BMG and German precision engineers, Getriebebau Nord, entered into a partnership agreement to assemble, distribute and support Nord Drivesystems throughout southern Africa. BMG has made 
...
Read more...
---
Rockwell Automation upgrade for Ghana Water
June 2020, Rockwell Automation , Motion Control & Drives
Over the last five years, Rockwell Automation has been working with Intermerc Ghana in supplying medium-voltage motor control and automation technologies to some of its recent pump upgrade and rehabilitation 
...
Read more...
---
Danfoss addresses the challenges in water and wastewater applications
July 2020, Danfoss , Motion Control & Drives
As the world population rises and people pursue higher standards of living, more water is needed in homes and for the production of food and other products. By 2050, the United Nations projects global 
...
Read more...
---
Varispeed delivers a customised control system solution in KZN
June 2020, Varispeed (Div. of Hudaco Trading) , News
Varispeed recently partnered with a prominent local cable manufacturer to upgrade an existing, outdated control system.      
The project
"This customer had been looking to upgrade the control system 
...
Read more...
---