printer friendly version
A soft starter leading product evolution
October 2016
Electrical Power & Protection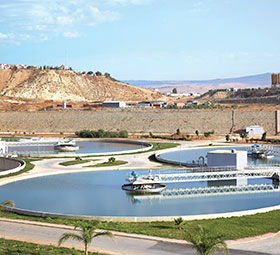 PSTX is designed to address some of the most common electrical problems associated with starting motors. It both reduces starting current at the same time as it keeps the motor protected from both load and network irregularities – a great component in any motor starting panel.
The built-in earth fault protection detects if there is an earth fault in the motor connection that may lead to damage. The current limiting function detects if the current has exceeded the set trip level and prevents heavy loads from creating unnecessary electrical stress during start. Reduced current allows OEMs to install the motor in more networks, since motor protection will prolong the equipment's life.
Improving installation efficiency for panel builder and distributors
Installing and using the PSTX is made fast and easy, saving time for everyone involved in installation and commissioning. Initial design decisions made were done so as to consider all aspects of the purchasing, operating and servicing life-cycle of the product.
With PSTX, much of the functionality typically required for most applications is already built-in. The bypass will reduce both energy consumption and heat generation while running motors at full speed. Having it built-in saves both time on installation and space inside the panel.
The PSTX also has a detachable keypad that is easy to use, saving time during commissioning and operation. PSTX soft starter is a complete motor starter solution in a compact package.
Increasing application productivity for end-users
PSTX takes motor starting to the next level, making it possible to get more out of the process and through being more flexible. The PSTX also reduces the wear-and-tear on motor and equipment, saving time and money expended for service and maintenance.
With all its included functions such as torque control to avoid water-hammering, jog with slow speed to rotate the motor both slowly forward and in reverse, as well as the possibility to clean a pump by reversing the flow, PSTX is a complete motor starting solution. To increase reliability of the process, PSTX includes a limp mode that will allow the continuing of operation even when a thyristor has failed. As a result, the end-user enjoys improved productivity and full-potential motor usage.
ABB's range of low-voltage soft starters has taken an enviable track record of motor reliability, installation efficiency and application productivity to a new level.
For more information contact Paul Louw, ABB South Africa, +27 (0)10 202 5916, paul.louw@za.abb.com, www.abb.com/za
Credit(s)
Further reading:
Motor system efficiency for reduced carbon emissions
January 2020 , Electrical Power & Protection
With electric motors consuming almost 70% of industry's energy, companies are always looking for better motor efficiencies. For many years, motor efficiency has been well defined; however, when driven 
...
Read more...
---
ABB optimises efficient water usage
January 2020, ABB South Africa , Analytical Instrumentation & Environmental Monitoring
ABB has expanded its digital analytical measurement range of solutions with the launch of the AWT420 transmitter. The new four-wire, dual channel analytical instrument measures multiple parameters in 
...
Read more...
---
Enabling IIoT connectivity for virtual power plants
December 2019, RJ Connect , Electrical Power & Protection
The power grid has seen many changes that have enabled the integration of power from distributed energy sources (DERs).
Read more...
---
DIN rail power supply for demanding applications
December 2019, ElectroMechanica , Electrical Power & Protection
Automated production systems require power supplies with high stability and safety protection. DIN rail power supply series for such demanding applications are available from Delta Electronics, distributed 
...
Read more...
---
Dry-type transformers go mainstream
December 2019 , Electrical Power & Protection
The uptake of dry-type transformers in South Africa is now well beyond 'niche' applications, with local specialist Trafo Power Solutions installing a range of sizes across various sectors. "In recent 
...
Read more...
---
Robust embedded power supply series
December 2019, RS Components SA , Electrical Power & Protection
RS Components (RS) has announced the availability of a new series of AC-DC embedded switch-mode power supplies (SMPS) from TDK-Lambda. The cost-effective RWS-B series of AC-DC industrial power supplies 
...
Read more...
---
Ultra-compact soft starter with protection
December 2019, Vepac Electronics , Electrical Power & Protection
The Tele Christian P4.0/RL/TP/IC electronic soft starter is, with all of its integrated functionality, designed for ultra-compact installation. It helps to reduce wiring material, installation time and 
...
Read more...
---
ABB's Alrode-based motor and generator factory now fully compliant
November 2019, ABB South Africa , News
Following a recent investment and transfer of knowledge and skills, ABB South Africa's motor and generator factory in Alrode, near Johannesburg, is now fully compliant with the Department of Trade and 
...
Read more...
---
Latest power monitoring device
November 2019, ElectroMechanica , Electrical Power & Protection
A new panel-mounted power monitoring device (PMD) from Socomec has been launched locally by ElectroMechanica (EM). The Socomec DIRIS A-40 has been designed for measuring, monitoring, and reporting electrical 
...
Read more...
---
WEG IE3 compliant motor control and protection
October 2019, Zest WEG Group , Electrical Power & Protection
The increased move towards the use of IE3 electric motors has made it increasingly important that the most appropriate starting method be selected to ensure optimum performance. With this move it is essential 
...
Read more...
---