printer friendly version
A soft starter leading product evolution
October 2016
Electrical Power & Protection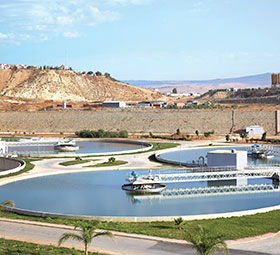 PSTX is designed to address some of the most common electrical problems associated with starting motors. It both reduces starting current at the same time as it keeps the motor protected from both load and network irregularities – a great component in any motor starting panel.
The built-in earth fault protection detects if there is an earth fault in the motor connection that may lead to damage. The current limiting function detects if the current has exceeded the set trip level and prevents heavy loads from creating unnecessary electrical stress during start. Reduced current allows OEMs to install the motor in more networks, since motor protection will prolong the equipment's life.
Improving installation efficiency for panel builder and distributors
Installing and using the PSTX is made fast and easy, saving time for everyone involved in installation and commissioning. Initial design decisions made were done so as to consider all aspects of the purchasing, operating and servicing life-cycle of the product.
With PSTX, much of the functionality typically required for most applications is already built-in. The bypass will reduce both energy consumption and heat generation while running motors at full speed. Having it built-in saves both time on installation and space inside the panel.
The PSTX also has a detachable keypad that is easy to use, saving time during commissioning and operation. PSTX soft starter is a complete motor starter solution in a compact package.
Increasing application productivity for end-users
PSTX takes motor starting to the next level, making it possible to get more out of the process and through being more flexible. The PSTX also reduces the wear-and-tear on motor and equipment, saving time and money expended for service and maintenance.
With all its included functions such as torque control to avoid water-hammering, jog with slow speed to rotate the motor both slowly forward and in reverse, as well as the possibility to clean a pump by reversing the flow, PSTX is a complete motor starting solution. To increase reliability of the process, PSTX includes a limp mode that will allow the continuing of operation even when a thyristor has failed. As a result, the end-user enjoys improved productivity and full-potential motor usage.
ABB's range of low-voltage soft starters has taken an enviable track record of motor reliability, installation efficiency and application productivity to a new level.
For more information contact Paul Louw, ABB South Africa, +27 (0)10 202 5916, paul.louw@za.abb.com, www.abb.com/za
Credit(s)
Further reading:
Electrical loggers for energy savings
October 2020, Comtest , Electrical Power & Protection
Fluke energy loggers deliver a complete picture to reduce energy costs and improve the bottom line.
Read more...
---
Power supply components and services for marine applications
October 2020 , Electrical Power & Protection
Vert Energy works closely with the marine and offshore sector offering the supply of quality branded components and the support of a comprehensive repair and maintenance service.
Read more...
---
Mines reduce fire hazards
August 2020 , Electrical Power & Protection
Underground mines in southern, central, and west Africa have been seeing the safety benefits of dry-type transformers from Johannesburg-based Trafo Power Solutions. According to managing director 
...
Read more...
---
RS Components stocks Eaton contactors
August 2020, RS Components SA , Electrical Power & Protection
RS Components now stocks Eaton's complete Moeller series of compact DILMT contactors. Easy to integrate in a variety of industrial machines and systems, the contactors enable space savings of up to 40%, 
...
Read more...
---
Power supplies for building automation
June 2020, Phoenix Contact , Electrical Power & Protection
The new Step Power power supplies from Phoenix Contact are specifically tailored to the needs of modern building automation. With their comprehensive approval package, which includes the standard 
...
Read more...
---
Skid-mounted dry-type transformer
June 2020 , Electrical Power & Protection
In a specialised application on a coal mine, Trafo Power Solutions recently supplied a dry-type transformer mounted on a mobile skid. "The harsh environment of a coal mine required us to specially 
...
Read more...
---
Hitachi ABB Power Grids commences operations
June 2020, ABB South Africa , News
In accordance with the agreement signed on 17 December 2018, Hitachi and ABB have announced the completion of all required procedures as planned and the formation of Hitachi ABB Power Grids Ltd. on 1 
...
Read more...
---
Customised transformers for renewables and beyond
June 2020 , Electrical Power & Protection
A focus on application engineering allows Trafo Power Solutions to supply customised dry-type transformers for a range of sectors including renewable energy. "We begin at the proposal stage by engaging 
...
Read more...
---
Electrical certificate of compliance (COC) for instrumentation: non-hazardous installations
June 2020, Everest Equipment & Control , Electrical Power & Protection
An instrument and control installation's scope of work often never makes a request for a certificate of compliance: it is assumed to be an electrical function and hence many installations are non-compliant. 
...
Read more...
---
Five tips to manage energy use while staying at home
May 2020 , Electrical Power & Protection
Covid-19 continues to impact many aspects of our lives. Many are now required to stay at home in an effort to curb the spread of the pandemic. One of the many implications of staying at home will be the 
...
Read more...
---