printer friendly version
Measurement devices for HVAC design and maintenance
October 2016
Maintenance, Test & Measurement, Calibration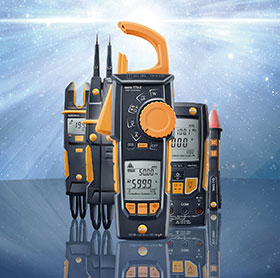 RS Components has extended its portfolio of high-quality electrical test and measurement devices with five innovative product ranges from Testo. The devices offer measurement capabilities for a diverse variety of electrical systems and appliances, including for use by electrical installation contractors and engineers working in HVAC design and maintenance.
The Testo 760 is an automatic digital multimeter range and provides functionality for all electrical measuring tasks, including function keys that replace the traditional dial for easier operation and greater reliability. Measurement parameters are detected automatically via the assignment of measuring sockets; therefore, it is impossible to make incorrect settings. Three models are available: the standard Testo 760-1, which covers most daily measuring tasks; the Testo 760-2 offering TRMS measurement, an extended current range from μA up to 10 A; and the high-specification 760-3, which has additional features including voltage up to 1000 V and higher ranges for frequency and capacitance.
The Testo 770 clamp meter range is ideally suited to current measurement in switching cabinets, as the device's unique grab mechanism allows one of the pincer arms to be fully retracted to capture cables in tight spaces. Automatic measurement parameter detection ensures reliable work enabling automation detection of DC and AC and the selection of other parameters such as resistance, continuity, diode and capacitance. It is available in three models: the standard 770-1; the 770-2, which includes a μA range and an integrated temperature adapter for all type K thermocouples; and the 770-3, which offers additional functions such as performance measurement and integrated Bluetooth, allowing the instrument to be connected to the Testo Smart Probes App. Within this app, measurement progression can be shown as a graph or a table and the results can also be directly communicated via email.
The Testo 755 current-voltage tester family is ideal for most daily electrical measuring tasks. Automatically selecting the right settings, the devices have all the important functions for determining voltage/deenergising for measuring current and resistance, as well as for continuity tests. The integrated flashlight enables dark spots to be illuminated and the measuring tips can be changed easily, saving costs in the event of damage.
The three models in the Testo 750 range are the first voltage testers with an all-round LED display, which can be seen from any position and guarantees an ideal voltage indication due to its unique fibre optics. They meet the latest standards including EN61243-3:2010 and CAT IV, as well as providing the most important functions for voltage testing, continuity testing and rotating magnetic field measurement.
Finally, the Testo 745 non-contact voltage tester comes with a voltage range of up to 1000 V and is ideal for the fast initial checking of any suspected fault sources, and provides clear visual and acoustic signals when voltage is detected. The device also has a low-pass filter for high-frequency interference signals and also meets IP67.
Credit(s)
Further reading:
RS Components introduces 4ZeroBox IIoT development system
January 2020, RS Components SA , IT in Manufacturing
RS Components has introduced the 4ZeroBox IIoT unit from Italian manufacturer TOI. 4ZeroBox is the hardware component of TOI's 4ZeroPlatform, a plug-and-play data gathering, processing and reporting system 
...
Read more...
---
Small dry wells for big field applications
January 2020, Comtest , Maintenance, Test & Measurement, Calibration
Fluke's 914X Series Field Metrology Wells (Fluke 9142, Fluke 9143, Fluke 9144) extend high performance to the industrial process environment by maximising portability, speed, and functionality with little 
...
Read more...
---
RS Components adds double-acting air cylinders
January 2020, RS Components SA , Motion Control & Drives
RS Components has expanded its offering from factory automation manufacturer Festo to include new double-acting pneumatic cylinders in the DSBC product range. Aimed at both machine builders and maintenance 
...
Read more...
---
Oils and greases for mining applications
January 2020, Bearing Man Group t/a BMG , Maintenance, Test & Measurement, Calibration
BMG's Spanjaard lubricants, oils and greases have been developed with the latest formulations and technologies, to meet the demands of all sectors, including mining, automotive, marine, general industry 
...
Read more...
---
Shutdown planning and execution
January 2020, Instroworx , Maintenance, Test & Measurement, Calibration
It is inevitable in that in some shape or form, all plant workers will at some stage be involved in the shutdown of a facility. Planning is essential to ensure that this shutdown is executed within both 
...
Read more...
---
Accurate results with rugged Fluke thermal camera
January 2020, Comtest , Maintenance, Test & Measurement, Calibration
Leading an industrial maintenance team requires a unique combination of communication skills, industry knowledge and technical expertise. Implementing standard work and a preventive maintenance programme 
...
Read more...
---
Inline sensor status indicator
January 2020, Turck Banner , Maintenance, Test & Measurement, Calibration
Machine downtime can be costly for any company and identifying the problem can be time-consuming. The S15L series inline sensor status indicator can be mounted on a sensor for 360 degree-visibility of 
...
Read more...
---
Martec launches new asset health solutions
January 2020, Martec (a Pragma company) , Maintenance, Test & Measurement, Calibration
Condition monitoring specialist Martec has announced the inclusion of two new services to complement its range of condition monitoring (CM) solutions. The Asset Health Portal and Reliability Nerve Centre 
...
Read more...
---
Emerson monitoring accelerates asset digitalisation
December 2019, Emerson Automation Solutions , Maintenance, Test & Measurement, Calibration
Emerson has introduced the AMS Asset Monitor edge analytics device, which digitalises essential asset data and analytics for better operations performance and improved decision making. AMS Asset Monitor 
...
Read more...
---
Robust embedded power supply series
December 2019, RS Components SA , Electrical Power & Protection
RS Components (RS) has announced the availability of a new series of AC-DC embedded switch-mode power supplies (SMPS) from TDK-Lambda. The cost-effective RWS-B series of AC-DC industrial power supplies 
...
Read more...
---