printer friendly version
Tectra Automation teams up to produce WeldCore
October 2016
Maintenance, Test & Measurement, Calibration
Tectra Automation was recently contracted to supply Bosch Rexroth motors and control systems, essential in the production of the WeldCore technology, which is a result of a 15-year research relationship between Nelson Mandela Metropolitan University (NMMU) and Eskom. WeldCore is able to determine the lifespan, predict the maintenance requirements and hence prevent the failure of high-temperature steam pipes in refineries and power stations.
Ideal for older processing plants, WeldCore utilises a specialised sampling technique to provide information on whether a pipeline or other high value component needs replacement. WeldCore can defer downtime for unnecessary maintenance, predict end-of-life dates and can play a crucial role in the prevention of premature failure by identifying problems.
The process involves removing a cylindrical sample from the pipeline wall or part of the component primarily exposed to high pressure and temperature, this sample is used for advanced testing. The WeldCore machine then repairs the blind hole using a solid-state welding technique, friction tapered hydro pillar processing (FTHPP), which provides a repaired site with mechanical properties almost identical to the parent material. By analysing an actual sample of the pipeline or component, this method provides more accurate results than traditional non-destructive testing (NDT) methods such as dye-penetrant, X-Ray and magnetic particle inspection. In addition, friction welding takes only a minute while traditional weld repair can cost the plant hours of downtime.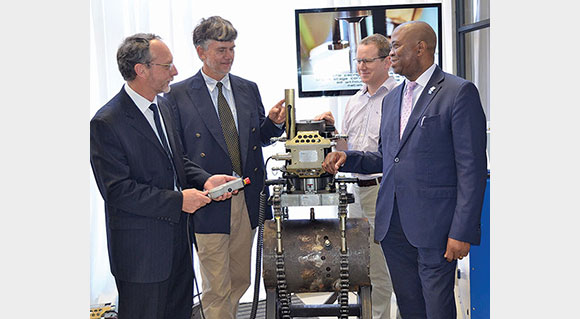 (Left to right): Prof. Danie Hattingh (NMMU), Phillip Doubell (Eskom), Dr Ian Wedderburn (eNtsa) and Dr Phil Mjwara (Department of Science and Technology) at the showcase event.
WeldCore relies on a rotating spindle that can maintain its speed accurately despite a wide range of torques. To achieve this, it utilises a Bosch Rexroth MSK071E servomotor paired with a HCS03.1 drive to maintain speed throughout both the low speed coring and high speed welding processes.
Mobility is a key differentiator of WeldCore, and the Bosch Rexroth motor used is the only one that can deliver the power required while still being small enough to meet the portability specification. The Bosch Rexroth servo drive provides an automated system with a simplified interface that makes WeldCore easy to operate, and reduces human error and the likelihood of damage to the plant.
The project is a result of more than a decade's research and testing at NMMU, involving students, engineers and local manufacturing companies. The final assembly, wiring and the software was completed internally by eNtsa, based at NMMU, resulting in an integrated machine that works predictably and reliably. WeldCore is available to the market through Mantacor, a branch of the NMMU.
A video of the process in action can be found at www.youtube.com/watch?v=dnH8z47oqT8
For more information contact Georg Venter, Tectra Automation, +27 (0)11 971 9400, georg.venter@tectra.co.za, www.tectra.co.za
Credit(s)
Further reading:
Small dry wells for big field applications
January 2020, Comtest , Maintenance, Test & Measurement, Calibration
Fluke's 914X Series Field Metrology Wells (Fluke 9142, Fluke 9143, Fluke 9144) extend high performance to the industrial process environment by maximising portability, speed, and functionality with little 
...
Read more...
---
Oils and greases for mining applications
January 2020, Bearing Man Group t/a BMG , Maintenance, Test & Measurement, Calibration
BMG's Spanjaard lubricants, oils and greases have been developed with the latest formulations and technologies, to meet the demands of all sectors, including mining, automotive, marine, general industry 
...
Read more...
---
Shutdown planning and execution
January 2020, Instroworx , Maintenance, Test & Measurement, Calibration
It is inevitable in that in some shape or form, all plant workers will at some stage be involved in the shutdown of a facility. Planning is essential to ensure that this shutdown is executed within both 
...
Read more...
---
Accurate results with rugged Fluke thermal camera
January 2020, Comtest , Maintenance, Test & Measurement, Calibration
Leading an industrial maintenance team requires a unique combination of communication skills, industry knowledge and technical expertise. Implementing standard work and a preventive maintenance programme 
...
Read more...
---
Inline sensor status indicator
January 2020, Turck Banner , Maintenance, Test & Measurement, Calibration
Machine downtime can be costly for any company and identifying the problem can be time-consuming. The S15L series inline sensor status indicator can be mounted on a sensor for 360 degree-visibility of 
...
Read more...
---
Martec launches new asset health solutions
January 2020, Martec (a Pragma company) , Maintenance, Test & Measurement, Calibration
Condition monitoring specialist Martec has announced the inclusion of two new services to complement its range of condition monitoring (CM) solutions. The Asset Health Portal and Reliability Nerve Centre 
...
Read more...
---
Emerson monitoring accelerates asset digitalisation
December 2019, Emerson Automation Solutions , Maintenance, Test & Measurement, Calibration
Emerson has introduced the AMS Asset Monitor edge analytics device, which digitalises essential asset data and analytics for better operations performance and improved decision making. AMS Asset Monitor 
...
Read more...
---
SKF condition monitoring system to boost reliability at biomass electricity plant
November 2019, SKF South Africa , Maintenance, Test & Measurement, Calibration
As a global bearing and rotating technology specialist, SKF South Africa is committed to assisting companies to achieve their productivity goals whilst remaining environmentally friendly. The Multilog 
...
Read more...
---
Eliminate power outages caused by steam leaks
November 2019, Instrotech , Maintenance, Test & Measurement, Calibration
The current system Inspecta FFT, first released some 20 years ago, is reaching its end-of-life, and Instrotech's design engineers felt the time was right to upgrade to newer technology, by combining their 
...
Read more...
---
Do more with less and generate ROI with an Integrated Calibration Solution
October 2019, QTEK Instrumentation & Calibration Solutions , Maintenance, Test & Measurement, Calibration
Instrument calibration is just one of the many maintenance-related activities in a process plant, but the last thing anyone needs is to have precious resources wasting time performing unnecessary calibrations 
...
Read more...
---