printer friendly version
Lubrication management
October 2016
Maintenance, Test & Measurement, Calibration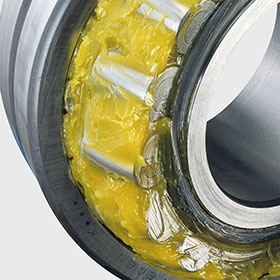 "Lubrication management can make or break asset performance, therefore getting it right will provide a sound foundation for asset reliability," notes SKF Lubrication solutions and dealer manager, Jan Backer. Citing a food and beverage industry estimation that states '15-25% of maintenance budget is lost due to poor lubrication management', Backer warns that getting it wrong can have expensive consequences.
Ever tightening industry regulations to ensure food safety are placing demands on companies to explore alternate methods to manage lubrication. Companies are also pressured to set targets for environmental responsibility and sustainability, both of which can be impacted by the way lubrication and re-lubrication is executed. Backer suggests that the food and beverage industry should reconsider lubrication practices and investigate alternative technologies that provide food and operator safety, optimised costs and environmental benefits.
While there are many technologies available in relation to lubricants and lubrication, identification of potential negative impacts on Hazard Analysis and Critical Control Points (HACCP) has led to the emergence of a different approach in managing lubrication proactively. Backer recommends managing lubrication as a strategy instead of as a practice. "Good lubrication practices are widely accepted as fundamental to plant reliability. However, it is more about the choices made to achieve the right outcome. It is important to note that not all lubrication practices are effective and costs can be daunting."
Effective manual lubrication requires knowledge about how much, with what and how often. Re-lubricating exactly the right amount, at the right time, using the correct lubricant is an applied science. The consequences of ineffective lubrication, which includes both under or over-lubrication, can be excessive downtime, high spares consumption, food and operator safety risks and ultimately an expensive toll on the maintenance budget. In other words, lubrication actions can often cause as many problems as they solve i.e.:
• Frequent re-lubrication implies grease and labour costs.
• Contamination risk: over lubrication can compromise food safety.
• Operator safety: re-lubricating in hazardous working areas with difficult access; leaking seals can cause slips and costs related to absenteeism due to injuries are high.
• Resources and skills: challenge of skill level in the industry to perform the correct re-lubrication and retaining that knowledge.
It is common practice to re-lubricate bearings after each wash down, a process during which excess grease is discharged (purged) past the bearing seals. Alongside compromising food and people safety as well as asset reliability, the next wash down cycle washes the grease away and into the plant's wastewater, which has a negative environmental impact.
There are different ways to meet these challenges and SKF offers a wide spectrum of product and service-based solutions. "We do more than traditional lubrication management, which only looks at lubricants and how to apply them. We bring technologies that eliminate the need to re-lubricate, adding value from a food safety, cost, reliability and environmental perspective. What makes the difference is our deep knowledge of rotating equipment, industry experience and commitment to reduce the customer's cost of ownership."
Re-lubrication free bearings and advanced sealing systems are among the technologies available to support the lubrication management of processing machinery. Automating lubrication solutions and customised training programmes available from SKF have also emerged as potential solutions that can mitigate risk of food and operator safety and avoid excess lubricants being washed into the wastewater stream.
"We have always done it this way," can be seven very expensive words in business. SKF recommends a technical assessment of the production process to identify potential issues, risks, opportunities and benefits in moving from current approaches. Identification of potential negative impacts on HACCP can lead to areas for improvement where SKF offers a range of technology and service offerings dedicated to helping with lubrication management. These cover for example:
• Re-lubrication-free bearing technologies.
• High efficiency seals that keep lubricants in and contaminants out.
• SKF can also provide a smart way to detect poor lubrication conditions by analysing vibration data and parameters.
For more information contact Samantha Joubert, SKF South Africa, +27 (0)11 821 3602, samantha.joubert@skf.com, www.skf.com
Credit(s)
Further reading:
The Fluke T6 with FieldSense technology
October 2020, Comtest , Maintenance, Test & Measurement, Calibration
FieldSense technology works by providing a capacitive path from a contact point on the back of the tester and the operator's hand to earth ground.
Read more...
---
Preventive maintenance in pulp and paper mills
October 2020, R&C Instrumentation , Maintenance, Test & Measurement, Calibration
The thinking around machine condition monitoring has changed over the years and it is now stated that vibration is the better measurement over temperature, since it gives earlier warning.
Read more...
---
Leak detection has never been quicker and easier
September 2020, SKF South Africa , Maintenance, Test & Measurement, Calibration
SKF's TKSU 10 ultrasonic leak detector is able to identify leakages in compressed air and vacuum systems, delivering substantial savings for end-users by reducing inspection time and minimising energy costs.
Read more...
---
Best practices in measurement
September 2020, Yokogawa South Africa , Maintenance, Test & Measurement, Calibration
Operating envelopes are changing and the impact of these changes on instrumentation must not be underestimated. Instrumentation with a design rating of a particular capacity is heavily stressed when the load is increased.
Read more...
---
Internal inspection of machinery
September 2020, SKF South Africa , Maintenance, Test & Measurement, Calibration
The TKES 10 Endoscope Series from SKF is designed for fast, easy internal inspection of machinery, delivering significant savings in terms of both time and money to customers and end-users.
Read more...
---
Parker releases new software tool
September 2020, Parker Hannifin - Sales Company South Africa , Maintenance, Test & Measurement, Calibration
IQANgo enables service technicians or machine owners to connect wirelessly to modules in their machines, allowing them to perform a broad range of actions such as system status checks and troubleshooting errors or alarms.
Read more...
---
Condition monitoring solutions from Turck Banner
September 2020, Turck Banner , Maintenance, Test & Measurement, Calibration
Turck Banner's retrofit solution can be used in industrial plants that do not yet fully support Industry 4.0 sensor-based condition monitoring. Machines can easily be monitored by customised systems, with data transmitted via wireless networks if required.
Read more...
---
Detect compressed air, steam, gas and vacuum leaks
September 2020, Comtest , Maintenance, Test & Measurement, Calibration
Comtest has introduced the Fluke ii900, a handheld sonic industrial imager that enables maintenance to quickly locate air, steam, gas and vacuum leaks in compressed air systems. The straightforward, intuitive 
...
Read more...
---
Condition monitoring in the cloud
August 2020, Festo South Africa , Maintenance, Test & Measurement, Calibration
Detecting irregularities at an early stage and initiating the necessary measures before a system failure are now made possible by the dashboards and IoT gateway CPX-IOT from Festo. The turnkey, preconfigured 
...
Read more...
---
The Ratchet P-Clamp reloaded
August 2020 , Maintenance, Test & Measurement, Calibration
When a heavy-duty equipment manufacturer asked HellermannTyton to devise the most effective way to attach and remove cables for additional equipment, nobody imagined that a well-trodden path would lead 
...
Read more...
---