printer friendly version
Lubrication management
October 2016
Maintenance, Test & Measurement, Calibration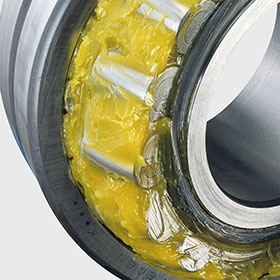 "Lubrication management can make or break asset performance, therefore getting it right will provide a sound foundation for asset reliability," notes SKF Lubrication solutions and dealer manager, Jan Backer. Citing a food and beverage industry estimation that states '15-25% of maintenance budget is lost due to poor lubrication management', Backer warns that getting it wrong can have expensive consequences.
Ever tightening industry regulations to ensure food safety are placing demands on companies to explore alternate methods to manage lubrication. Companies are also pressured to set targets for environmental responsibility and sustainability, both of which can be impacted by the way lubrication and re-lubrication is executed. Backer suggests that the food and beverage industry should reconsider lubrication practices and investigate alternative technologies that provide food and operator safety, optimised costs and environmental benefits.
While there are many technologies available in relation to lubricants and lubrication, identification of potential negative impacts on Hazard Analysis and Critical Control Points (HACCP) has led to the emergence of a different approach in managing lubrication proactively. Backer recommends managing lubrication as a strategy instead of as a practice. "Good lubrication practices are widely accepted as fundamental to plant reliability. However, it is more about the choices made to achieve the right outcome. It is important to note that not all lubrication practices are effective and costs can be daunting."
Effective manual lubrication requires knowledge about how much, with what and how often. Re-lubricating exactly the right amount, at the right time, using the correct lubricant is an applied science. The consequences of ineffective lubrication, which includes both under or over-lubrication, can be excessive downtime, high spares consumption, food and operator safety risks and ultimately an expensive toll on the maintenance budget. In other words, lubrication actions can often cause as many problems as they solve i.e.:
• Frequent re-lubrication implies grease and labour costs.
• Contamination risk: over lubrication can compromise food safety.
• Operator safety: re-lubricating in hazardous working areas with difficult access; leaking seals can cause slips and costs related to absenteeism due to injuries are high.
• Resources and skills: challenge of skill level in the industry to perform the correct re-lubrication and retaining that knowledge.
It is common practice to re-lubricate bearings after each wash down, a process during which excess grease is discharged (purged) past the bearing seals. Alongside compromising food and people safety as well as asset reliability, the next wash down cycle washes the grease away and into the plant's wastewater, which has a negative environmental impact.
There are different ways to meet these challenges and SKF offers a wide spectrum of product and service-based solutions. "We do more than traditional lubrication management, which only looks at lubricants and how to apply them. We bring technologies that eliminate the need to re-lubricate, adding value from a food safety, cost, reliability and environmental perspective. What makes the difference is our deep knowledge of rotating equipment, industry experience and commitment to reduce the customer's cost of ownership."
Re-lubrication free bearings and advanced sealing systems are among the technologies available to support the lubrication management of processing machinery. Automating lubrication solutions and customised training programmes available from SKF have also emerged as potential solutions that can mitigate risk of food and operator safety and avoid excess lubricants being washed into the wastewater stream.
"We have always done it this way," can be seven very expensive words in business. SKF recommends a technical assessment of the production process to identify potential issues, risks, opportunities and benefits in moving from current approaches. Identification of potential negative impacts on HACCP can lead to areas for improvement where SKF offers a range of technology and service offerings dedicated to helping with lubrication management. These cover for example:
• Re-lubrication-free bearing technologies.
• High efficiency seals that keep lubricants in and contaminants out.
• SKF can also provide a smart way to detect poor lubrication conditions by analysing vibration data and parameters.
For more information contact Samantha Joubert, SKF South Africa, +27 (0)11 821 3602, samantha.joubert@skf.com, www.skf.com
Credit(s)
Further reading:
Small dry wells for big field applications
January 2020, Comtest , Maintenance, Test & Measurement, Calibration
Fluke's 914X Series Field Metrology Wells (Fluke 9142, Fluke 9143, Fluke 9144) extend high performance to the industrial process environment by maximising portability, speed, and functionality with little 
...
Read more...
---
Oils and greases for mining applications
January 2020, Bearing Man Group t/a BMG , Maintenance, Test & Measurement, Calibration
BMG's Spanjaard lubricants, oils and greases have been developed with the latest formulations and technologies, to meet the demands of all sectors, including mining, automotive, marine, general industry 
...
Read more...
---
Shutdown planning and execution
January 2020, Instroworx , Maintenance, Test & Measurement, Calibration
It is inevitable in that in some shape or form, all plant workers will at some stage be involved in the shutdown of a facility. Planning is essential to ensure that this shutdown is executed within both 
...
Read more...
---
Accurate results with rugged Fluke thermal camera
January 2020, Comtest , Maintenance, Test & Measurement, Calibration
Leading an industrial maintenance team requires a unique combination of communication skills, industry knowledge and technical expertise. Implementing standard work and a preventive maintenance programme 
...
Read more...
---
Inline sensor status indicator
January 2020, Turck Banner , Maintenance, Test & Measurement, Calibration
Machine downtime can be costly for any company and identifying the problem can be time-consuming. The S15L series inline sensor status indicator can be mounted on a sensor for 360 degree-visibility of 
...
Read more...
---
Martec launches new asset health solutions
January 2020, Martec (a Pragma company) , Maintenance, Test & Measurement, Calibration
Condition monitoring specialist Martec has announced the inclusion of two new services to complement its range of condition monitoring (CM) solutions. The Asset Health Portal and Reliability Nerve Centre 
...
Read more...
---
Emerson monitoring accelerates asset digitalisation
December 2019, Emerson Automation Solutions , Maintenance, Test & Measurement, Calibration
Emerson has introduced the AMS Asset Monitor edge analytics device, which digitalises essential asset data and analytics for better operations performance and improved decision making. AMS Asset Monitor 
...
Read more...
---
Game-changing digital solutions for mines
December 2019, SKF South Africa , IT in Manufacturing
With digitalisation creeping into the mining industry and transforming day-to-day operations, this sector is enhancing its Industry 4.0 operation and process compliancy. As a preferred supplier of premium 
...
Read more...
---
SKF condition monitoring system to boost reliability at biomass electricity plant
November 2019, SKF South Africa , Maintenance, Test & Measurement, Calibration
As a global bearing and rotating technology specialist, SKF South Africa is committed to assisting companies to achieve their productivity goals whilst remaining environmentally friendly. The Multilog 
...
Read more...
---
Couplings for high torque applications
November 2019, SKF South Africa , Motion Control & Drives
Available in a variety of configurations, SKF's range of Disc Couplings provide affordable, lubrication-free service in medium to high torque applications that require torsional rigidity. These innovative 
...
Read more...
---