printer friendly version
Wireless remote monitoring gets added security
October 2016
Industrial Wireless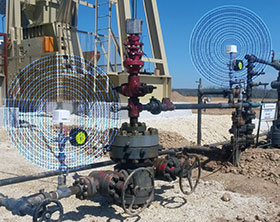 Wireless monitoring and control systems must ensure the security of data as it passes from device to device. To provide this high level of data integrity for customers' critical processes, SignalFire Wireless Telemetry has released a new version of its firmware that includes a suite of advanced security features including:
• AES-128 encryption supports a more reliable and secure wireless network infrastructure within all its communication systems. The encryption protects against tampering as any modified data is invalidated and ignored.
• Device authentication ensures that nodes perform an integrity check before joining the network. This prevents nodes from joining a rogue or malicious network that would prevent them from communicating with their intended network. Additionally, this process also allows only authenticated nodes to join the network.
• Replay prevention stops messages from being resent by a malicious device. It blocks security attacks if packets are captured and retransmitted at a later time. For example, if a message to turn on a relay is captured and sent later, operations could be at risk. SignalFire's replay prevention scheme is based on time synchronisation of all nodes in the network and would not allow this message to be accepted by the network.
For more information contact SignalFire Wireless Telemetry, +1 978 212 2868, info@signal-fire.com, www.signal-fire.com
Further reading:
Do all wireless solutions solve real industry problems?
September 2020, Festo South Africa , Industrial Wireless
By using modern, standards-driven wireless technologies, designers and machine users have access to new tools that can help transform and simplify their working lives.
Read more...
---
Wireless vibration monitor
September 2020, Emerson Automation Solutions , Industrial Wireless
Emerson's AMS Wireless Vibration Monitor makes it possible to monitor motors, pumps, fans and other critical plant equipment to reduce downtime and achieve more reliable operations.
Read more...
---
Pump control at a distance
September 2020, Omniflex Remote Monitoring Specialists , Industrial Wireless
The ability to control a pump remotely over distance and without using wires is simple using Omniflex Teleterm Radio RTUs over a licence free band, avoiding administration of radio frequency band use. 
...
Read more...
---
SMC launches wireless valve bank in SA
July 2020, SMC Corporation South Africa , Industrial Wireless
In response to customer demand for a reliable communication system, which could limit the number of cables needed to communicate between multiple valve banks/field sensors and a PLC, a wireless communication 
...
Read more...
---
Vibration sensor for prescriptive analytics
June 2020, Emerson Automation Solutions , Industrial Wireless
Emerson has introduced the AMS Wireless Vibration Monitor, a low-cost, easy to deploy vibration sensor that performs prescriptive analytics on vibration data using native software to automatically identify 
...
Read more...
---
A new approach to wireless networks
June 2020, EOH Process Automation Solutions. , Industrial Wireless
The Instrument Area Network (IAN) has been developed by Schneider Electric as a cost-efficient and flexible industrial wireless network as an alternative to more costly systems. Bluetooth communication 
...
Read more...
---
High-speed dependable underground communication system
June 2020, Becker Mining South Africa , Industrial Wireless
Becker Mining South Africa's Electronics Division specialises in automation and communication systems, which are designed to enhance productivity and improve safety in the mining sector. The company 
...
Read more...
---
Rugged wireless gateway for Ex areas
April 2020, Comtest , Industrial Wireless
Comtest – local representative of Industrial Scientific, a global leader in gas detection – has introduced the RGX Gateway, which enables designated safety contacts to receive real-time alerts for gas 
...
Read more...
---
IO-Link data communication through to the cloud
April 2020, Pepperl+Fuchs , Industrial Wireless
Continuous data communication from the lowest sensor/actuator level to the cloud is becoming increasingly important across the entire industrial environment. For the logistics sector in particular, where 
...
Read more...
---
Handheld spectrum analysers
April 2020, Comtest , Industrial Wireless
The latest offering from Bird expands its highly sought-after SignalHawk family of rugged, handheld spectrum analyser products by adding the SH-60S-AOA Angle of Arrival spectrum analyser and the SH-60S-TC. 
...
Read more...
---