printer friendly version
Alia flowmeters solve crop irrigation problems
October 2016
Flow Measurement & Control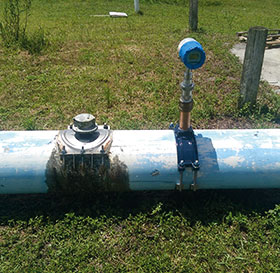 Representatives from Volition Controls approached the manager of a large ranch in Wimauma, Florida, and enquired about the flowmeters used for crop irrigation. They learned the ranch had been using turbine type flowmeters to measure their irrigation water for many years. These turbine style meters are mechanical and the ranch indicated that they normally fail after a few years of service. It was mentioned that they could not filter the water enough to prevent particulate from catching on the turbines and fouling the readings. The turbine meters also require very large holes to be cut into the pipe.
Volition Controls quoted an Alia model AMF100 insertion magnetic flowmeter with a model AMC4000 battery powered converter that has an LCD display for flow rate and total indication.
The state of Florida requires annual flow test audits of each flowmeter. The ranch manager asked if Volition Controls could perform the audits for the ranch. The representatives offered the service, but also offered to sell them a meter that they could use to perform their own audits. They could purchase their own portable meter for similar cost of a few audits.
Volition Controls installed the insertion flowmeter by drilling a 50 mm hole and adding a saddle with a nipple and coupling. Once the insertion magnetic flowmeter was installed, the Alia model AUF600 portable meter, purchased for performing the audits, was installed as well.
The installation and set-up time for both meters was about 1,5 hours. The totalisers of both meters were zeroed and the pump was turned on for a period of 10 minutes. The pipe was empty at start-up. At the end of the test period, there was a difference of less than 1,2% between totalisers of the insertion and clamp-on audit meters. The ranch was very pleased with the results and plan to purchase more in the future.
For more information contact Martin McLeman, Blanes Pressure Solutions, +27 (0)11 422 1749, martin@pressuresolutions.co.za, www.pressuresolutions.co.za
Credit(s)
Further reading:
Compact design electromagnetic flow measurement
December 2019, Endress+Hauser , Flow Measurement & Control
Whether in the life sciences or in biotechnology, whether in the food or chemical industries – global competition is steadily increasing. Ever more companies are implementing their process facilities 
...
Read more...
---
Self-cleaning flow indicator for liquids
November 2019, Instrotech , Flow Measurement & Control
To check the flow processes in pipeline systems and for insight into the interior of process pipes, many flow indicators are used in which the flowing medium sets a rotor turning and thus to a large extent 
...
Read more...
---
Clamp-on ultrasonic flow measurement
October 2019, Instrotech , Flow Measurement & Control
Kobold's portable DUC-MP and the stationary DUC-MF are designed for continuous flow measurement. They are highly accurate and drift-free operating flowmeters for liquids in filled pipes. The devices are 
...
Read more...
---
Kobold's electromagnetic flowmeter
September 2019, Instrotech , Flow Measurement & Control
Instrotech now offers Kobold's new electromagnetic flowmeter model EPS with a standard accuracy of 0,3% of reading. The newly developed, microprocessor-controlled converter guarantees the high accuracy 
...
Read more...
---
Systematic flow metering
July 2019, Siemens Digital Industries , Flow Measurement & Control
Aguas de Saltillo, the water utility company which serves the Mexican city of Saltillo, is responsible for supplying drinking water to a population of around 850 000. To ensure a reliable supply to this 
...
Read more...
---
Water regulation made easy
July 2019, Instrotech , Flow Measurement & Control
Kobold's REG mechanical flow restrictors and rate regulators, with their simple yet effective functionality, are ideally suited to consumer applications and uniform supply to multiple consumers. Once 
...
Read more...
---
Accurate flow and mass measurement
July 2019 , Flow Measurement & Control
Measurement of flowing media containing solids and particles poses a great challenge in the mining industry, due to the damage caused to inline flowmeters. The installation of inline flowmeters can be 
...
Read more...
---
Accurate bulk flow measurement in the cement industry
June 2019, SICK Automation Southern Africa , Flow Measurement & Control
The rapid development of sensor technology provides cement producers with a toolbox of solutions to optimise performance and strengthen market presence. Non-contact volume flow measurement of conveyed 
...
Read more...
---
Flow sensor for liquid media
June 2019, Festo , Flow Measurement & Control
The new flow sensor SFAW from Festo is ideal for monitoring cooling circuits, for example in welding guns in the automotive industry as well as in front-end applications in the semiconductor and electronics 
...
Read more...
---
Electromagnetic flowmeters
Africa Automation Fair 2019 Preview, Dupleix Liquid Meters (DLM) , Flow Measurement & Control
Badger Meter's electromagnetic flowmeters are ideally suited for flow measurement of all liquids with a minimum conductivity of 5 μS cm. The flow measurement is independent of density, temperature and 
...
Read more...
---