printer friendly version
Brainchild PR series paperless recorders
September 2016
Data Acquisition & Telemetry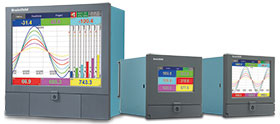 Brainchild has introduced its new PR series improved paperless process recorder and data-logging solution.
With its first foray into the video-graphic recorder and data-logging market several years ago, Brainchild introduced the VR series. Their first generation VR series was a resounding success as it was able to offer competitive quality and feature sets at an extremely competitive price for the time. As a result, the VR series proved exceptionally popular all over the world, but the time has now come to replace it with the next generation PR series.
This new range of recorders is supplied standard with an array of outstanding features, the most obvious of which is the new 65 K colour TFT touch-screen. This screen offers a crisp display with excellent response times, touch accuracy and dynamic colour reproduction. The new ARM-Cortex A8 processor clocked at 1 GHz ensures that these units never lack for processing power and with an extensive list of I/O options there is almost no task that the PR series cannot tackle. Analog and digital I/O can be grouped in a variety of combinations to scale the units for any application. The advantages of the extra processing power shine through with an updated scan time of 100 ms on up to 48 channels simultaneously, which makes using a paperless recorder for flow applications a reality.
A live web server is included as standard in all models, which allows users to view the status and active trends on the unit in real time, simply by navigating to the units IP address in any browser on any device. This has obvious advantages for keeping track of a process or production line without the expense of a scada system. With a DNS and a simple port forward this feature can be accessed from anywhere in the world.
Along with the hardware improvements, Brainchild has also updated the software interface for the PR series. Still based on the tried and tested Windows CE 6 platform, but equipped with a host of new features. From extended input types to advanced mathematical functions and leaps in security and batch processing, Brainchild's development team has spared no expense to provide the most comprehensive feature set possible.
Customisation is the name of the game
With the increasing need for customisation of displays and control over the way data is displayed for specific applications, Brainchild has implemented a revolutionary solution. With an optional firmware upgrade, users are able to use the PanelStudio (Brainchild's powerfull HMI development environment) to customise the recorder's display. This means that the way data is presented is now entirely under the user's control.
The PR series is a more than capable replacement for the VR series and the new features set the bar for paperless recorders in South Africa.
For more information contact Temp-Tek, +27 (0)11 465 8066, sales@temptek.co.za, www.temptek.co.za
Credit(s)
Further reading:
New network function for digital ­indicator
October 2018, Yokogawa South Africa , Data Acquisition & Telemetry
Yokogawa has added a network function to the UM33A digital indicator with alarms. With this network function, a single UM33A digital indicator can receive, process and sequentially display data from up 
...
Read more...
---
Remote monitoring and telemetry at power station water plants
July 2018, Omniflex Remote Monitoring Specialists , Data Acquisition & Telemetry
The wireless ability to manage pumps remotely over long distances is now available using Omniflex's Teleterm M3 Radio RTUs. This full functionality IEC61131 PLC enables both control and wireless communications 
...
Read more...
---
Purely analog signal conditioning
June 2018, GHM Messtechnik SA , Data Acquisition & Telemetry
IMTRON, part of the GHM Group, has launched the Purely Analogue Signal Conditioning TSA modules that offer well-established methods for processing, filtering, amplifying and galvanically isolating sensor 
...
Read more...
---
KPMs rotary consistency transmitter boosts pulp mill performance
May 2018, UIC Instrumentation , Data Acquisition & Telemetry
In today's pulp and paper-making market place, consistency measurement is one of the most important ways to keep costs as low as possible without sacrificing quality or production throughput. KPM's KC/5 
...
Read more...
---
Cost-effective process monitoring and recording
January 2018 , Data Acquisition & Telemetry
KRN1000 series paperless process recorders.
Read more...
---
RS Pro range of USB keys delivers secure data storage
January 2018, RS Components SA , Data Acquisition & Telemetry
RS Components has introduced a new addition to its high-quality RS Pro range with the launch of the Evikey One NFC cybersecure contactless USB key. The innovative range of USB flash-drives delivers a 
...
Read more...
---
Low power, battery operated RTU/logger
Africa Automation Fair 2017 Preview , Data Acquisition & Telemetry
The new SSE ultra low power, battery operated RTU/logger is a reliable, high performance data logger. It is easy to deploy across a wide range of water and wastewater applications. Visit Stands F13-F15 
...
Read more...
---
Data acquisition and control system
Africa Automation Fair 2017 Preview, Elexsys , Data Acquisition & Telemetry
The Dataforth MAQ20 industrial data acquisition and control system from Elexsys consists of DIN rail-mounted, programmable, multichannel, industrially rugged signal conditioning input and output modules. 
...
Read more...
---
New mini scada RTU for data acquisition
April 2017 , Data Acquisition & Telemetry
Define Instruments has released the Zen RTU Mini, a data acquisition unit for industrial analog signals. A breakthrough for DAQ applications requiring the collation of multiple signals and signal types 
...
Read more...
---
Paperless process recorders
March 2017 , Data Acquisition & Telemetry
Cost-effective process monitoring and data recording.
Read more...
---