printer friendly version
ACE1000 Remote Terminal Unit
Technews Industry Guide - Industrial Internet of Things 2016
PLCs, DCSs & Controllers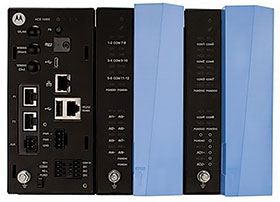 Whether there is a leaking pipe or a damaged power grid breaker miles away from the control centre, operators need to know about it as soon as possible. The sooner they get the information, the faster they can fix the problem and avoid negative consequences.
Find peace of mind in technology that integrates seamlessly and connects to a variety of equipment ensuring reliable, well-timed process automation and monitoring over a large area. The versatile ACE1000 delivers the data communication and processing needed for a diverse set of applications, without having to replace current operational technologies. In a new, compact package, the ACE1000 is the RTU that will facilitate greater productivity and safety quickly and easily.
Intelligence simplified
Complicated control processes can be time consuming and difficult to track. The ACE1000 allows easy automation of processes such as multiple high speed control loops, event capture and data storage.
The ACE1000's Linux operating system allows for simplified programming, so systems can be adapted to existing applications, built from the ground up, without the typical complexity of scada systems. Connect to operational technologies seamlessly and transmit information efficiently with the RTU's extensive common data protocol support combined with enhanced MDLC protocol.
Communicate effortlessly
The ACE1000's unique communication capabilities allow systems to transmit data over a variety of media including analog/digital two-way radio, dial-up modem, point-to-point microwave, 3G/4G public or private and Ethernet simultaneously. The expandable memory also provides the ability to store data locally for back-up purposes.
The RTU-central and RTU-RTU communications, along with advanced networking abilities, can be used to pass data between RTUs in the system so users do not need to purchase additional repeaters or expensive antennas. Its communication flexibility gives the freedom to customise systems cost effectively.
For more information contact Motorola Solutions, +1 847 576 5000, essc@motorolasolutions.com, www.motorolasolutions.com
Further reading:
The powerful Festo modular control system CPX-E
Technews Industry Guide: Industrial Internet of Things & Industry 4.0, Festo , PLCs, DCSs & Controllers
Designed as an EtherCAT master and motion controller with protection to IP20, the powerful automation system CPX-E for factory and process automation with NE21-specific certifications is becoming the 
...
Read more...
---
Rockwell strengthens industrial control system security
July 2019, Rockwell Automation , PLCs, DCSs & Controllers
Communications between industrial control devices have minimal protection today. This leaves them vulnerable to threats like malicious tampering and incidental system changes that can stop production 
...
Read more...
---
Siemens extends the Simine ­portfolio
June 2019, Siemens Digital Industries , PLCs, DCSs & Controllers
Siemens has extended the Simine portfolio for high-pressure grinding mills (HPGR) to include a new controller. Plug-and-play functionality makes the load share controller available for immediate use. 
...
Read more...
---
Schneider Electric announces a new era of control
June 2019, Schneider Electric South Africa , PLCs, DCSs & Controllers
Schneider Electric's new high-end Modicon M580 Ethernet programmable automation controller (ePAC) features redundant processors, native Ethernet, and cybersecurity embedded into its core. It combines 
...
Read more...
---
Selecting the right PLC
June 2019, AC/DC Dynamics , PLCs, DCSs & Controllers
Automation projects, big or small, start with a specification. Here are five factors to consider when choosing a PLC vendor.      
Broad range of devices
The selected brand must have a complete product 
...
Read more...
---
Industrial automation equipment
Africa Automation Fair 2019 Preview , PLCs, DCSs & Controllers
Anytech is an industrial automation equipment supplier that has been providing high tech solutions to a wide variety of customers in various industries throughout southern Africa since 1999. High tech 
...
Read more...
---
Multi-function PLC, HMI and I/O in a single 7" unit
Africa Automation Fair 2019 Preview, Vision Automation , PLCs, DCSs & Controllers
This multi-function UniStream PLC with an integrated, high-quality HMI touchscreen is available in a range of built-in I/O configurations. Showcased at Stand C04, the highly compact hardware profile with 
...
Read more...
---
PLCs and HMIs
Africa Automation Fair 2019 Preview, Ana-Digi Systems , PLCs, DCSs & Controllers
Among the new state-of-the-art products on show at Stand E07 are Ana-Digi's PLC range, which offers down to 8,5nS processing speeds and caters for systems up to 132 000 I/O, with full redundancy in processing 
...
Read more...
---
Programmable HMIs with PLC
May 2019, Turck Banner , PLCs, DCSs & Controllers
The new generation of the TX700 HMI/PLC series can control and visualise even more complex processes and applications than before. Thanks to several interfaces and an integrated OPC UA server, this device 
...
Read more...
---
Multi-function PLC, HMI and I/O in a single 5" unit
Africa Automation Fair 2019 Preview, Vision Automation , PLCs, DCSs & Controllers
On show at Stand C04 are the UniStream 5" and UniStream 5" Pro, which both support SNMP, VNC, FTP, SMS and email. The Pro version also offers a built-in webserver and SQL. Various built-in I/O configurations 
...
Read more...
---