printer friendly version
Semtech LoRaWAN development kits provide low power resilient wireless communication over large distances
Technews Industry Guide - Industrial Internet of Things 2016
Industrial Wireless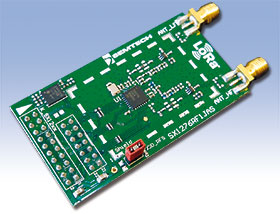 RS Components has added a new range of LoRaWAN (Long Range Wide Area Network) development kits from Semtech to its portfolio of tools that support engineers designing Internet of Things (IoT) applications. LoRaWAN wireless networking delivers a longer range than most common low power wireless technologies, in addition to its greater resilience to interference, it is ideal for applications including sensor circuits/networks, security systems, smart home, smart metering, industrial control and smart cities.
The four new LoRaWAN evaluation modules feature Semtech's advanced long-range LoRa technology, making them ideal for LPWAN (Low Power Wide Area Network) specifications for battery-operated IoT networks and applications, as well as enabling connection to LoRaWAN gateways. LoRa is also the primary protocol adopted by 'The Things Network', which oversaw the crowdsourcing of a complete citywide IoT data network in Amsterdam.
LoRaWAN provides a common protocol allowing smart assets and IoT devices to communicate with one another. The LoRaWAN specification is also optimised for very low power use, which makes it perfect for wireless battery-powered end-points in an IoT network. It can securely deliver two-way communication at data rates from 0,3 to 50 Kbps, and distances of up to 5 km in an urban environment and up to 15 km in a suburban environment.
Semtech's LoRa modulation is a derivative of chirp-spread-spectrum (CSS) encoding technology, which uses the entire allocated bandwidth to broadcast a signal, spreading the signal across a broader band of spectrum. This means the system can be made to operate even over a low signal-to-noise ratio (SNR), providing LoRaWAN with high robustness to channel noise.
The Semtech LoRaWAN development kits all employ the on-board SX1272/6 RF transceivers, which offers wide area communication with extreme tolerance of interference, and PE4259 UltraCMOS RF antenna switches from Peregrine Semiconductor. Kit options include: 868 MHz ISM band; 169/868 MHz dual-band; 433/868 MHz dual-band; and finally a 433/868 MHz dual-band transceiver evaluation module that comes in the mbed Shield format.
For more information contact RS Components SA, +27 (0)11 691 9300, sales.za@rs-components.com, www.za.rs-online.com
Credit(s)
Further reading:
Adroit brings M2M, IoT and IIoT to the industrial world
June 2019, Adroit Technologies , Industrial Wireless
Combining the new IIoT capability with GIS interfaces, situational awareness and alarm management data, all can use the big data and analytical processing capability of Adroit's standard scada Intelligence software package to derive greater insights and value from their processes.
Read more...
---
RS Components introduces new Power over Ethernet injectors
June 2019, RS Components SA , Electrical Power & Protection
RS Components has announced availability of a new selection of Power over Ethernet (PoE) single-port mid-span power injectors manufactured by Phihong, a leader in advanced power solutions and a specialist 
...
Read more...
---
Wireless networks for AGV systems
June 2019, RJ Connect , Industrial Wireless
In order for factories to perform their tasks efficiently and optimise production, automated material handling (AMH) systems, such as AS/RS and AGVs, need the flexibility to move around on their designated 
...
Read more...
---
Merging control and telemetry
June 2019, Omniflex Remote Monitoring Specialists , Industrial Wireless
Wireless telemetry and control in plants have become a necessity with the data acquisition requirement of modern plant control to lift performance and compliance. In-plant cabling costs often push the 
...
Read more...
---
Managing complexity in wireless environments
June 2019, Axiz , Industrial Wireless
In the decades since its infancy, wireless networking has undergone tremendous shifts, opening an avenue for enterprise wireless Internet consumption. The advances in speed, coupled with the sheer convenience 
...
Read more...
---
Mobility for Industry 4.0 ­challenges
Africa Automation Fair 2019 Preview, Pepperl+Fuchs , Industrial Wireless
The Tab-Ex 02 series of tablets from Pepperl+Fuchs has innovative features that make Industry 4.0/IIoT applications easy to implement.    The DZ1 version ecom has a range of applications that are unique 
...
Read more...
---
IIoT and electronics ­development solution
Africa Automation Fair 2019 Preview, RS Components SA , Maintenance, Test & Measurement, Calibration
XinaBox is a rapid IIoT and electronics development solution that does not require soldering or wiring, only basic coding. These plug-and-play modules are reconfigurable chips that can be used in both 
...
Read more...
---
Hazardous area access point
Africa Automation Fair 2019 Preview , Industrial Wireless
Bartec's Wireless X is a small, light wireless access point, eliminating the need for bulky, heavy enclosures and external antennas. On show at Stand G13, it has both IECEx and ATEX Zone 1 certification. 
...
Read more...
---
IIoT gateway for access to remote industrial equipment
Africa Automation Fair 2019 Preview, Throughput Technologies , Industrial Wireless
SiteManager is a security certified IIoT Edge Gateway in the Secomea Industrial Communications Solution program that ensures unified, uninterrupted and secure access to remote industrial equipment. Visit 
...
Read more...
---
RS Components introduces Fluke valve tester
May 2019, RS Components SA , Valves, Actuators & Pump Control
RS Components has announced availability of the Fluke 710 mA Loop Valve Tester, which is an easy-to-use tool that greatly simplifies the testing of control valves, enabling the quick measurement of critical 
...
Read more...
---