printer friendly version
Up skilling for a converged world
Technews Industry Guide - Industrial Internet of Things 2016
Training & Education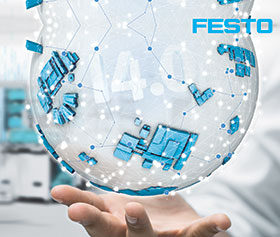 The growing realisation in Western Europe is that the ideas of Industry 4.0, or the Industrial Internet of Things, could unlock the ability for developed countries to remain competitive against lower cost manufacturers like China and Southeast Asia. However, in its totality, Industry 4.0 is disruptive as it fundamentally changes the way we will make things in our Smart Factories of the future.
Mention disruption to a group of old-school manufacturing executives and you will most likely be met by a roomful of frosty stares – at the very least, a raised eyebrow or two. Nevertheless, even if Industry 4.0 never actually delivers against the hype of the next industrial revolution, the ideas are gaining traction. Executives would be well advised to keep their finger on the pulse, or risk missing new opportunities to realise production efficiency and supply chain optimisation.
Powerful technological forces are at work behind the ideas of Industry 4.0, and therefore it is no surprise that some of the early adopters are themselves at the forefront of technology innovation. Festo is one such company, which, through its training arm Didactic, is now preparing to guide others through the practicalities of IT (Information Technology) and OT (Operational Technology) convergence on the way to digital factory transformation.
Developing the aptitude – Industry 4.0 changes what is required from workers
"The disruption of convergence can be managed through careful planning and preparation," says Nico Landman, newly appointed manager of Festo's Didactic business unit in South Africa.
"Realising the benefits of Industry 4.0 is as much about new mindsets as it is about new technology," he adds, "since we need to redefine the role of humans in the production of the future."
Tomorrow's production is based on decentralised intelligence in autonomously functioning workpieces and mechatronic modules. "The fundamental disruption is that mass production systems will no longer be centrally controlled," explains former Festo Didactic head, Hugo van Niekerk. "Instead, they will communicate directly with the products to determine which production steps the workpiece has to go through. These advanced trends will not only affect the industrial processes, but also the workers in the factories. People and technology will become more interconnected in complementary ways, and Festo is already working to ensure their success."
These changes will not be superficial engineering improvements; they will entirely change the way we produce things. Consider, for example, a bottling plant where each bottle is tagged with an RFID chip that contains the complete instruction of how it is to be processed. It knows which liquid must be filled and in what volume, which lid must be used and which label must be applied for brand identification.
At each production station, the bottle communicates directly with the machine about how it is to be processed. At the end of the line, another machine checks that it has in fact been produced according to the desired specification. If not, a quality control alarm is initiated and the bottle is moved to a quarantine area for further inspection.
Of course this begs the question: If the product 'knows' about all process steps, and machines work through components on order, does it even matter who owns the machines? But the great machine farms where producers simply rent capacity as and when required is a debate for another time.
Festo's Qualification for Industry 4.0
Festo's Industry 4.0 strategy is based on three pillars: technology, people, and qualification.
The Didactic division has devised a special training programme to develop expertise in working with the latest digital industry technologies within the Industry 4.0 framework. What is unique is the modular approach that allows the training to be tailored to individual as well as organisational requirements, from the shop floor to the top floor.
"When an organisation expresses an interest in our Industry 4.0 training, the first thing we go in and do is a needs analysis," explains Landman passionately.
The analysis is based on Festo's IDEA acronym:
I = Identify
D = Develop
E = Engage
A = Apply
"It is very important that we understand the organisational requirements right from the get-go," adds van Niekerk. "What we offer is not a one-size-fits-all solution, but rather a programme that exactly matches organisational objectives, and is customised to the needs of all individuals at the different hierarchical levels."
What this means in practice is that not only is the programme unique to each organisation, but it could also be unique to each participating individual depending on their job description. For instance, a different set of modules might be recommended for C-suite executives versus a technician on the production floor – say.
"The training is based on experiential learning and consists of both theory and practical," outlines Landman. "The theory is contained in Festo Didactic designed course modules delivered by certified training officers, and the practical is conducted in a cyber-physical laboratory using expandable I4.0 workstations that can ultimately be linked together to simulate a cyber-physical production system."
According to Festo, the cyber-physical laboratory is the apex of its modular learning system for Industry 4.0. It is an authentic replica of the stations of a real production system, integrating all the relevant mechatronic and automation technologies. With its training flexibility and expandability, the cyber-physical laboratory represents numerous aspects of the Industry 4.0 value chain, including:
• Integration of manufacturing divisions into the digital factory architecture.
• Automated and manual assembly.
• Logistics in autonomous systems.
• Production planning and control/MES.
• Lean production as a basis for Industry 4.0.
• Smart maintenance to monitor systems and system states.
• Quality assurance in Smart Factories.
The good news for South African manufacturing executives interested in the possibility of competitive advantage through early adoption of some (or all) of the ideas of Industry 4.0, is that from 2017 Festo is bringing this training to South Africa – complete with a fully functional cyber-physical laboratory.
"The modules for the laboratory are on order," says Landman, "and we are expecting delivery at the beginning of September."
"We will have all the systems in place by year-end, and we'll be ready to deliver the first training courses in 2017," adds van Niekerk.
The theoretical training includes topics such as networking and the use of open, configurable systems, communication standards and databased job control, RFID and NFC (near field communication) technologies, as well as the acquisition of information via mobile devices.
On the practical side, the cyber-physical laboratory can be customised to concentrate on the themes most relevant to individual manufacturer needs in industrial automation technology and preferred factory layout.
For more information contact Kershia Beharie, Festo, 08600 FESTO, kershia.beharie@festo.com, www.festo.co.za
Credit(s)
Further reading:
Experience digitalisation at the Festo Virtual Exhibition
June 2020, Festo South Africa , News
Festo is breaking new ground with its first-ever Virtual Exhibition scheduled to take place from the 15-16 July. Visitors will get to experience digitalisation as never before. This exhibition will be 
...
Read more...
---
Festo TechTalk: Energy efficiency thanks to smart products
July 2020, Festo South Africa , IT in Manufacturing
This year's TechTalk focused on smart products that help companies to produce energy efficiently, educational measures that empower employees for lifelong learning as well as for the digital working world 
...
Read more...
---
Festo online configurator tool simplifies sizing of process valves
April 2020, Festo South Africa , Valves, Actuators & Pump Control
From manually operated to automated process valves, the new configurator tool for process valves from Festo makes selecting the right solution easy and less time-consuming.
Read more...
---
Seamless integrated connectivity for electric automation from Festo
April 2020, Festo South Africa , Fieldbus & Industrial Networking
The cloud is everywhere. We save data on the cloud and access it on our phones and computers from anywhere at our convenience. The same applies to seamless connectivity in industrial automation from your 
...
Read more...
---
Festo's digitalised product world
January 2020, Festo South Africa , System Integration & Control Systems Design
HoloLens, mobile phones, 3D printing and smart glasses – the gadgets that captured the public imagination in the blockbuster movie 'Back to the Future' over 30 years ago have now become a reality, all thanks to digitalisation.
Read more...
---
World record for Festo's BionicOpter
December 2019, Festo South Africa , News
The Festo BionicOpter will be included in the 2020 Guinness World Records. The chapter 'Robots' presents the most amazing records from the world of super robots and artificial intelligence. The Festo 
...
Read more...
---
Adapting education to the fourth industrial revolution
September 2019 , Training & Education
In order to establish a firm value proposition for Industry 4.0, it has to start at the FET (Further Education and Training) level, in schools and TVET (Technical, Vocational Education and Training) colleges, at the HET (Higher Education and Training) level, in universities, and all training providers.
Read more...
---
Festo inspires with smart digital solutions at the Automation Expo
September 2019, Festo South Africa , News
Festo hosted the first leg of the Automation Expo in Johannesburg at the Sandton Convention Centre, while the second took place in Port Elizabeth at the Boardwalk Convention Centre. Both ended on a high 
...
Read more...
---
Productivity Master points the way to digitalisation
September 2019, Festo South Africa , System Integration & Control Systems Design
Seamless connectivity of handling and software solutions developed by Festo.
Read more...
---
Automation education and training in South Africa – Part 3: Funding model
August 2019, SAIMC , Training & Education, SAIMC
In the final article of this series, we present a possible funding model to achieve the ideas outlined in the previous two parts.
Read more...
---