printer friendly version
Oryx research improves bottom line in pharmaceutical manufacturing
August 2016
Data Acquisition & Telemetry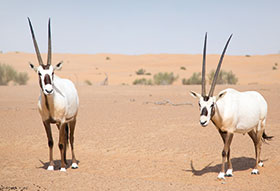 Researchers at the University of the Witwatersrand are studying the Arabian Oryx in the Saudi Arabian Desert to determine the effects of climate change on its behaviour. AWE Telemetry Systems was challenged to come up with a way of measuring the internal body temperature and activity of the antelope and transmitting that data in near real-time to the cloud. The company was able to integrate temperature and activity sensors with a UHF radio, which was then implanted into the animal. The radio sends the data periodically to a receiver on an Iridium satellite collar on the animal's neck. This is then sent to AWE's servers via the Iridium satellite network, allowing researchers to monitor the animals remotely.
AWE Telemetry Systems has taken this technology to the mainstream market. In a pilot project for a pharmaceutical manufacturing company in Gauteng, remote temperature and relative humidity (RH) monitoring devices were installed in various rooms within the facility. These devices are completely portable and rechargeable. The facility manager requires units that do not need permanent power or a backhaul to a server. Retrofitting devices where reticulation and power are required is out of the question. The facility cannot afford any downtime during installation of fixed and powered telemetry. They transmit temperature and RH measurements every five minutes and have been doing so on a single charge for the past 85 days. AWE expects a lifespan of at least five years for these units running on lithium primary cells. The measurement interval can be changed, which will increase or decrease the expected battery life.
The data from the remote units is received by the AWE gateway unit located within the facility and is then transmitted to the company's servers via the GSM network (Iridium satellite network not necessary in this instance), making it available online in real time. Should temperature and RH fall outside the set criteria, alerts are triggered via email and SMS notification. The set points can be changed on a per device basis in the back-end.
The user interface is completely customisable, with various widgets and dashboards available.
For more information contact Jason Tarr, AWE Telemetry Systems, +27 (0)73 171 2539, jason@awetelemetry.com, www.awetelemetry.com
Further reading:
New network function for digital ­indicator
October 2018, Yokogawa South Africa , Data Acquisition & Telemetry
Yokogawa has added a network function to the UM33A digital indicator with alarms. With this network function, a single UM33A digital indicator can receive, process and sequentially display data from up 
...
Read more...
---
Remote monitoring and telemetry at power station water plants
July 2018, Omniflex Remote Monitoring Specialists , Data Acquisition & Telemetry
The wireless ability to manage pumps remotely over long distances is now available using Omniflex's Teleterm M3 Radio RTUs. This full functionality IEC61131 PLC enables both control and wireless communications 
...
Read more...
---
Purely analog signal conditioning
June 2018, GHM Messtechnik SA , Data Acquisition & Telemetry
IMTRON, part of the GHM Group, has launched the Purely Analogue Signal Conditioning TSA modules that offer well-established methods for processing, filtering, amplifying and galvanically isolating sensor 
...
Read more...
---
KPMs rotary consistency transmitter boosts pulp mill performance
May 2018, UIC Instrumentation , Data Acquisition & Telemetry
In today's pulp and paper-making market place, consistency measurement is one of the most important ways to keep costs as low as possible without sacrificing quality or production throughput. KPM's KC/5 
...
Read more...
---
Cost-effective process monitoring and recording
January 2018 , Data Acquisition & Telemetry
KRN1000 series paperless process recorders.
Read more...
---
RS Pro range of USB keys delivers secure data storage
January 2018, RS Components SA , Data Acquisition & Telemetry
RS Components has introduced a new addition to its high-quality RS Pro range with the launch of the Evikey One NFC cybersecure contactless USB key. The innovative range of USB flash-drives delivers a 
...
Read more...
---
Low power, battery operated RTU/logger
Africa Automation Fair 2017 Preview , Data Acquisition & Telemetry
The new SSE ultra low power, battery operated RTU/logger is a reliable, high performance data logger. It is easy to deploy across a wide range of water and wastewater applications. Visit Stands F13-F15 
...
Read more...
---
Data acquisition and control system
Africa Automation Fair 2017 Preview, Elexsys , Data Acquisition & Telemetry
The Dataforth MAQ20 industrial data acquisition and control system from Elexsys consists of DIN rail-mounted, programmable, multichannel, industrially rugged signal conditioning input and output modules. 
...
Read more...
---
New mini scada RTU for data acquisition
April 2017 , Data Acquisition & Telemetry
Define Instruments has released the Zen RTU Mini, a data acquisition unit for industrial analog signals. A breakthrough for DAQ applications requiring the collation of multiple signals and signal types 
...
Read more...
---
Paperless process recorders
March 2017 , Data Acquisition & Telemetry
Cost-effective process monitoring and data recording.
Read more...
---