printer friendly version
High performance flowmeter for the process industry
July 2016
Mass Measurement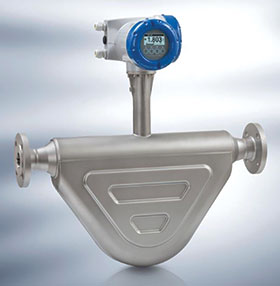 Krohne has introduced the new Optimass 6400, enhancing its portfolio of Coriolis mass flowmeters with a twin bent tube Coriolis mass flowmeter to meet standard liquid and gas applications in the chemical and petrochemical, oil and gas, pharmaceutical, food and beverage and power industries.
The Optimass 6400 features advanced entrained gas management (EGM). In the past, gas entrainments in liquid media presented a challenge for mass flowmeters because the relative movement between gas and fluid dampens the amplitude of the measuring tube. This dampening leads to inconsistent sensor amplitudes, which interfere with the electronics' capability to determine the actual resonant frequency. While some other mass flowmeters simply 'freeze' their last stable reading to cover this 'loss of measurement,' the Optimass 6400 with EGM is able to follow and correct for the varying amplitudes. This is achieved for entrained gas up to 100% of volume and the instrument continues to present an actual measured reading, together with an indication or configurable alarm for the user. This indication helps to improve processes by identifying transient gas entrainments.
Compliant to NAMUR standard installation lengths, the unit is available in sizes DN 8-250 and covers high temperatures up to 400°C / 752°F, as well as cryogenic applications down to -200°C. It also handles pressures up to 200 bar.
Approved for custody transfer
These specifications, together with the unique feature of EGM and custody transfer approvals for both liquids (OIML R-117-1 / MI005) and gases (OIML – R137 / MI002), make the instrument suitable for process industries and specialist applications like LNG, CNG or supercritical gases in terminal or storage/bunkering, along with custody transfer applications. It is available in stainless steel 316L, Hastelloy C22 and Duplex steel UNS S31803.
The Optimass 6400 is the first Krohne mass flowmeter to feature the new signal converter MFC 400. The MFC 400 incorporates state-of-the-art digital electronics. The fast digital signal processing of the MFC 400 provides the EGM feature, as well as an outstanding dynamic density measurement. Together they provide an accurate volume flow output and mass measurement.
Credit(s)
Further reading:
Key factors for picking the optimal flowmeter
July 2021, KROHNE , Flow Measurement & Control
While a variety of factors impact meter performance, the most common culprits are flawed sizing and failing to choose the most appropriate technology.
Read more...
---
KROHNE – 100 years in the spirit of creativity
August 2021, KROHNE , News
When Ludwig Krohne founded the company in 1921, the first customers were a small number of steel producers from the Ruhr area.
Read more...
---
Advances in pipeline leak detection
June 2021, KROHNE , Maintenance, Test & Measurement, Calibration
The high rate of false alarms in standard pipeline leak detection systems can force system operators to waste labour chasing down problems that do not exist. Fortunately, newer technology provides an alternative.
Read more...
---
Unlimited performance in limited spaces
February 2021, KROHNE , Editor's Choice
The new AF-E 400 is the culmination of KROHNE`s 70 years of expertise in electromagnetic flow measurement and was specifically designed for industrial automation applications.
Read more...
---
Flowmeter for utility applications
November 2020, KROHNE , Flow Measurement & Control
As an addition to the Optiswirl family, KROHNE has introduced the Optiswirl 2100, a new vortex flowmeter aimed at basic utility applications.
Read more...
---
Make bin level sensors redundant
November 2020, DRH Components , Mass Measurement
Today it is critical to know and understand inventory down to the last unit in order to be efficient.
Read more...
---
Belt conveyor weighing applications
June 2020, Loadtech Loadcells , Mass Measurement
Loadtech's LT1320 is a precision digital indicator for belt weighing applications. The unit takes the weight and speed information from a belt conveyor system and accurately calculates the rate and total 
...
Read more...
---
Positive displacement vs Coriolis meters
March 2020, Soliflo , Mass Measurement
Positive displacement (PD) is a practical and accurate method to achieve volumetric measurement of refined hydrocarbons, according to tests undertaken by Brodie International in the USA.
Read more...
---
Ultra-compact weighing electronics
March 2020, Siemens Digital Industries , Mass Measurement
Siwarex WP351 is Siemens' newest solution for intelligent weighing automation. Measuring 20 mm width by 65 mm height, the module is one of the smallest weighing electronics units available. The device's 
...
Read more...
---
A real-time alternative to radiometric density measurement
September 2019, Endress+Hauser South Africa , Mass Measurement
Currently, in mining applications, radiometric measurement has been the only way to measure the density of slurry. Until recently, and due to the harsh and abrasive environment of slurry, no other measuring 
...
Read more...
---