printer friendly version
Allpronix provides a simple solution
July 2016
Data Acquisition & Telemetry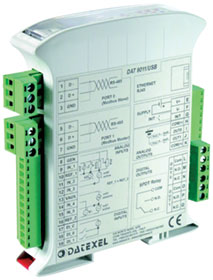 An Allpronix customer recently found itself in a predicament where it needed to monitor a flowmeter remotely, but also record the data on site with a paperless recorder.
The RTU already installed on site performed the function by reading the flow rate from the flowmeter's Modbus register. The problem was that the electromagnetic flowmeter the customer had purchased did not give a mA output signal, which is required by the paperless recorder.
The solution was to introduce a device that could connect to the same Modbus network as the RTU, receive the flow rate from the RTU (Modbus master) and produce a mA output signal to allow the recorder to log the flow rate on a SD card.
The Datexel DAT9011-USB was chosen for its capability to act as a Modbus master or slave, to perform the computation required without the need for add-on modules and the versatility it offers for possible future expansion.
The intelligent module is able to control a network of slave Modbus RTU devices connected on a serial RS-485 line. It can execute the reading and writing of the field values and perform the logical and mathematical functions necessary for system operation and the management of up to eight data storage tasks.
The data is saved on a USB memory stick and it is possible to access the saved files by means of the Ethernet connection. The device is equipped with one universal analog input channel, one channel for volt and mA input, two digital inputs and two relay outputs. An auxiliary source is also available to supply sensors in the field.
By means of the Ethernet interface, or the RS-485 slave or RS-232 ports, it is possible to read and write the internal register values in real time. Moreover, it is also possible to program the control logic and request real-time data from the slave devices.
For more information contact Jurie Weidemann, Allpronix, +27 (0)11 795 9500, jurie@allpronix.com, www.allpronix.com
Credit(s)
Further reading:
New network function for digital ­indicator
October 2018, Yokogawa South Africa , Data Acquisition & Telemetry
Yokogawa has added a network function to the UM33A digital indicator with alarms. With this network function, a single UM33A digital indicator can receive, process and sequentially display data from up 
...
Read more...
---
Remote monitoring and telemetry at power station water plants
July 2018, Omniflex Remote Monitoring Specialists , Data Acquisition & Telemetry
The wireless ability to manage pumps remotely over long distances is now available using Omniflex's Teleterm M3 Radio RTUs. This full functionality IEC61131 PLC enables both control and wireless communications 
...
Read more...
---
Purely analog signal conditioning
June 2018, GHM Messtechnik SA , Data Acquisition & Telemetry
IMTRON, part of the GHM Group, has launched the Purely Analogue Signal Conditioning TSA modules that offer well-established methods for processing, filtering, amplifying and galvanically isolating sensor 
...
Read more...
---
KPMs rotary consistency transmitter boosts pulp mill performance
May 2018, UIC Instrumentation , Data Acquisition & Telemetry
In today's pulp and paper-making market place, consistency measurement is one of the most important ways to keep costs as low as possible without sacrificing quality or production throughput. KPM's KC/5 
...
Read more...
---
Cost-effective process monitoring and recording
January 2018 , Data Acquisition & Telemetry
KRN1000 series paperless process recorders.
Read more...
---
RS Pro range of USB keys delivers secure data storage
January 2018, RS Components SA , Data Acquisition & Telemetry
RS Components has introduced a new addition to its high-quality RS Pro range with the launch of the Evikey One NFC cybersecure contactless USB key. The innovative range of USB flash-drives delivers a 
...
Read more...
---
Allpronix secures Eurotherm agency
May 2017, Allpronix , News
Allpronix has expanded its brand portfolio through acquiring the Eurotherm agency for southern Africa. Allpronix is now the authorised stocking distributor for Eurotherm process control, measurement, 
...
Read more...
---
Low power, battery operated RTU/logger
Africa Automation Fair 2017 Preview , Data Acquisition & Telemetry
The new SSE ultra low power, battery operated RTU/logger is a reliable, high performance data logger. It is easy to deploy across a wide range of water and wastewater applications. Visit Stands F13-F15 
...
Read more...
---
Data acquisition and control system
Africa Automation Fair 2017 Preview, Elexsys , Data Acquisition & Telemetry
The Dataforth MAQ20 industrial data acquisition and control system from Elexsys consists of DIN rail-mounted, programmable, multichannel, industrially rugged signal conditioning input and output modules. 
...
Read more...
---
Level solutions
Africa Automation Fair 2017 Preview, Allpronix , Level Measurement & Control
Allpronix has two laser level/distance transmitter models which have been developed in South Africa and manufactured locally.The AL40 has a maximum range of 40 metres while the AL100 has a maximum range 
...
Read more...
---