printer friendly version
Petra Diamonds expansion project
June 2016
IT in Manufacturing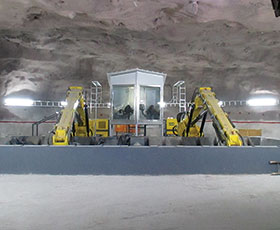 Manager Andre Cloete says the expansion project is transformational for Cullinan as well as Petra Diamonds. "It represents the start of a new mine which gives us access to greater volumes of fresh, high grade undiluted ore for at least another 16 years. It is also expected to increase the frequency of recovering 'big blue diamonds' while ensuring the mine retains its status as one of Petra Diamonds' flagship mines, well beyond 2016."
Impressively, Petra Diamonds was able to undertake the project forward for less than half the cost forecast by its original owners. This is due to a phased growth approach and evaluation of how best to utilise existing equipment and infrastructure, while finding innovative solutions to reduce general capital expenditure.
A mine is born
The 5,7 hectare, C-Cut Phase 1 Expansion project specifically entails the development and construction of a new block cave on the western side of the Cullinan ore body, 200 m below the current operational B block mining horizons, situated 645 to 885 metres below the surface. Once in full production in 2019, the new C-Cut block will increase Cullinan's ROM production from 2,5 to 4 Mtpa, incorporating two million carats from underground production and 0,4 million carats from a major tailings programme.
The mine's annual carat recovery will subsequently also increase from just under 1 million carats per annum to 2 million carats per annum, and its average grade from about 24 cpht to in excess of 50 cpht.
The delivery of such an enormous, production-doubling undertaking is extensive and further to the upgrade and expansion of surface infrastructure, the expansion includes the deepening the shafts used for personnel and rock hoisting. Once complete, it will deliver dramatic simplification of Cullinan's current ore-handling system.
The actual underground project is 64% complete and to date equates to about 2 km of development ahead of the original targets. R2,1 billion of the total R3,8 billion allocation has currently been spent. "Production ramp-up from the C–Cut has, in fact, already started and the first draw points will be installed by the end of the year enabling us to deliver upfront tons," says Cloete.
EPLAN, breaking new ground in the mining sector
EPLAN develops CAE solutions and advises companies on how to optimise their engineering processes. It provides custom-made concepts for the system implementation, installation and smooth integration into the IT/PLM system landscape, based on standard engineering solutions. The service portfolio also covers consulting and training.
The EPLAN Platform connects disciplines such as electrical engineering, fluid power engineering, technical planning of machines and systems, design plant overviews and P&ID schemes with EPLAN P&ID and the design and verification of control cabinets, with the various EPLAN expert systems.
The company operates in various industries including mining, automotive, machine building, panel building and water and wastewater. With the implementation of EPLAN Experience's 8 fields of action, it can offer specific programme configuration for an optimal working environment. The end result is an increase in customer project quality through consistent engineering practice across the disciplines.
EPLAN and Petra Diamonds working together
With the help of the EPLAN platform, the Petra Diamonds' C&I Team has been able to generate deliverables in the form of detailed design documentation of:
• MCCs and PLC cabinets.
• Panel layouts for all remote I/O.
• Network, terminal and PLC overviews.
• Cable schedules.
For the south and north production conveyors, crushers, loading level and top of silo which needs to be finalised by the end of June to commence final installation and commissioning.
For more information contact Marietjie Daubert, EPLAN Software & Services, +27 (0)11 609 8294, daubert.m@eplan.co.za, www.eplan.co.za
Credit(s)
Further reading:
The most common cyber threats in the industrial environment
Rockwell Automation IT in Manufacturing
Rockwell Automation's cybersecurity portfolio strategic growth leader delves into this topic in a recent blog post.
Read more...
---
Deploying IT into the factory floor environment
Omniflex Remote Monitoring Specialists IT in Manufacturing
The ongoing debate on whether OT and IT should be integrated has never been more intense. Closing the gap between the two has many benefits, not least of which are efficiency and profitability managed in near real time.
Read more...
---
PACTware further refines user interface
VEGA Controls SA IT in Manufacturing
Optimising a user interface for multiple sensor equipment manufacturers is possible in such a way that industrial users can use it similarly to everyday smart devices.
Read more...
---
EPLAN Marketplace networks users and service providers
EPLAN Software & Services IT in Manufacturing
The free online platform is divided into engineering services, module manufacturing services and general consulting sectors.
Read more...
---
Condition monitoring software gets asset health boost
Emerson Automation Solutions IT in Manufacturing
The newest version of Emerson's AMS Machine Works adds support for embedded, automatic analytics at the edge using patented PeakVue technology.
Read more...
---
A robust cybersecurity strategy is critical
ABB South Africa IT in Manufacturing
Understanding and managing the risks associated with a cyberattack can seem a daunting prospect in the face of keeping a plant up and running.
Read more...
---
Is your manufacturing plant ready for IoT?
Editor's Choice Fieldbus & Industrial Networking IT in Manufacturing
Pockets of IoT exist in manufacturing plants today; the challenge is to fully digitalise the entire plant.
Read more...
---
Revolutionising space exploration
Siemens South Africa IT in Manufacturing
Sierra Space, a commercial space company at the forefront of creating and building the future of space transportation for low earth orbit commercialisation, has implemented the Siemens Xcelerator portfolio of software and services as the foundation of its next-generation digital engineering program.
Read more...
---
Impact of innovative technologies on the mining industry
Parker Hannifin - Sales Company South Africa Editor's Choice IT in Manufacturing
Mining operations must identify creative ways to handle the increased demand for minerals and resources as global economies become even more reliant on mineral sales. As a result, mine operators must 
...
Read more...
---
SIM management essential in changing IoT market
IT in Manufacturing
Trinity IoT provides a myriad of tools to manage SIMs, whether as part of a mobile device strategy or a rapidly evolving IoT ecosystem.
Read more...
---