printer friendly version
Petra Diamonds expansion project
June 2016
IT in Manufacturing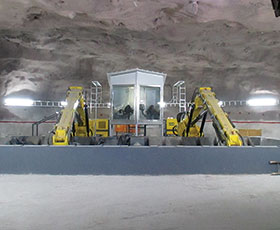 Manager Andre Cloete says the expansion project is transformational for Cullinan as well as Petra Diamonds. "It represents the start of a new mine which gives us access to greater volumes of fresh, high grade undiluted ore for at least another 16 years. It is also expected to increase the frequency of recovering 'big blue diamonds' while ensuring the mine retains its status as one of Petra Diamonds' flagship mines, well beyond 2016."
Impressively, Petra Diamonds was able to undertake the project forward for less than half the cost forecast by its original owners. This is due to a phased growth approach and evaluation of how best to utilise existing equipment and infrastructure, while finding innovative solutions to reduce general capital expenditure.
A mine is born
The 5,7 hectare, C-Cut Phase 1 Expansion project specifically entails the development and construction of a new block cave on the western side of the Cullinan ore body, 200 m below the current operational B block mining horizons, situated 645 to 885 metres below the surface. Once in full production in 2019, the new C-Cut block will increase Cullinan's ROM production from 2,5 to 4 Mtpa, incorporating two million carats from underground production and 0,4 million carats from a major tailings programme.
The mine's annual carat recovery will subsequently also increase from just under 1 million carats per annum to 2 million carats per annum, and its average grade from about 24 cpht to in excess of 50 cpht.
The delivery of such an enormous, production-doubling undertaking is extensive and further to the upgrade and expansion of surface infrastructure, the expansion includes the deepening the shafts used for personnel and rock hoisting. Once complete, it will deliver dramatic simplification of Cullinan's current ore-handling system.
The actual underground project is 64% complete and to date equates to about 2 km of development ahead of the original targets. R2,1 billion of the total R3,8 billion allocation has currently been spent. "Production ramp-up from the C–Cut has, in fact, already started and the first draw points will be installed by the end of the year enabling us to deliver upfront tons," says Cloete.
EPLAN, breaking new ground in the mining sector
EPLAN develops CAE solutions and advises companies on how to optimise their engineering processes. It provides custom-made concepts for the system implementation, installation and smooth integration into the IT/PLM system landscape, based on standard engineering solutions. The service portfolio also covers consulting and training.
The EPLAN Platform connects disciplines such as electrical engineering, fluid power engineering, technical planning of machines and systems, design plant overviews and P&ID schemes with EPLAN P&ID and the design and verification of control cabinets, with the various EPLAN expert systems.
The company operates in various industries including mining, automotive, machine building, panel building and water and wastewater. With the implementation of EPLAN Experience's 8 fields of action, it can offer specific programme configuration for an optimal working environment. The end result is an increase in customer project quality through consistent engineering practice across the disciplines.
EPLAN and Petra Diamonds working together
With the help of the EPLAN platform, the Petra Diamonds' C&I Team has been able to generate deliverables in the form of detailed design documentation of:
• MCCs and PLC cabinets.
• Panel layouts for all remote I/O.
• Network, terminal and PLC overviews.
• Cable schedules.
For the south and north production conveyors, crushers, loading level and top of silo which needs to be finalised by the end of June to commence final installation and commissioning.
For more information contact Marietjie Daubert, EPLAN Software & Services, +27 (0)11 609 8294, daubert.m@eplan.co.za, www.eplan.co.za
Credit(s)
Further reading:
What does digitalisation mean for food product safety?
Endress+Hauser South Africa IT in Manufacturing
Product safety remains a vital topic for achieving food security across the globe. To date, many manufacturers still question whether digitalisation can help reduce the effort involved in process optimisation, production monitoring and system installation.
Read more...
---
Digital twins enhance asset productivity in oil and gas applications
IT in Manufacturing
The ability to continue through various production cycles with zero unplanned downtime means that practical efficiencies using digitisation are essential.
Read more...
---
IaaS – paying for the experience but not the assets
Schneider Electric South Africa IT in Manufacturing
Infrastructure-as-a-Service has emerged as a feasible option that maintains crucial infrastructure such as IT, power consumption and business continuity while organisations focus on their core business.
Read more...
---
Siemens extends Xcelerator portfolio
Siemens South Africa IT in Manufacturing
Siemens Digital Industries has announced the release of NX Automation Designer software and NX Industrial Electrical Design software, a new suite of solutions that provide a central design application for industrial, electrical and automation design.
Read more...
---
Intelligent automation for Industry 4.0
IT in Manufacturing
Jumo smartWARE Evaluation is a software solution that allows browser-based process data analysis via customised dashboards.
Read more...
---
Simplifying the management of hybrid IT environments
Schneider Electric South Africa IT in Manufacturing
With the ongoing move towards hybrid cloud environments there comes an extra layer of complexity; nothing is ever as simple as it seems.
Read more...
---
Server engine for increasing machine learning requirements
Beckhoff Automation IT in Manufacturing
TwinCAT Machine Learning offers further inference engine.
Read more...
---
OPC Classic data connectivity notice
Moore Process Controls IT in Manufacturing
During June, Microsoft released a security update that changed how the Windows operating system enforces DCOM security. As a result, OPC communications relying on DCOM may stop working when the Windows changes start to be enforced in 2022.
Read more...
---
The importance of good project management
Iritron IT in Manufacturing
A structured way of organising work can help identify and resolve problems in an efficient manner before the implications have a chance to escalate.
Read more...
---
Experience Eplan Platform 2022
EPLAN Software & Services IT in Manufacturing
Eplan heralds the future of electrotechnical engineering with a focus on ease-of-use for both experienced users and for newcomers to its software.
Read more...
---