printer friendly version
Scada Review 2016: Wonderware
June 2016
SCADA/HMI
End-user details
Name: Casper du Plessis
Designation: Electrical, Instrumentation and Automation Engineer
Company: Cennergi
Phone: +27 (0)12 675 6668
E-mail: casper.duplessis@cennergi.com
SI details
Name: Jos Peters
Designation: Senior Systems Engineer
Company: CSI – Control Systems Integration
Phone: +27 (0)12 653 7901
E-mail: josp@controlsi.co.za
Product details
Product name and version: Wonderware System Platform 2014 R2 SP1
Vendor: Wonderware Southern Africa
Phone: +27 (0)11 607 8100
E-mail: jaco@wonderware.co.za
URL: www.wonderware.co.za
Application details
Location: Two remote wind farms located in the Eastern Cape
Industry: Renewable Energy
Project start date: 2015-01
Project end date: 2016-04
Application: To track the performance of two remote wind farms and report this data to Cennergi's head office in Centurion
Server OS: Server 2012 R2 64 bit
Client OS: Server 2012 R2 64 bit
Application statistics
Tag count: 1856
Updates per day: Measurements are stored in one-hour "time buckets"
Disk space for one day's updates: A figure is not available at this time
Physical I/O count: Approximately 800 analog
Front ends: Vestas Business Online OPC Server (290 I/O)Nordex OPC XML DA Server (510 I/O)
Licences: Wonderware System Platform Flow software licence OPC Driver licence from Software Toolbox Win-911
Scada configuration man-hours: 200 man hours
END-USER RESPONSES
General
Q: Briefly describe the application including information on any pre-existing control system.
Connection was established between the OEM vendors' Wind Farm control system and the Wonderware Data collectors onsite via OPC connection/protocol.
Q: What was the primary motivation for the project?
Cennergi required a solution that would assist them to perform data analyses on two wind farms in order to monitor their performance from a remote but central location.
Q: What were the main goals established for the project?
The solution had to have the capability to retrieve data/reports from a central point, allowing Cennergi to track the performance of each wind farm.
Q: In the procurement decision making process what were the primary considerations that influenced the product selection?
Configuration versus customisation; flexible reporting capabilities; local support; scalability; affordability; suitability for application.
Licensing, maintenance and support
Q: What upgrade agreements are in place for this application?
Upgrades are covered under a paid annual maintenance agreement (Customer FIRST).
Q: How is after-sales support handled on this application?
Support/upgrades are covered under a paid annual support agreement.
Integration, reporting and archiving
Q: Is the scada system integrated onto an intranet or the Internet?
The remote sites are connected via a WAN to head office.
Q: Does the application include data archiving/historian capabilities with an historical data reporting system?
It makes use of Wonderware Historian to archive the raw data collected from the site data collectors. The data is then aggregated, contextualised and calculations are done using the Flow software. The data is then transformed into contextualised information before storage in an Operational Data Store (ODS).
Maintenance, reliability and asset optimisation
Q: Have any operational or production benchmarking tools been configured as part of the scada system?
Numerous reports have been configured to give an account of the utilisation and performance of the wind farms. These also compare wind speed and wind direction in relation to power output on a daily, weekly and monthly basis.
End-user conclusion
Q: What was the predominant feature (or features) that made you decide to purchase this scada product over all others for this application?
We saw this as a natural upgrade path together with the support that was available from the vendor and SI.
Q: What impresses you most about the architecture?
• Open standards.
• Wide range of drivers.
• Ability to upgrade.
• The ease with which the architecture scales from a simple client-server to a multi-tier application.
• Catering for the loss of communication due to remote locations and a challenging network infrastructure.
SI RESPONSES
Project details
Q: What tools were used to minimise the man-hours taken?
• System Platform Templates and Galaxy Dump.
• SQL Queries.
• Flow Software Export.
Q: What human factors were taken into consideration as principles or development standards in the HMI design process?
• Out-of-the-box reporting features.
• Client-driven reporting.
• Manual data entry with validation.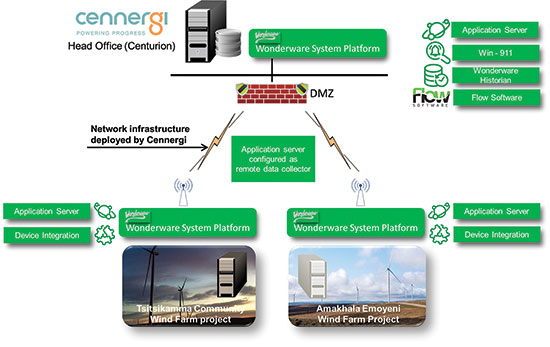 System architecture.
Q: For the graphics development process did you use standard library images, or did you have to draw images from scratch?
The graphics used were those supplied with the system.
Q: How would you describe the library of graphic images?
Comprehensive.
Q: What alarm management standards or best practices were adopted in configuring the scada system alarms?
Win-911 e-mail notification.
Q: What structured processes were followed to determine expected performance under full load, and during abnormal failure conditions?
Although the system is relatively small in terms of I/O count, communications/network failure was a major consideration but was catered for with System Platform's store-and-forward capability.
Q: What are the key physical communication layers and communication protocols employed in the system?
• Ethernet LAN.
• WAN over Internet with VPN.
Q: What is the network speed and communications medium of the slowest link in this project's scada network?
3G specifications.
Q: What is the network speed and communications medium of the fastest link in this project's scada network?
1 Gb Ethernet.
Q: What levels of redundancy are incorporated in this scada application?
No Redundancy at this stage, only the store-forward capability.
Project management
Q: What Project Management principles and/or methodologies did you as SI employ to mitigate risk and to ensure the project came out on time and within budget?
Agile Project Management approach and formal change control.
Security and data protection
Q: How have authentication, authorisation and role management been configured?
All security is application-based at this stage for Application Server (Development), Historian configuration and Clients, Flow Software Development Environment as well as for manual entry and reporting.
Q: Does the design make provision for a DMZ and firewall segregation of process (scada) network and business networks?
Yes, already in place by client and OEMs operating the sites.
Q: What intrusion detection has been incorporated on the plant network(s) on which this scada system exists?
Trend Micro.
Q: In what ways is this project's hardware architecture optimised for patch and antivirus management?
Antivirus measures are managed by Cennergi at the corporate level. Servers are updated manually.
Q: What configuration backup and data archive backup methodologies have been adopted?
SQL maintenance plan.
SI conclusion
Q: How would you rate the ease of use of the historical reporting system?
Very easy to work with, configure maintain and update.
Q: What impresses you the most about the engineering/configuration aspects of the product now that it is in operation?
Drag-and-drop report configuration and object-oriented template design in System Platform.
Q: What impresses you most about the architecture?
The archtecture lends itself easily to add functionality such as redundany of historical tiering if required in future. It is also very easy to configure changes to the system such as the addition of turbines or even entire wind farms. Note that this applies to the architecture, not the product in general.
VENDOR RESPONSES
Product
(Table 1.)

Table 1.
Q: Vendor comments on product/modules?
ArchestrA System Platform provides a common, highly efficient and centralised software infrastructure to develop, manage, control and maintain industrial applications with exceptional scalability and openness.
It enables integration of the entire enterprise, lowers engineering costs, easily scales as the business grows, enforces engineering and operating standards and improves control without costly system replacement. Flow Software allows for the collection of information from multiple data sources automatically, an approach that ensures a single version of the truth.
Operating systems/VMware
(Table 2.)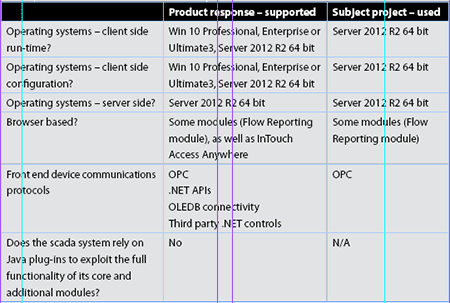 Table 2.
Q: Vendor comments on operating systems
Microsoft provides Wonderware with architectural guidance, development and technical support, product roadmap coordination and scalability testing of Wonderware software solutions. In turn, Wonderware, having access to Microsoft's ongoing development plans, provides feedback on features needed for manufacturing and the suitability of certain system features and functions for the manufacturing market. The result is high-quality software coordinated with the Microsoft development roadmap, conceived to work on and thoroughly tested with Microsoft software.
Licensing, maintenance and support model
Q: What sort of licensing agreement options are offered?
Licences are based on the functionality or modules that are required for the specific solution.
Q: Are licences sold outright or subject to periodic (eg annual) renewal?
Licensing is a once-off purchase for a particular version. Customer FIRST is a comprehensive support network that allows for software technical support as well as version upgrades for purchased modules.
The Customer FIRST agreement is subject to annual renewal.
Q: What upgrade agreements are offered?
The annually renewable Customer FIRST Support and Services Program helps clients protect and extend the value of Wonderware products and solutions. The programme also provides access to a wide range of additional, optional services such as application support, onsite resources and value-added consulting.
Q: What after-sales offerings iro support and maintenance are available, and which technologies are used to deliver them?
Wonderware offers advanced remote monitoring technology that enhances its ability to deliver higher availability and reliability of plant assets to the client company. The key benefit is increased production uptime brought about by ensuring higher availability of the Wonderware application.
Q: Do you have a documented process in place to manage and test OS patches and to release scada system software patches?
Wonderware and Microsoft hotfixes are available from the Wonderware support website. Wonderware's goal is to verify that Microsoft security updates work with Wonderware Software within 15 business days of release. Any exceptions to this will be listed on the Wonderware security central web page.
Technology incorporated
(Table 3.)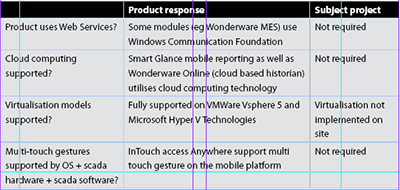 Table 3.
Integration and reporting
Q: What generic and/or product specific interfaces does the product have iro well-known MES packages?
Wonderware Enterprise Integrator offers powerful site to enterprise integration capabilities for linking Wonderware Software or ArchestrA System Platform based applications and additional third-party software applications with enterprise systems including Enterprise Resource Planning (ERP), Product Lifecycle Management (PLM), Supply Chain Management (SCM) or Laboratory Information Management Systems (LIMS). The software facilitates automatic exchange and transformation of production-related information. It helps to manage abnormal situations like interrupted connections or loss of data by automatic store and forward and allows users to resend or adjust transactions, based on a full detailed message history.
Q: What native historical data reporting options are available?
Wonderware Historian provides high performance, flexibility, scalability, and high reliability. It combines advanced data storage and compression techniques with an industry-standard query interface to ensure open and easy access to stored time-series information, enabling process and production decisions to be evaluated and made by the right people, in real time. Reports and data charts from Wonderware Historian Client can be integrated with information from other Wonderware applications and made available over the Web using Wonderware Information Server.
PLC configuration and programming
Q: What capabilities does the scada offer in terms of generation and/or management of PLC configuration files or PLC application code?
Archestra System Platform has the capability of auto-assigning PLC addresses to configured field inputs, keeping the functionality of maintaining the PLC tag database in the PLC level.
Security and data protection
Q: What authentication, authorisation and role management models are available for the runtime environment?
A key component of the Wonderware software set is security. All user interaction with the system can be secured to ensure only authorised personnel access and perform actions. All proposed modules support Microsoft Active Directory and user/groups are mapped to functional roles. This provides the requested single sign on capability where the same user name and password will be used to log on to all the different modules in the solution.
Unique selling proposition (USP)
Q: List the top five feature/benefit pairs that contribute to this product's USP.
(Table 4)

Table 4.
To view the unabridged version of this scada review, please visit http://instrumentation.co.za/+J969
Credit(s)
Further reading:
Asset Performance Management 4.0 and beyond with risk-based maintenance
Technews Industry Guide: Maintenance, Reliability & Asset Optimisation 2020, IS³ - Industry Software, Solutions & Support , Maintenance, Test & Measurement, Calibration
Implementing Asset Performance Management (APM) 4.0 enables the transition to full risk-based maintenance for improved asset performance, increased asset reliability, reduced risk, and ultimately, maximum return on asset investments.
Read more...
---
IS3 partners with Izinga Integrated Solutions
September 2019, IS³ - Industry Software, Solutions & Support , News
On 24 July, IS³ – Industry Software Solutions and Support welcomed Izinga Integrated Solutions as a strategic solutions provider for AVEVA's asset performance management (APM) Solutions. Izinga is a 
...
Read more...
---
Will the IIoT kill scada, or lift it to new heights?
Technews Industry Guide: Industrial Internet of Things & Industry 4.0, Adroit Technologies , SCADA/HMI
Dave Wibberley, managing director, Adroit Technologies, shares his views on where scada is headed in the era of the Industrial Internet of Things.
Read more...
---
A technology evolution unfolds at X-Change 2019
May 2019, IS³ - Industry Software, Solutions & Support , News
IS
3
and AVEVA reimagine asset optimisation and new ways of work in tomorrow's digitally enhanced manufacturing plants.
Read more...
---
Collaborative robots
Africa Automation Fair 2019 Preview, Cobots , SCADA/HMI
Cobots is showcasing its range of collaborative robots. These robots make it simple and affordable for humans and machines to work together without a safety cage. Cobots can easily be implemented in small 
...
Read more...
---
Management overview of assets
Africa Automation Fair 2019 Preview, IS³ - Industry Software, Solutions & Support , IT in Manufacturing
IS³ is showcasing the Integrated Command and Control Centre, which can be used as a management overview of assets. This features AVEVA Software Solutions, including Predictive Analytics, AVEVA Net, Control 
...
Read more...
---
Machines that manage real-time resources
Africa Automation Fair 2019 Preview, Motion Control Systems , SCADA/HMI
iBOS Industrial is changing the way we maintain and respond to machine level events with technology that effectively manages real-time resources (people) from the machine level.    Health and safety, 
...
Read more...
---
Understanding how predictive analytics tools benefit power utility management
Technews Industry Guide: Maintenance, Reliability & Asset Optimisation 2019, IS³ - Industry Software, Solutions & Support , IT in Manufacturing
This paper reviews how predictive analytics tools can be applied to both utility operations and maintenance.
Read more...
---
Be part of the ultimate journey at X-Change 2019
March 2019, IS³ - Industry Software, Solutions & Support , News
The 4th Industrial Revolution and the New Way of Work through Edge-to-Enterprise solutions.
Read more...
---
IS³ extends portfolio to include AVEVA's Engineer, Construct and Procure software
March 2019, IS³ - Industry Software, Solutions & Support , News
IS³ - Industry Software, Solutions and Support recently signed an extension to the contract with AVEVA, which now extends its portfolio to include the Engineer, Construct and Procure software solutions. 
...
Read more...
---