printer friendly version
Space-saving, customisable wireless access points
May 2016
Industrial Wireless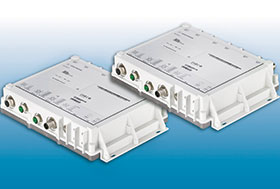 Belden Inc has introduced its latest solution for deploying industrial wireless networks – the BAT450-F WLAN access point family. The devices can be mounted anywhere, such as on masts or on walls, making it ideal for environments where space is a premium.
The ruggedised design of the BAT450-F withstands harsh industrial environments, while maintaining the modular and compact size needed in many industrial network scenarios. The wireless access points are also versatile and flexible – enabling network managers to use them as access clients or access points operating as a router or a bridge.
"The BAT450-F family is the answer to an increasing need to install a powerful access point in uncompromising conditions," said Khachig Arjinian, product manager at Hirschmann. "These access points are highly configurable with a range of connection interfaces, including wireless, wired and cellular options. This allows us to meet any customer's needs and ensure reliable communication and high network availability, especially in the transportation sector."
Of particular benefit to the transportation industry is the access point's dual-band radio, which allows for simultaneous voice and data communications on board trains, as well as in between rail cars by using the coach-to-coach coupling functionality.
In addition to the transportation industry, the low weight and small footprint of the BAT450-F ideally suits industrial environments, such as power transmission and distribution, process automation, and oil and gas, because the access points can be mounted in confined spaces on walls or masts and allow for communication across long distances.
"With this new product family, we have also aimed to maximse cost effectiveness by offering a complete solution to help industrial engineers who are looking to deploy a reliable, customisable, and versatile wireless infrastructure," adds Arjinian.
As the successor to the BAT300-F family, the new WLAN access points enable the integration of Industrial Internet of Things (IIoT) functionality and can be configured to specific application needs, network functions and country-specific protocols.
For more information contact Cliff Nel, IAC, +27 (0)12 657 3600, cliff@iacontrol.co.za, www.iacontrol.co.za
Credit(s)
Further reading:
Tag-specific requirements in RFID systems for track and trace
September 2021, Turck Banner , Editor's Choice, Industrial Wireless
The BL ident complete RFID system from Turck Banner offers solutions in the HF or UHF range with interfaces for use in a plant or switch cabinet.
Read more...
---
Are you ready for the 2G/3G sunset?
August 2021, Throughput Technologies , Industrial Wireless
With widespread adoption of 4G technology and the growing availability of 5G, older technologies (2G and 3G) are now slowly being phased out.
Read more...
---
DXM series wireless controllers
August 2021, Turck Banner , Industrial Wireless
The robust, IP67-rated housing of Turck Banner's DXM1200E easily installs in most environments without the need for an additional enclosure.
Read more...
---
Wi-Fi in South African underground coal mines
August 2021, Extech Safety Systems , Industrial Wireless
In the author's opinion, Wi-Fi and all it offers can dramatically improve safety in all industries, including underground coal mines.
Read more...
---
Wireless kit for remote monitoring
August 2021, Turck Banner , Industrial Wireless
Since Turck Banners standalone DEK wireless kit includes everything needed for a remote preventive maintenance monitoring solution, complexity is removed, and installation is quick and easy.
Read more...
---
Siemens makes industrial 5G router available
July 2021, Siemens Digital Industries , Industrial Wireless
Router supports future-oriented applications such as remote access via public 5G networks or the connection of mobile devices such as automated guided vehicles in industry.
Read more...
---
NearFi couplers for contactless power and data transmission
July 2021, Phoenix Contact , Industrial Wireless
By launching NearFi, Phoenix Contact has introduced a new, innovative technology for contactless power and data transmission in the near-field range.
Read more...
---
Pallet power in the chemical industry
June 2021, Turck Banner , Industrial Wireless
Contactless detection of incoming and outgoing goods provides those involved in logistics with considerably greater transparency of stock levels.
Read more...
---
Wearable device keeps workers safe during the pandemic
June 2021, RS Components SA , Industrial Wireless
Maintaining social distancing is key to limiting the spread of coronavirus, but it can be a real challenge in busy workplaces such as manufacturing facilities, warehouses and construction sites.
Read more...
---
Remote monitoring of temperature in cryopreservation facilities
March 2021, Omniflex Remote Monitoring Specialists , Industrial Wireless
When the Medical Research Council needed to upgrade sixteen of its facilities to monitor temperature and humidity levels in its -80°C sample storage area, it engaged Omniflex to find a solution.
Read more...
---