printer friendly version
Batching with load cells
May 2016
Mass Measurement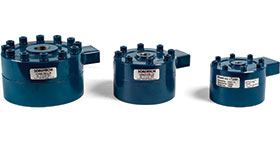 The first task when preparing a concrete mixture is batching the raw materials. This means collecting raw materials, either by using methods of weighing or checking volume, or a combination of the two. During batching, there are certain permissible tolerances that are typically part of project specifications and/or noted in the "NPCA Quality Control Manual for Precast Concrete Plants". A load cell and read-out combine to weigh the correct amounts for the desired mixing pattern (referred to as the mix design), which ensures the concrete is of the right consistency.
Materials are usually stored in hoppers. By using load cells to weigh the content of the hopper, an accurate measurement can be made of the contents, and maintenance issues, such as water leaks or holes, can easily be detected (the weight of the content will change).
Typically, admixtures are batched by volume through a dispenser. Usually the supplier will provide the dispenser at no cost to the producer and manufacturers should investigate this option. Dispensers reduce the likelihood of improper dosing and ensure the admixtures form the concrete mix in accordance with the requirements.
Aggregates are usually batched by weight. Whether in a hopper, on weigh belts, or directly from storage bins, load cells measure the weight of the material. The most common method used is weigh belts. However, 'weigh belt' is a misnomer. A true 'weigh belt' weighs while it is moving. In most batch plants, Live Bottom-Weigh Hoppers (LBWHs) are used. An LBWH's belt is stationery while weighing aggregates. This type of belt can start under load to move the weighed aggregates to a transfer belt, hopper or skip hoist.
Load cells improve the overall accuracy in all of the above processes. Weighing each component gives an accurate measurement of the batched material and the result is the desired consistency achieved through a continuous timesaving method.
For more information contact Glen Webster, Loadtech Load Cells, +27 (0)12 661 0830, glen@loadtech.co.za, www.loadtech.co.za
Further reading:
Make bin level sensors redundant
November 2020, DRH Components , Mass Measurement
Today it is critical to know and understand inventory down to the last unit in order to be efficient.
Read more...
---
Belt conveyor weighing applications
June 2020, Loadtech Loadcells , Mass Measurement
Loadtech's LT1320 is a precision digital indicator for belt weighing applications. The unit takes the weight and speed information from a belt conveyor system and accurately calculates the rate and total 
...
Read more...
---
Positive displacement vs Coriolis meters
March 2020, Soliflo , Mass Measurement
Positive displacement (PD) is a practical and accurate method to achieve volumetric measurement of refined hydrocarbons, according to tests undertaken by Brodie International in the USA.
Read more...
---
Ultra-compact weighing electronics
March 2020, Siemens Digital Industries , Mass Measurement
Siwarex WP351 is Siemens' newest solution for intelligent weighing automation. Measuring 20 mm width by 65 mm height, the module is one of the smallest weighing electronics units available. The device's 
...
Read more...
---
A real-time alternative to radiometric density measurement
September 2019, Endress+Hauser South Africa , Mass Measurement
Currently, in mining applications, radiometric measurement has been the only way to measure the density of slurry. Until recently, and due to the harsh and abrasive environment of slurry, no other measuring 
...
Read more...
---
What is the next big thing in Coriolis mass flowmeters?
June 2019, KROHNE , Mass Measurement
With such fast moving technology it can be difficult to forecast the 'next big thing', but it is possible to focus on two recent developments that look set to influence the market in the near future: high capacity flowmeters; and the ability of Coriolis meters to measure liquids with entrained gas.
Read more...
---
Taking the air out of dairy
May 2019, Endress+Hauser South Africa , Mass Measurement
The dairy industry has been plagued for years with the challenge of accurate flow measurement in both processing and offloading applications. Often, the most common cause of inaccuracies in flow measurement 
...
Read more...
---
Small and powerful weighing indicator
Africa Automation Fair 2019 Preview, Richter Scale Co. , Mass Measurement
Specially developed for devices and machines which control limit values via weight measurements, Richter Scale's SMART-2 is a small and simple weighing indicator with a rugged and durable housing. It 
...
Read more...
---
Mass flow measurement of gases
November 2018, Instrotech , Mass Measurement
The Kobold MAS mass flowmeter works according to the calorimetric method and was conceived for gas flow measurement. Since gases can be compressed, the volume changes with pressure and temperature. In 
...
Read more...
---
Mechanical density meter
July 2018, Instrotech , Mass Measurement
Whether dealing with the concentration or the mixing ratio, the density of liquid media is of high importance in processes such as the food or chemical industry. Kobold's DWF mechanical density meter 
...
Read more...
---