printer friendly version
The future of intuitive robotics and configurable modular packaging lines
March 2016
Motion Control & Drives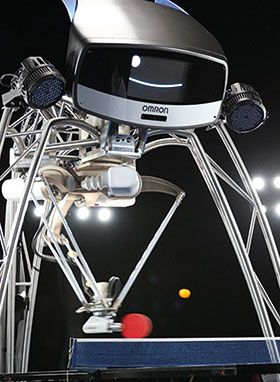 "At Omron, we believe the automation cells and production lines of the future will see symmetry in interaction between robots and humans," says Evert Janse van Vuuren, field application engineer at Omron South Africa. "Our Ping-Pong robot shows the first fruits of our efforts to meet this collaborative challenge."
Sustaining long table tennis rallies with its human opponent, the Ping-Pong robot consistently returns the ball to a spot and at a velocity that makes it easy for the opponent to hit back. The robot is able to do that because it is not simply reacting as it sees the ball, but instead is estimating the trajectory and velocity of the ball based on data of both the ball's position and the opponent's physical movement.
Combining Omron's integrated vision technology with the intelligence to determine the opponent's intent, this technological evolution establishes new and productive interactions between people and machines. Here, machines are not blindly following a set motion profile to fulfil a programmed function, but instead are attuned to the way their human counterparts think and move, adjusting their own actions accordingly.
All of these efforts open up a new era of human-robot interaction where robots work alongside humans in the same physical space, free from the traditional constraints of guards and fences. As the Ping-Pong robot, with its sensing know-how, demonstrates, this future is closer than one might think, providing a glimpse of the potential of true synchronisation between people and machines in the work environment, for a truly enriched society.
The ability of the machine to adapt to the actions and intent of a human partner will see new ways for humans to work alongside robots. Omron is already developing the technologies that will make the robot aware beyond its boundaries. It is driving new ways of looking at issues such as robot safety.
A network of machines
Combine classical packaging technology with modern industrial robots and we get closer to crossing the boundary from packaging machine to packaging line. Robots and vision systems increase the modulo-interoperability of your machine portfolio," says Janse van Vuuren.
"The machine sold yesterday as a stand-alone production unit is becoming a plug-and-run subsystem, part of a bigger set of machines working seamlessly together. In doing so they share the same control screen, monitor the same safety variables and adapt to changing environment conditions. They also measure the overall energy consumption, equipment efficiency and act as one intelligent system, aware of the human presence while interacting with it.
"This vision is becoming more accessible to small and midsize
OEMs whose strategy is to extend the upstream and downstream line of their 'core' machine. Our automation solutions enable you to consider robotics as a module within a standard set of modules.
Omron's modular approach to a packaging line makes it possible to design a complete packaging line by connecting the different machines of your machine portfolio. We consider robotic and vision technology as a smart bridge/buffer system, which seamlessly integrates your existing or newly acquired packaging processes, regardless of whether the machine is part of primary, secondary or final packaging. The job that a system integrator had to do yesterday can easily be done by OEMs today, using the same programming tools. In place of dedicated hardware that performs a set of functions, Sysmac is a single Intel processor-based open control platform solution. It integrates motion, logic sequencing, vision, robotics, safety, data management, networking and machine visualisation – all in the same programming environment.
"The integration of the robot kinematics into the main machine controller is a key factor of differentiation for OEMs, who want to optimise the cost and performance of their machine. With (built-in) kinematic algorithm, motion command and logic instruction in one controller, a robotic module can be added to the main machine program as simply as ticking a box. The machine and the robots are entirely controlled within the program of the Sysmac NJ controller.
"The robots are consequently highly synchronised with the rest of the packaging machine, which greatly enhances the machine coordination and by extension, the packaging line."
For more information contact Evert Janse van Vuuren, Omron, +27 (0)11 579 2600, evert.janse.van.vuuren@eu.omron.com, www.industrial.omron.co.za
Credit(s)
Further reading:
Does edge computing have the edge?
June 2019, Omron Electronics , IT in Manufacturing
Implementing artificial intelligence in industrial manufacturing
Read more...
---
Cost-efficient production with 18 synchronous NC axes
June 2019, Beckhoff Automation , Motion Control & Drives
TwinCAT 3 controls highly efficient machine for processing of die-cast automotive parts.
Read more...
---
Rockwell Automation executes AC drive migration at Mozal ­Aluminium
June 2019, Rockwell Automation , Motion Control & Drives
For over 20 years, Rockwell Automation 1336 drives have delivered the drive control required across Mozal, an aluminium smelter near Maputo, Mozambique. Now the industrial automation leader is in the 
...
Read more...
---
Drive solutions for energy efficient power transmission
June 2019 , Motion Control & Drives
Vert Energy is committed to providing energy-saving solutions for its diverse customer base. "Critical challenges facing industry include finding the most efficient ways to minimise energy consumption 
...
Read more...
---
SEW-Eurodrive gives a foretaste of the future of automation
June 2019, SEW-Eurodrive , Motion Control & Drives
SEW-Eurodrive gave visitors to Africa Automation Fair 2019 a foretaste of its Movi-C modular automation system, ready-made for the requirements of Industry 4.0. This represents the next-generation of 
...
Read more...
---
Servo motor equipped with SIL3 encoder
June 2019, Tectra Automation , Motion Control & Drives
The new MS2N synchronous servo motor is Tectra Automations' latest product offering to the electric drives and controls industry. The range combines high dynamics, compact dimensions and excellent energy 
...
Read more...
---
Case History 166: Feel and understanding, or lack thereof
May 2019, Michael Brown Control Engineering , Motion Control & Drives
I was present at a very interesting discussion the other day with people who are leaders in the automation and control industry. The subject was how jobs would disappear over the next decade or two as 
...
Read more...
---
Smart solution for incorporating machine-integrated robots
Africa Automation Fair 2019 Preview, SEW-Eurodrive , Motion Control & Drives
SEW-Eurodrive is showcasing the D5 delta robot, a smart solution for incorporating machine-integrated robots. The high-speed pick-and-place system includes tracking and Movikit robotics software. It 
...
Read more...
---
Optimising energy requirements
Africa Automation Fair 2019 Preview, SEW-Eurodrive , Motion Control & Drives
A new development from SEW-Eurodrive is the Movigear mechatronic drive system, which combines an energy-efficient gear unit, motor and frequency inverter, and has received the TÜV SÜD Energy-Efficient 
...
Read more...
---
Compact, cost-effective servo solution
Africa Automation Fair 2019 Preview, Elonics , Motion Control & Drives
elonics is introducing the latest addition from the LSIS servo family, the Xmotion L7C servo drives and motors. The L7C Series offers a cost-effective, high precision solution that is both compact in 
...
Read more...
---