printer friendly version
All-in-one PLC
March 2016
PLCs, DCSs & Controllers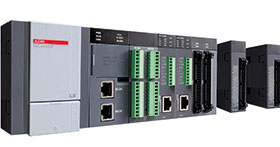 LSIS is setting new standards in Ultimate Performance PLCs by reinventing the XEC range and introducing the NEW XEC-U with a backplane that is 30 times faster than its predecessor.
The XEC-U boasts many features that have not yet been seen in PLCs in its class. Before the XEC-U one would generally add to the costs of a project with all the add-on modules for communications, I/O, motion and analogues.
The XEC-U boasts among other things, 2xEthernet ports, 1xRS-232C, 1xRS-485, 1xUSB port, 32T or 28R I/O, Analog 4xI/4xO and four positioning axes.
All of this and more come at a price that helps users to build a system that will not cost the world. LSIS has also elected to provide the XG5000 integration software at no charge. The software is IEC compliant and supports LD, SFC and ST programming formats. Previous PLC models are all supported and converted to new models with ease and a little tweaking to align addressing.
Data logging and network integration made easy
With the two unmanaged Ethernet ports, designers can implement a variety of network topologies depending on the requirements of the system.
Data Logging is becoming the buzz word in plants as wasted time and production equals losses. This feature is part of the XEC-U ­package and is achieved either by FTP server or direct transfer of the csv file to a reporting system. This would assist with production monitoring, machine health and efficiency.
With the built-in web server capabilities to assist with logging, monitoring, and machine performance, users can develop an HTML webpage into a standard SD card. Viewing the page is achieved by accessing the IP address of the XEC-U through a standard web browser anywhere in the world. Added to this is a SNTP for time synchronising for setting parameters needed for production in real time.
An email server (SMTP) through commercially available email service providers makes it possible for fault, alarms and reporting to be sent on a regularly or a need to know basis. With an industrial mobile network modem, users can also send and receive SMSs for faults and alarms with reset, start, stop and other commands being sent in response.
As has been shown, the XEC-U warrants further investigation when it comes to modular type PLCs. With the XEC-U the bottom line is what counts and this is a well packaged solution for almost all automation needs.
For more information contact Ana-Digi Systems, 086 132 3334, sales@anadigi.co.za, www.anadigi.co.za
Credit(s)
Further reading:
New Modicon IIoT-ready controller
September 2020, Schneider Electric South Africa , PLCs, DCSs & Controllers
The Modicon M262 is IIoT-ready, designed and delivered with intuitive direct cloud connectivity and no gateways are required for OEMs to design solutions for performance demanding applications.
Read more...
---
Machine upgrade at Rostberg
August 2020, Ana-Digi Systems , System Integration & Control Systems Design
Ana-Digi Systems designs and delivers a state-of-the-art, reliable machine upgrade to match its client's requirements of easy setup and low maintenance.
Read more...
---
Modular mid-range PLC series
June 2020, ElectroMechanica , PLCs, DCSs & Controllers
The Delta compact modular mid-range AS series PLCs, available locally from ElectroMechanica (EM), is a high-performance, multi-purpose controller designed for all kinds of automated equipment. The series 
...
Read more...
---
Fishery relies on Siemens process management
December 2019 , PLCs, DCSs & Controllers
The fishery in Steinach, Switzerland, breeds fish species which are under threat so that they can be released into domestic waterways in the canton of St. Gallen. The quality and temperature of the water, 
...
Read more...
---
Meet the Future: Edge Programmable Industrial Controllers
November 2019, Opto Africa Holdings , PLCs, DCSs & Controllers
All controls engineers are familiar with PLCs and PACs (programmable automation controllers). Both have been used and improved over many years, incorporating capabilities that used to be found only in 
...
Read more...
---
Precise control in joining applications
October 2019, ASSTech Process Electronics + Instrumentation , PLCs, DCSs & Controllers
Digiforce is the trusted name when comprehensive monitoring of press-fit, joining, riveting and caulking processes is needed. The models 9306 and 9310 are being successfully used in innumerable applications 
...
Read more...
---
The powerful Festo modular control system CPX-E
Technews Industry Guide: Industrial Internet of Things & Industry 4.0, Festo South Africa , PLCs, DCSs & Controllers
Designed as an EtherCAT master and motion controller with protection to IP20, the powerful automation system CPX-E for factory and process automation with NE21-specific certifications is becoming the 
...
Read more...
---
Rockwell strengthens industrial control system security
July 2019, Rockwell Automation , PLCs, DCSs & Controllers
Communications between industrial control devices have minimal protection today. This leaves them vulnerable to threats like malicious tampering and incidental system changes that can stop production 
...
Read more...
---
Siemens extends the Simine ­portfolio
June 2019, Siemens Digital Industries , PLCs, DCSs & Controllers
Siemens has extended the Simine portfolio for high-pressure grinding mills (HPGR) to include a new controller. Plug-and-play functionality makes the load share controller available for immediate use. 
...
Read more...
---
Schneider Electric announces a new era of control
June 2019, Schneider Electric South Africa , PLCs, DCSs & Controllers
Schneider Electric's new high-end Modicon M580 Ethernet programmable automation controller (ePAC) features redundant processors, native Ethernet, and cybersecurity embedded into its core. It combines 
...
Read more...
---