printer friendly version
Controller portfolio update from Siemens
March 2016
PLCs, DCSs & Controllers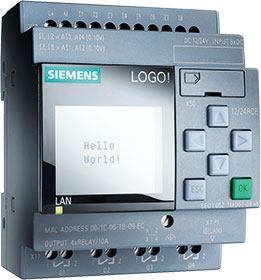 Logo update
The launch of the LOGO!8 in 2014 brought great change to the world of the Logo. Features such as built-in Ethernet meant that Logos could now communicate with other Logos as well as to higher level Simatic PLCs and HMIs. Additionally, it meant no more pricey programming cables, as well as a built-in web-server. Just a simple Ethernet cable is needed for programming. The higher resolution screen of the Base Module (BM) as well as the Text Display (TDE) has three backlight colours (white, yellow and red) which aids in bringing attention to the device in emergency situations. A new add-on module – CMR2020 – allows the Logo to send and receive via SMS, as well as track GPS positions. The face-lifted design of the LOGO!8 has brought the 20-year heritage of what started as a smart relay into the modern era of basic automation.
Product notes
• Expansion modules of the LOGO!8 and previous models are not interchangeable.
• While the LOGO! 0BA6 is still produced by Siemens, it is no longer stocked locally in South Africa. All stock is ex-Germany.
• As the LOGO!8 has all the functionality (and more) of the LOGO! 0BA7, the product life cycle of the latter has been moved into phase-out. Again, this item is not stocked locally. There has been no indication of a date for product cancellation.
S7-1200 update
It has been seven years since the launch of the S7-1200 and TIA Portal back in 2009, and a relatively short road of fantastic innovation it has been. With version 1 of the range being the replacement of the S7-200, the S7-1200 has grown into a PLC capable of replacing many lower-end S7-300 systems. With the latest version sitting at V4.1, the S7-1200 has features such as a built-in web-server, onboard Profinet, motion control functionality, revised PID control blocks, 1 MHz high-speed counters and pulse train outputs. The most important feature of the range, however, is the communication capabilities. Protocols such as Profinet, Profibus, Modbus TCP, Modbus RTU on RS-485, PtP on RS-232, GPRS, GSM, DNP3, IEC and ASI bus are available throughout the S7-1200 range. Siemens can offer customers flexibility not only in the high-end market, but in smaller applications as well.
Product notes
• After seven years of production in parallel with its successor, the S7-200 has finally been moved into phase-out. As a result, Siemens South Africa will no longer stock the items locally. All orders will be ex-Germany. It is advised that customers who have not yet migrated start to keep spares for their S7-200 ranges as these parts will become scarcer and more costly as time goes on.
• Any customers looking to migrate their S7-200 systems are welcome to contact Siemens for assistance. Tools are available to migrate MicroWin projects to TIA Portal.
• Confusion has arisen around the V3 S7-1200 PLC. Siemens has not moved the V3 into phase-out because of the software requirements of the V4 PLC. V4 has a requirement of TIA Portal V13 or higher as the engineering station. As some customers were reluctant to upgrade their TIA Portal software, the V3 PLC continued in production. Siemens South Africa only keeps the latest V4 PLCs in stock, so it is recommended that all configurations be changed to the V4 PLC and TIA V13 where possible.
• How to tell the difference between V3 and V4 PLCs: 6ES7214-1AG31-0XB0 donates V3; 6ES7214-1AG40-0XB0 donates V4.
For more information contact Jennifer Naidoo, Siemens Southern Africa, +27 (0)11 652 2795, jennifer.naidoo@siemens.com, www.siemens.co.za
Credit(s)
Further reading:
Sinumerik One Dynamics for motion control
November 2020, Siemens Digital Industries , Motion Control & Drives
Siemens has launched three powerful technology packages exclusively for the CNC Sinumerik One.
Read more...
---
Bringing intelligence to the shop floor with Siemens Industrial Edge
October 2020, Siemens Digital Industries , IT in Manufacturing
Siemens Industrial Edge closes the gap between local and cloud computing and enables high-frequency data exchange at field level.
Read more...
---
New Modicon IIoT-ready controller
September 2020, Schneider Electric South Africa , PLCs, DCSs & Controllers
The Modicon M262 is IIoT-ready, designed and delivered with intuitive direct cloud connectivity and no gateways are required for OEMs to design solutions for performance demanding applications.
Read more...
---
Validation goes digital
September 2020, Siemens Digital Industries , IT in Manufacturing
CVal allows customers in the pharmaceutical industry to produce digital, auditable plant documentation through efficient data handling across all disciplines using a central database and object orientation.
Read more...
---
Automation and digitalisation offer competitive edge in volatile markets
August 2020, Siemens Digital Industries , News
The current situation creates major challenges for industrial companies worldwide and shows that digitalised and highly automated production is more important than ever when it comes to gaining a competitive 
...
Read more...
---
Siemens South Africa joins forces with the National Ventilator project community in response to the COVID-19 pandemic
June 2020, Siemens Digital Industries , News
Siemens has been a long-standing partner of the Council for Scientific and Industrial Research (CSIR) in South Africa and have cooperated in various field of research, including manufacturing and mining. 
...
Read more...
---
Siemens and Bentley Systems build digital twin for Indonesian petrochemical complex
June 2020, Siemens Digital Industries , News
Siemens and Bentley Systems will develop the first petrochemical digital twin in Indonesia for Chandra Asri, the country's largest integrated petrochemical complex. With over 27 year footprint, the latter 
...
Read more...
---
Modular mid-range PLC series
June 2020, ElectroMechanica , PLCs, DCSs & Controllers
The Delta compact modular mid-range AS series PLCs, available locally from ElectroMechanica (EM), is a high-performance, multi-purpose controller designed for all kinds of automated equipment. The series 
...
Read more...
---
Simplifying machine setup
June 2020, Siemens Digital Industries , Motion Control & Drives
Strausak Mikroverzahnungen specialises in the manufacture of high-precision machinery used in the watchmaking and apparatus manufacturing industries. To enable the continued precise machining of parts 
...
Read more...
---
Software for locating system
June 2020, Siemens Digital Industries , IT in Manufacturing
Siemens has introduced its new 'Location Intelligence' software, which expands the Simatic RTLS (real-time locating system) to include the digital twin. The web-based software analyses and visualises 
...
Read more...
---