printer friendly version
Base unit for large projects
March 2016
PLCs, DCSs & Controllers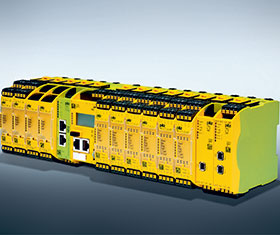 In the quest for higher performance and simpler project management, Pilz has added new base unit PNOZ m B1 to its range of configurable control systems PNOZmulti 2. Not only does it offer higher performance for machines with a larger function range, i.e. for larger projects, but it also provides a connection to all common fieldbus systems via the corresponding expansion modules.
For the first time, the new base unit PNOZ m B1 contains no inputs or outputs: expansion modules are used to adapt the system to the application. Two integrated Ethernet interfaces save costs, as there is no need to connect an ETH expansion module. The number of expansion modules that can be connected on the right-hand side has been increased to eight on the new base unit. Short downtimes and high plant availability are guaranteed by connection to common fieldbus systems via the respective expansion modules.
Project management made simple
The maximum program size of the PNOZ m B1 has been quadrupled: up to 1024 connections can now be inserted between the elements. Projects can be stored on a USB memory stick. The pluggable USB data medium allows several projects to be stored and enables machine-specific management. One of the programs can be selected to run via the Project Manager. It is also now possible to set the date and time for PNOZ m B1 in the PNOZmulti Configurator. And an illuminated display helps to provide convenient on-site diagnostics. PNOZ m B1 can be used from Version 10 of the software tool PNOZmulti Configurator.
Field connection guaranteed
The configurable control system PNOZmulti 2 can now also be connected to the fieldbus system CC-Link, in addition to Profinet, Profibus, Ethernet/IP and many more. If PNOZmulti 2 is to be connected to another fieldbus system, this can be achieved without having to change the program: that's because one fieldbus module can simply be swapped for another.
Open for safety
The system is an open, configurable control system for safety functions, which can be used flexibly and industry-wide for safety and automation, independently of the higher-level plant control system. Use of the available expansion modules allows finer granularity, enabling the control structure to be adapted precisely to the application. Users only purchase what they will actually use, saving time and costs.
Setting safety standards
The configurable control systems are particularly suitable for implementing multiple safety functions on plant or machinery. The system is modular and expandable, so it can grow with the machine as it expands or as its requirements change. PNOZmulti 2 can be connected to common communication networks. The safety architecture can be created independently of the higher-level operational control system, because its application is independent of the machine or plant type, country or industry. That is how users standardise their safety.
For more information contact Craig Cuff, Prime Automation, +27 (0)41 819 7746, craig@primeautomation.co.za, www.primeautomation.co.za
Credit(s)
Further reading:
New Modicon IIoT-ready controller
September 2020, Schneider Electric South Africa , PLCs, DCSs & Controllers
The Modicon M262 is IIoT-ready, designed and delivered with intuitive direct cloud connectivity and no gateways are required for OEMs to design solutions for performance demanding applications.
Read more...
---
Modular mid-range PLC series
June 2020, ElectroMechanica , PLCs, DCSs & Controllers
The Delta compact modular mid-range AS series PLCs, available locally from ElectroMechanica (EM), is a high-performance, multi-purpose controller designed for all kinds of automated equipment. The series 
...
Read more...
---
Fishery relies on Siemens process management
December 2019 , PLCs, DCSs & Controllers
The fishery in Steinach, Switzerland, breeds fish species which are under threat so that they can be released into domestic waterways in the canton of St. Gallen. The quality and temperature of the water, 
...
Read more...
---
Meet the Future: Edge Programmable Industrial Controllers
November 2019, Opto Africa Holdings , PLCs, DCSs & Controllers
All controls engineers are familiar with PLCs and PACs (programmable automation controllers). Both have been used and improved over many years, incorporating capabilities that used to be found only in 
...
Read more...
---
Precise control in joining applications
October 2019, ASSTech Process Electronics + Instrumentation , PLCs, DCSs & Controllers
Digiforce is the trusted name when comprehensive monitoring of press-fit, joining, riveting and caulking processes is needed. The models 9306 and 9310 are being successfully used in innumerable applications 
...
Read more...
---
The powerful Festo modular control system CPX-E
Technews Industry Guide: Industrial Internet of Things & Industry 4.0, Festo South Africa , PLCs, DCSs & Controllers
Designed as an EtherCAT master and motion controller with protection to IP20, the powerful automation system CPX-E for factory and process automation with NE21-specific certifications is becoming the 
...
Read more...
---
Rockwell strengthens industrial control system security
July 2019, Rockwell Automation , PLCs, DCSs & Controllers
Communications between industrial control devices have minimal protection today. This leaves them vulnerable to threats like malicious tampering and incidental system changes that can stop production 
...
Read more...
---
Siemens extends the Simine ­portfolio
June 2019, Siemens Digital Industries , PLCs, DCSs & Controllers
Siemens has extended the Simine portfolio for high-pressure grinding mills (HPGR) to include a new controller. Plug-and-play functionality makes the load share controller available for immediate use. 
...
Read more...
---
Schneider Electric announces a new era of control
June 2019, Schneider Electric South Africa , PLCs, DCSs & Controllers
Schneider Electric's new high-end Modicon M580 Ethernet programmable automation controller (ePAC) features redundant processors, native Ethernet, and cybersecurity embedded into its core. It combines 
...
Read more...
---
Selecting the right PLC
June 2019, AC/DC Dynamics , PLCs, DCSs & Controllers
Automation projects, big or small, start with a specification. Here are five factors to consider when choosing a PLC vendor.      
Broad range of devices
The selected brand must have a complete product 
...
Read more...
---