printer friendly version
Switch to the encoder at the click of a mouse
March 2016
Motion Control & Drives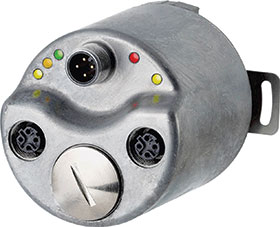 The future of the industry is characterised by a marked individualisation of products in the context of highly flexible large-volume production. This trend is being spurred on by intelligent monitoring and decision-making processes that companies and entire value-chain networks can control and optimise virtually in real time. Encoders with Ethernet-based fieldbus interfaces are already easy to configure and come complete with a range of diagnostic functions.
SICK has now gone a step further, integrating a web server into the AFS/ AFM60 EtherNet/IP absolute encoder. In order to be able to give machine builders and manufacturers new options and more freedom for encoder integration and maintenance, SICK is taking encoders online. With the embedded new programming tool, the AFS/AFM60 EtherNet/IP absolute encoder is ready for operation immediately without the need for additional software, enabling it to be used either with a browser-enabled device combined with a controller, or even without a controller.
More than speed and position
As well as opening the door to sensor data (i.e., precise angle, speed, and position detection), visualised communication via web server provides insights into the application by virtually mirroring plant conditions and requirements. With a whole range of integrated diagnostic functions (minimum and maximum values for position, speed, temperature, operating hours counter, motion counter, display of flags, alarm, and warning messages), downtime can be reduced and material costs cut. Optimised service and maintenance intervals increase machine performance. Even without a web server, the AFS/AFM60 EtherNet/ IP absolute encoder has already enjoyed market success, delivering significant added value with new functions. These functions can now be visualised via the web server, making the EtherNet/IP encoders easy to integrate and operate.
Everything at a glance
Visualising all encoder features and diagnostic functions at a glance on one screen enables the user to modify parameters quickly and easily, to output data values to the controller, and to display diagnostic data in graphic format. Operators are thus able to configure and/or analyse encoder data via Wi-Fi switch with LAN or WLAN access regardless of location, and optimise service intervals where applicable. Such action can be taken directly on site in the application, in a lab, in a warehouse, or in an office – even without a controller.
Easy and intuitive operation
Users are not required to have specific interface knowledge, as the websites are displayed in clear text with decimal values and diagnostic data is displayed in graphs. The user-friendly interface maximises flexibility for operating personnel. Web server settings are sent to the controller automatically. Specific data exchange with the controller takes place in the background. With the encoder as the output device, operators can change values quickly and safely. This is a significant factor in increasing efficiency. Operators can compare their 'actual settings' with the 'default settings' on the configuration overview on the screen. All settings are listed clearly side by side and missing or incorrect settings are immediately apparent. This helps significantly to avoid incorrect entries. The addition of an integrated FTP server to the AFS/AFM60 means that the encoder can be updated with the latest firmware at any time – directly in the system, without having to replace the sensor.
Integrated web server as standard
The AFS/AFM60 EtherNet/IP encoder is now automatically delivered with an integrated web server. Customers can choose one of three ways to use the encoder. It can be operated in the conventional way via the controller, with the web server being used exclusively as and when required for monitoring and diagnostic purposes. Alternatively, the web server or the integrated programming tool can be used solely to configure the encoder in advance, prior to its implementation in the plant. The third and final option is to use the controller and the web server at the same time. The most recent setting made takes priority, regardless of whether it was made on the controller or on the web server. The AFS/AFM60 EtherNet/IP with web server enables a machine operator to upgrade the machine without having to come to grips with a complex programming routine.
Credit(s)
Further reading:
Danfoss efficiencies help South African farmers to free up energy and achieve production goals
October 2020, Danfoss , Motion Control & Drives
Danfoss, together with engineering components provider BMG, supplied a commercial maize farmer with the technology to combat challenges around irrigation sufficiency.
Read more...
---
Safe operation of CNG stations
October 2020, SICK Automation Southern Africa , Flow Measurement & Control
The Flowsic500 compact ultrasonic gas meter enables extremely accurate natural gas distribution measurement.
Read more...
---
Energy efficient drive technology for the mining industry
October 2020, Danfoss , Motion Control & Drives
The mining industry must forgo its traditional energy consumption patterns in a bid to ensure that the sector de-carbonises towards a greener and more sustainable method of extraction.
Read more...
---
Sensor for efficient pneumatic performance
October 2020, SICK Automation Southern Africa , Sensors & Transducers
SICK Automation's FTMg flow sensor detects pneumatic system leakages well before pressure loss causes machine failure. It is engineered to output up to eight process parameters.
Read more...
---
Modular towel production lines
September 2020, Beckhoff Automation , Motion Control & Drives
Rapid development and configuration of manufacturing systems for terrycloth towels with PC-based control.
Read more...
---
Prevent backward driving accidents
September 2020, SICK Automation Southern Africa , Sensors & Transducers
To prevent collisions and improve worker safety, Cologne-based sugar producer Pfeifer & Langen selected SICK Automation's Visionary-B CV 3D driver assistance system for use at its reloading point.
Read more...
---
BMG solutions for efficient agriculture
August 2020, Bearing Man Group t/a BMG , Motion Control & Drives
BMG's Boer Slim/Smart-Farming agricultural team works closely with farmers throughout southern Africa, assisting them with the selection, installation and operation of new electromechanical systems. These 
...
Read more...
---
PC and EtherCAT-based control technology in next-generation telescope
August 2020, Beckhoff Automation , Motion Control & Drives
Key factors were the advantages of EtherCAT for site-wide real-time communication connecting all telescope functions. Various embedded PCs and AM8000 servomotors were also tested and specified, among 
...
Read more...
---
Commander series drives
August 2020, Nidec Industrial Automation Southern Africa , Motion Control & Drives
The Commander series are simple and compact AC motor speed controllers that meet advanced requirements in a wide range of applications. Their small footprint makes them ideal for machine builders and 
...
Read more...
---
Safe operation of CNG stations
August 2020, SICK Automation Southern Africa , Flow Measurement & Control
SICK's Flowsic500 gas meter, used in State Oil Company of Azerbaijan Republic's (SOCAR) transfer and measurement stations, has shown to meet stringent compressed natural gas (CNG) production protocols. 
...
Read more...
---