printer friendly version
Safety light curtains ­optimised for vibration
March 2016
IS & Ex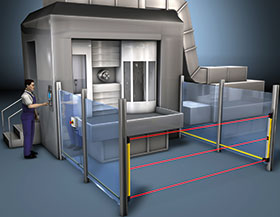 The Leuze MLC 500-V series safety light curtains have been optimised specifically for applications subject to strong vibrations, such as for safe-guarding presses, punching machines and similar large equipment.
These reliable safety light curtains have unusually slim dimensions of only 29 by 35 mm, but clever engineering has ensured slightly set back front screens, reinforced side walls and metal end caps, all of which result in a sturdy construction. In addition, the new vibration-resistant Leuze MLC 500-V models were designed to provide extra protection for the high quality electronics.
The safety light curtains are mounted on specially developed BT-2SB10-S swivel mount brackets that are largely able to compensate for excess vibration. This is an important feature with long light curtains, typically longer than 900 mm. Shorter light curtains can be simply and conveniently mounted on machinery such as presses using adjustable vibration-damped BT-2R1-S swivel brackets.
Form fitting mounting is possible due to removable swivel mount cylinders and this means that there is no dead space into which unpermitted access would be possible. With the extended functionality of these V-models, the user has access to functions that can be adjusted without a PC. These include three scan modes and fixed and floating blanking. This simplifies and speeds up the in-feed of the work pieces and contributes to more efficient production, since there is no interruption to the manufacturing process.
For more information contact Gerry Bryant, Countapulse Controls, +27 (0)11 615 7556, bryant@countapulse.co.za, www.countapulse.co.za
Credit(s)
Further reading:
Mobile application for barcode scanning
Africa Automation Fair 2019 Preview, Extech Safety Systems , IS & Ex
Extech is exhibiting the mobXscan app for use in hazardous areas, which adds the capability of barcode scanning to any Windows 10 tablet or Android device. It can be seen at Stand E03. It uses the built-in 
...
Read more...
---
Safety on the pistes
May 2019, Siemens Digital Industries , IS & Ex
Inauen Schätti, a construction company whose areas of specialism include ropeways, is working to improve piste safety for skiers. As part of a pilot test project on the Parpaner Rothorn mountain, the 
...
Read more...
---
Safety technology to improve ­flexibility
May 2019, AC/DC Dynamics , IS & Ex
The new Datalogic concept for robot evolution expects to overtake the competition. Following demanding safety regulations, outdated isolated robotic cells are now replaced with robot-like parts of industrial 
...
Read more...
---
Drone-based gas leak detection
May 2019, ABB South Africa , IS & Ex
Leaks in gas distribution and transmission pipelines present serious safety risks and result in lost revenue and profits to producers. The ABB Ability mobile gas leak detection system is a digital solution, 
...
Read more...
---
Conveyor system fire prevention
May 2019, R&C Instrumentation , IS & Ex
The transport of materials is a key activity for most industries. For many of these tasks, conveyor belt systems offer a cost effective and efficient solution. However, with such a system comes a high 
...
Read more...
---
Contact-free optical communication
May 2019, Countapulse Controls , Sensors & Transducers
Optical data transceivers are the appropriate choice for any application where data needs to be transmitted without cables and without interference. The Leuze DDLS 500 data transceiver makes contact-free 
...
Read more...
---
LSIS achieves Ex rating for HMI range
Africa Automation Fair 2019 Preview, Ana-Digi Systems , IS & Ex
LSIS is rolling out Ex certification for its entire range of HMIs. These products now carry a rating which allows for a maximum pollution degree 2 level. Mounting the HMIs into an IP54 enclosure ensures 
...
Read more...
---
Equipment for hazardous areas
Africa Automation Fair 2019 Preview, Extech Safety Systems , IS & Ex
Extech Safety Systems is showcasing Sensear digital communication and active listening headsets and earplugs at Stand E03. These are for use in high noise and hazardous environments. Sensear's patented 
...
Read more...
---
Solutions for the Ex automation industry
Africa Automation Fair 2019 Preview, Stahl Esaco , IS & Ex
Stahl Esaco is presenting leading R. Stahl solutions and products for the Ex automation industry. These include remote I/O systems, HMIs and cameras, which can be viewed at Stand F12. The I/O systems 
...
Read more...
---
Calibration in hazardous areas
April 2019, QTEK Instrumentation & Calibration Solutions , IS & Ex
This article is an edited version of a Beamex calibration white paper, the original unedited document can be downloaded at
https://instrumentation.co.za/papers/J4324.pdf
Read more...
---