printer friendly version
When there's clouds (not smoke), there's fire
March 2016
IS & Ex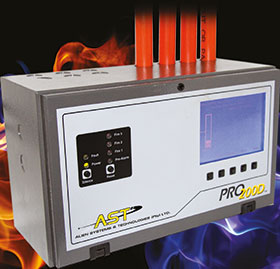 Fire protection systems form a crucial part in any risk management system. They control and minimise the consequences of a fire. The best outcome of course is to reduce the consequence to a negligible event or, at the very worst, to one of low impact where only small equipment and materials need replacing.
The prospect of a fire can have a devastating impact on a business or process. When one mentions the word 'fire', images of the Saturday afternoon braai/BBQ are conjured up. This is a far cry from the kinds of fires one can expect on machinery, substations, data centres, warehouses and the like. Generally the prominent ignition source is from an electrically energised above-normal resistance cable joint, or piece of moving equipment that has malfunctioned, resulting in material temperature increase from friction. These fires spread easily along the source of fuel (cable) and knock out a transformer for example, and hot combustibles can be transported via air handling systems if not controlled. One need only ask a fire fighter as to the ferocity of such fires.
Substations are particularly at risk
Specifically when viewing substations with switchgear, motor control equipment and variable speed drives, the cause of a fire is usually as a result of an overheat from electrical current passing through an above normal resistance joint, resulting in above normal amounts of energy being transmitted to the insulating material. This results in higher temperature which ultimately leads to ignition and flame. Provided you have air (oxygen) this fire shall be a self-sustaining chemical process that seeks out fuel and continues burning until there is total destruction. This can often escalate quickly if not detected and acted upon almost immediately. Consider this underground in a mine tunnel where the heat face can be several hundred metres from the fire itself? Dealing with that problem is something no one wants to face. Never mind the toxic gases and smoke that are released.
Alien Systems & Technologies (AST) has been in the fire protection business since 1999, and has been dealing with these issues on an almost daily basis with its customers. In response to these dangers, AST has been at the forefront of in-cabinet fire detection and protection systems, such as Pyrogen Aerosol Fire Protection Systems. This system is widely used across all mining and industrial sectors within switchgear, MCC and VSD equipment, which is both sealed and ventilated.
Nevertheless, AST has gone a step further by offering Cirrus Pro specialised air sampling systems that can detect fire during the incipient stage – this being when materials begin to overheat before they emit smoke or ignite into flame. These systems use cloud chamber technology (CCD) that measure the amounts of invisible combustion particles present in the air. When combustion occurs at the earliest stage of a fire, these particles are emitted into the air at a rate of one billion per second. By continuously sampling the air in a room or array of cabinets via a supervised pipe network, air, along with any of these combustion particles, is drawn back into a cloud chamber.
The cloud chamber exposes the air sample to a pressure drop that results in condensation and a cloud is formed. Although governed by complex barometric physics, it is as simple as weather. When the invisible combustion particles are inside the cloud the chamber, condensation occurs around the invisible particle to form a water droplet that is measurable using high-powered LEDs. Effectively the density of the cloud reflects the extent of combustion and its escalation.
A crucial advantage of Cirrus Pro CCD systems is that because it looks for invisible combustion particles and not smoke particles, no false alarms ever result from dust. Dust being of a similar size to smoke often plagues smoke detectors using traditional optical detection methods (light scattering from either lasers or infra-red LEDs). Hence Cirrus Pro Cloud Chamber Detectors can be used in dirty environments and provide fast response times to an impending fire threat.
A Cirrus Pro Fire Detection System is an ideal partner to any existing fire protection system such as a Pyrogen Aerosol System, or gaseous fire extinguishing system such as Pyroshield. It can be designed for room fire detection systems, be installed in such a way that it can sample in-cabinet at the potential source of a fire, or be used for areas with limited accessibility such as cableways, trenching systems, basements, false floors, etc. The system can also interface with PLC/scada systems if desired.
Using a Cirrus Pro system will enhance your level of fire protection and provide a significant step toward mitigating the effect of a fire. This is because it can detect a fire at its earliest stage and so provide a timely warning to negate the impact from a fire.
For more information contact Alien Systems & Technologies, +27 (0)11 949 1157, sales@astafrica.com, www.astafrica.com
Credit(s)
Further reading:
Tube connector for Ex areas
May 2020, Parker Hannifin - Sales Company South Africa , IS & Ex
Parker Hannifin has extended its Phastite permanent instrumentation connection range, which is now available in a number of corrosion-resistant alloys (CRAs), including Alloy 825, 625 and Super Duplex, 
...
Read more...
---
How to calculate an intrinsically safe loop approval - updated and revised
March 2021, Extech Safety Systems , IS & Ex
We all know what can happen when the correct techniques are not used when interfacing into a hazardous area.
Read more...
---
Robust safety light curtains
April 2021, Turck Banner , IS & Ex
Ez-Screen LS light curtains are intuitive, easy-to-use safety devices designed by Turck Banner for machine safeguarding.
Read more...
---
Delivering modern SIS for wellhead applications
April 2021, Emerson Automation Solutions , IS & Ex
Keeping the safety and non-safety functions separate while achieving seamless integration.
Read more...
---
Enterprise mobility for hazardous areas
March 2021, Pepperl+Fuchs , IS & Ex
Enterprises can easily select and manage Android devices and services with the new Android Enterprise Recommended devices – verified by Google.
Read more...
---
Intrinsically safe robot for tank inspection
March 2021, RS Components SA , IS & Ex
Electrocomponents collaborates with industry specialists to develop revolutionary new method of inspecting petrochemical storage tanks.
Read more...
---
Illuminated E-stops with diagnostics
March 2021, Turck Banner , IS & Ex
In-Series Diagnostics runs through up to 32 devices on a single 4-pin cable to the control panel, with only two wires running to the controller and two others for power.
Read more...
---
New Rockwell Automation safety devices
March 2021, Rockwell Automation , IS & Ex
Manufacturers can harness the power of data to improve their safety compliance and performance using two new smart safety devices.
Read more...
---
Protecting hazardous areas from corrosion
April 2021, Omniflex Remote Monitoring Specialists , IS & Ex
Omniflex has gained IECEx certification to manufacture intrinsically safe electrical equipment for the global market, supplementing its existing hazardous area equipment approvals.
Read more...
---
New smart devices improve safety
May 2021, Rockwell Automation , IS & Ex
Manufacturers can harness the power of data to improve their safety compliance and performance using two new smart safety devices.
Read more...
---