printer friendly version
Accurate measurement of level and volume in bulk solids
March 2016
Level Measurement & Control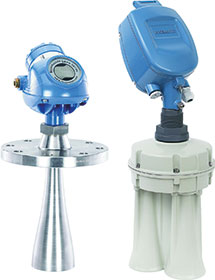 New functions and certifications expand the range of applications for Rosemount level measurement devices, helping to provide greater control of inventory and manufacturing processes.
Further addressing the tough challenges of accurately measuring level and volume of bulk solids and powders in large vessels, bins and silos, Emerson Process Management has enhanced its range of level measurement devices. A number of new functions and certifications will help to minimise maintenance, enable easy integration and expand the range of suitable applications.
"Uneven surfaces, irregular build-up and harsh, dusty and potentially explosive environments make measuring the level of solids in large vessels problematic, impacting inventory control decisions," said Asael Sharabi, technical director at Emerson Process Management. "Emerson's enhanced Rosemount instrumentation meets these challenges to provide users with greater control of inventories and entire manufacturing processes, with significant financial benefits."
Supporting manufacturers' need for improved inventory control, the Rosemount 5708 series 3D Solids Scanner, which uses acoustic measurement and 3D mapping technology to provide highly accurate continuous level and volume measurement, is now suitable for a broader range of applications. The device is now ATEX/IECEx certified for installation in areas with potentially explosive atmospheres, often found in solids measurement applications. A new mounting adaptor also allows the device to be installed within electrostatic precipitator (ESP) hoppers. By using its 3D visualisation capability to map out the surface of the fly ash that builds up in the hopper, operators can optimise the process, reducing cost, risk and wear and tear on the hopper.
To overcome the difficulty of installation and integration, Emerson has introduced full scada integration support for the solids scanner. Users can now seamlessly integrate 3D visualisation of the surface level into Emerson's Ovation or DeltaV distributed control systems, delivered directly to control room operators.
For remote solids applications or where there is no existing cable infrastructure, wireless can be the key for a successful project. Both the solids scanner and the Rosemount 5402 non-contacting radar, which provides bulk solids level measurement for applications with smaller sized vessels, can now be connected to a WirelessHART network using a Smart Wireless Thum adapter. This enables easy integration to the automation architecture, reducing installation cost and time.
New functions help to reduce if not eliminate device maintenance requirements. The new air purging connection for the Rosemount 5402 prevents clogging of the antenna in applications with very dusty environments. The already present self-cleaning function on the Rosemount 5708 can now be complemented with a new PTFE coated antenna which helps extend maintenance intervals even further, especially where extremely sticky materials are present.
For more information contact Michael Eksteen, Emerson Process Management, +27 (0)11 451 3700, michael.eksteen@emerson.com, www.emersonprocess.com
Credit(s)
Further reading:
A case for IIoT's future in supply chain management
Technews Industry Guide: Industrial Internet of Things & Industry 4.0, VEGA Controls SA , Level Measurement & Control
This paper will explore how one construction materials hauling company used level measurement sensors and IIoT networks to manage their operation while simultaneously securing its customers' supply chain, and keeping costs low.
Read more...
---
Emerson's digital ecosystem empowers top quartile performance
Technews Industry Guide: Industrial Internet of Things & Industry 4.0, Emerson Automation Solutions , IT in Manufacturing
Plantweb provides new mobility and decision-support technologies.
Read more...
---
New manifold valve design for pressure transmitters
July 2019, Emerson Automation Solutions , Valves, Actuators & Pump Control
Emerson has introduced a new manifold product family for its Rosemount pressure transmitters. Manifolds shut off or equalise pressure at the transmitter and also provide the critical mounting mechanisms 
...
Read more...
---
Continuous level measurement
July 2019 , Level Measurement & Control
DRH Components is the official distributor of Bindicator bin level sensors in South Africa. These prevent overflow spills, controlling surge bins, detecting blocked chutes and providing on/off control 
...
Read more...
---
Emerson acquires KNet software
June 2019, Emerson Automation Solutions , News
Emerson has announced the acquisition of KnowledgeNet (KNet) software from Tunisia-based Integration Objects. KNet's unique analytics application software accelerates digital transformation initiatives 
...
Read more...
---
Effective day-to-day monitoring of essential assets
June 2019, Emerson Automation Solutions , Maintenance, Test & Measurement, Calibration
Efficient operation of essential assets is key in achieving productivity and operational targets. Facilities, manufacturers, operators, and producers can move forward in planning for their output by having 
...
Read more...
---
Emerson appoints new president for Middle East and Africa
May 2019, Emerson Automation Solutions , News
Emerson has appointed Vidya Ramnath as the new president for its Automation Solutions business in Middle East and Africa.    A 24-year veteran of Emerson, she was most recently vice president for Emerson's 
...
Read more...
---
Continuous level measurement
Africa Automation Fair 2019 Preview, Morton Controls , Level Measurement & Control
The Nivobob series from Morton Controls is used for continuous level measurement within bulk storage silos and for interface measurement of sludge beds. The system is immune to dust, dielectricity, conductivity, 
...
Read more...
---
Cybersecurity certification for Emerson's DeltaV
May 2019, Emerson Automation Solutions , System Integration & Control Systems Design
Emerson has received the industry's first ISASecure System Security Assurance (SSA) Level 1 certification for cybersecurity. This certification, for the company's newest DeltaV distributed control system, 
...
Read more...
---
A range of level sensors
Africa Automation Fair 2019 Preview, GHM Messtechnik SA , Level Measurement & Control
GHM Messtechnik has available the Val.co range of affordable and effective level sensors that have application across all sectors of industry, especially tank building. The range includes small float 
...
Read more...
---