printer friendly version
Special demands in bakery ­applications
March 2016
Temperature Measurement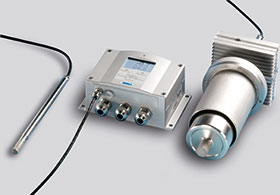 The measurement of humidity in many high-temperature baking and drying processes requires special instruments characterised not only by stability, reliability and accuracy, but also by ease of use and flexibility of configuration. The Vaisala DRYCAP Dewpoint Transmitter DMT346 – supplied in South Africa by WIKA Instruments – meets these requirements. When configured to customer specifications, it can be used safely in temperatures up to 350°C.
Applications such as bread baking or cereal manufacturing, for example, must have a carefully controlled humidity level in the dryers and ovens in order to keep quality and yield high. To maintain humidity within acceptable limits, the moisture content of the process air must first be measured. A combination of high temperature, up to 350°C, and high humidity poses special challenges for measurement equipment. Very few devices can survive these conditions.
Moisture control ensures high-quality crackers
One example of a food production process where the right moisture level in the ambient air is essential, is in cracker production. The crackers are dried in three different phases in which the temperature varies from 150 to 300°C and the humidity goes from high to low.
If the ambient air has too much moisture in it, the crackers retain a high level of free moisture and will not crackle, as they should.
The high water content also means the crackers spoil more easily, and the production yield stays low. On the other hand, if the air is too dry, the surface of the crackers can dry too quickly and trap the free moisture within – or the product can become too dry and brittle. Drying the product too much also wastes heating power. In both cases the colour and flavour of the crackers suffer and the product yield is poor. Similar effects take place in bread and biscuit baking and in cereal and snack manufacture. Even in processes like roasting, the ambient moisture level changes the end product.
The DMT346 keeps its cool at 350°C
The Vaisala DRYCAP Dewpoint Transmitter DMT346 is specially designed for applications where both high temperatures and high humidity occur. The sensor can be placed directly in high temperatures without sacrificing measurement accuracy or stability.
The DMT346 has a unique auto calibration function which performs calibration and adjustment by itself while the measured process is running. All corrections, if any, are also run automatically, which allows operations to run without disruption.
Credit(s)
Further reading:
Check valve with redundant sealing
September 2020, WIKA Instruments , Valves, Actuators & Pump Control
The new model CV check valve from WIKA is designed for a wide range of applications in the process industry. Its sealing system reliably prevents backflow of liquid and gaseous media.
Read more...
---
New RTD transmitter
September 2020, Mecosa , Temperature Measurement
What characterises the APAQ 130 is simplicity. Users can easily configure the transmitters wirelessly with a smartphone or tablet.
Read more...
---
Temperature profiling in automobile manufacture
September 2020, R&C Instrumentation , Temperature Measurement
The automotive industry uses many materials to build cars. These have evolved over time, becoming more sophisticated and often requiring heat treatment at some stage of component manufacture.
Read more...
---
New iTEMP transmitter with Bluetooth
September 2020, Endress+Hauser South Africa , Temperature Measurement
Endress+Hauser's new iTEMP TMT142B temperature transmitters deliver highly accurate and reliable measurements, wireless communication via Bluetooth and user-friendly operation packaged in a robust single-chamber field housing.
Read more...
---
Clip-on indicator with Bluetooth and logging
September 2020, WIKA Instruments , Data Acquisition & Telemetry
Monitor live process values and diagnostic information on any iOS/Android device running the free PPS application, or monitor directly on the display.
Read more...
---
Temperature control in the glass industry
August 2020, R&C Instrumentation , Temperature Measurement
New products like the Endurance and Thermalert series ensure that whatever the temperature measurement and monitoring requirements, a solution can be found.
Read more...
---
Combination of digital pressure gauge and smartphone via Bluetooth
August 2020, WIKA Instruments , Pressure Measurement & Control
For optimal process efficiency in pharmaceutical applications, solutions featuring wireless communication are becoming first choice, especially in mobile applications.
Read more...
---
Ratio pyrometer: theory and applications
June 2020, R&C Instrumentation , Temperature Measurement
There are many applications where a standard one-colour thermometer reads the temperature incorrectly. These include:   
• Small objects (too small to fill the cone-of-vision). • Dust, smoke or steam, 
...
Read more...
---
Upgrade for PSM-700 pressure switch
May 2020, WIKA Instruments , Pressure Measurement & Control
WIKA's PSM-700 pressure switch with large adjustable switch differential is now able to withstand higher process temperatures. Previously, the process media was limited to a temperature range of -30
...
Read more...
---
Thermal camera for automotive diagnosis
May 2020, RS Components SA , Temperature Measurement
RS Components has announced the availability of a new thermal camera from FLIR, a specialist in intelligent sensing products for industrial markets. The TG275 thermal camera is ideal for automotive maintenance 
...
Read more...
---