printer friendly version
Krohne's new radar level transmitter
March 2016
Level Measurement & Control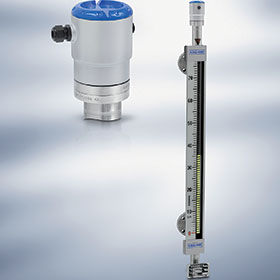 With Optiwave 1010, Krohne has introduced a new radar level transmitter for bypass chambers and magnetic level indicators. The 2-wire FMCW radar level transmitter is designed as a cost-effective solution for the continuous level measurement of liquids in bypass applications in various industries, e.g. chemical power, water and wastewater and automotive.
The instrument can be combined with the Krohne BM 26 advanced bypass chambers and magnetic level indicators (MLI), thereby adding a 4-20 mA HART output to the mechanical devices. The combinations can be conveniently ordered as a whole, or alternatively, it can be welded on any bypass chamber with internal diameter 38-56 mm.
Optiwave 1010 is competitively priced to replace reed chains, magnetostrictive and simple TDR transmitters that are typically used with bypass chambers or MLIs. In addition to a measuring accuracy of ±5 mm, the FMCW principle offers a much better overall accuracy in bypass applications: while reed chain and magnetostrictive principles are measuring the float position which depends on the product density, the FMCW radar directly measures the liquid surface.
Applications include almost any liquids with process temperatures ≤150°C up to 40 barg and measuring ranges up to 8 m. With clean liquids of dielectric constant εr ≥ 3 the device measures the surface directly, for εr < 3, a float with target is used.
Optiwave 1010 features a dual process seal system that allows for removal of the converter under process conditions. The 2-wire loop-powered HART device is pre-configured in the factory and is delivered ready to use. Application-specific adjustments are possible via HART/DD and DTM.
Credit(s)
Further reading:
What is the next big thing in Coriolis mass flowmeters?
June 2019, KROHNE , Mass Measurement
With such fast moving technology it can be difficult to forecast the 'next big thing', but it is possible to focus on two recent developments that look set to influence the market in the near future: high capacity flowmeters; and the ability of Coriolis meters to measure liquids with entrained gas.
Read more...
---
Continuous level measurement
Africa Automation Fair 2019 Preview, Morton Controls , Level Measurement & Control
The Nivobob series from Morton Controls is used for continuous level measurement within bulk storage silos and for interface measurement of sludge beds. The system is immune to dust, dielectricity, conductivity, 
...
Read more...
---
New flowmeter for biogas
May 2019, KROHNE , Flow Measurement & Control
The new Optisonic 7300 Biogas ultrasonic flowmeter from Krohne has been specially designed to measure dry and wet biogas with variable composition. The meter provides additional functions, like calculation 
...
Read more...
---
A range of level sensors
Africa Automation Fair 2019 Preview, GHM Messtechnik SA , Level Measurement & Control
GHM Messtechnik has available the Val.co range of affordable and effective level sensors that have application across all sectors of industry, especially tank building. The range includes small float 
...
Read more...
---
Keller's water level monitoring systems
April 2019, Instrotech , Level Measurement & Control
The Grib Mine, located in Russia's Mezensky District in the Arkhangelsk Oblast, is one of the largest diamond deposits in the world. During winter, temperatures can drop to -25° and sometimes -37°. The 
...
Read more...
---
80 GHz for liquids
April 2019, VEGA Controls SA , Level Measurement & Control
Vegapuls 64 radar level measurement improves efficiency for bitumen supplier.
Read more...
---
Level monitoring and visualisation
March 2019, Morton Controls , Level Measurement & Control
UWT's Nivotec series is designed to make data movement and communication between monitoring and control systems easy and flexible. The Nivotec 2000 and 3500 series are specifically adaptable to customer 
...
Read more...
---
Monitoring the level of molten polyethylene
March 2019, VEGA Controls SA , Level Measurement & Control
More than ever before, the number of car parts made from plastics and plastic composites is on the increase. According to the American Chemistry Council, plastics account for approximately 50% of the 
...
Read more...
---
Optical turbidity measuring system
March 2019, KROHNE , Analytical Instrumentation & Environmental Monitoring
Krohne has introduced the new Optisys TUR 1060 optical turbidity measuring system. The main application areas are quality or filter monitoring in drinking or cooling water circuits, or demineralisation 
...
Read more...
---
The next level in dairy applications
February 2019, Endress+Hauser , Level Measurement & Control
Reliable and repeatable tank level measurement proven with 80 GHz technology.
Read more...
---