printer friendly version
Compact and versatile magnetic flow measurement
March 2016
Flow Measurement & Control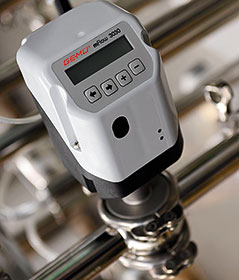 Compact and flexible components are in high demand in the plant engineering sector. Thanks to its varied applications, the Gemü 3030 mFlow is a more cost effective option than some conventional flowmeters.
Magnetic induction as a measurement principle
The flowing medium, which must be electrically conductive, (20 μS/cm) is the moving conductor. This makes it possible to measure the flow velocity of liquids precisely. The flow rate is then calculated using the pipe cross section. Flow velocities of 0,1 to 10 m/s can be measured.
The Gemü 3030 mFlow operates reliably with conducting media in the temperature range of 0 – 135°C with a supply voltage of 24 VDC and an automatic adaptation of the measuring range (0 - 4 m/s or 0 – 10 m/s).
The maximum operating pressure it can be used at is 10 bar. Thanks to the low installation depth of the sensor, there is only a negligible loss in pressure. Using this measurement principle, there are no moving parts in the medium.
Variable installation and application possibilities
The accompanying weld-in sleeve for the Gemü 3030 mFlow enables it to be installed in a variety of piping. Nominal sizes from DN 25 - DN 300 can be covered with this one device.
Apart from the weld-in sleeve, in-line housings and wafer-type connections can be used. A deadleg-free measurement or a measurement with full flow bore can be achieved when using in-line housings by Neumo BioControl or Tuchenhagen Varivent. These requirements are particularly important in the pharmaceutical and foodstuff industry where minimum dead-legs are providing hygienic conditions, but also in the mining industry where pipes without constrictions are advantageous to prevent abrasion effects and deposits.
Simple connection to the plant control system
The system is connected electrically by using 5-pin M12 connectors, making it easier to connect electrically without needing to open the housing.
The two visual indicators, integrated in the housing, indicate the status of the Profibus connection. This makes it possible visually to detect any connection problems in the fieldbus system or faulty data transmission of a device quickly and easily.
Calibration at the factory ensures the flowmeter is immediately ready for operation once the operating voltage has been connected. However, if required in order to adapt to plant-specific conditions, the magnetically inductive flowmeter can be recalibrated on site, which improves its accuracy at the same time.
The Gemü 3030 mFlow can be optimally integrated in fully automatic plant control systems using standard signals (analog output 4 - 20 mA and pulse output 24 VDC) to transmit the flow rate to higher-level plant systems and interfaces such as the RS-232 and Profibus DP. Status information, error messages and the operating range can be displayed and operated simply and easily thanks to these interfaces.
Fast and uncomplicated commissioning
Commissioning of the instrument is simple. Versatile operating options are provided for example by using the fascia buttons with illuminated display or PC connection with Internet browser and fieldbus interfaces. No special software is required for browser operation, as this is already integrated.
Two levels are available for operating the device using the front keyboard. After the supply voltage is switched on, the flowmeter is at the working level, where the most important system parameters are displayed. It is also possible to adjust the individual display settings. As standard, the current flow rate and the flow velocity are displayed in one metric unit. The user can set and adapt different parameters during operation using the configuration level.
The configuration menu is clearly structured, making the required parameters easy to find, even for new users. A help text, available in different languages, provides additional assistance. This menu can be used to make a number of individual adjustments, e.g. the number of decimal places for the flow rate value and the unit in which the measured value is to be displayed.
A huge variety of advantages
The Gemü 3030 mFlow is suitable for a wide range of uses in the most varied of industrial sectors. In most cases, this entails the measurement of all types of liquid media. The extensive diagnostic facilities are enabling errors to be detected and rectified quickly. While some conventional sensor and display units only report simple switch signals, the Gemü 3030 mFlow can save all these errors, immediately displaying the current problem using a distinctive error code. The saved error list can then be downloaded to a computer using the implemented RS-232 interface. Parameter files, can, in turn, be loaded onto other devices as required. This enables fast and uncomplicated parameterisation when using more than one device. Furthermore, adjustable relay functions allow the device to report additional information, for example when a flow rate value is exceeded or undershot. Bi-directional measurement permits installation independent of the flow direction. However, installation in the flow direction indicated on the devices is recommended. The two totalisers enable the flow to be determined over a specific time period. Depending on requirements, these totalisers can be reset, enabling hourly, daily, monthly or annual values to be determined. It can also be fitted with a temperature sensor which allows flow rate value and medium temperature to be detected simultaneously. The housing is designed in protection class IP65, preventing dust penetration and protecting against water jets.
All these product features make the Gemü 3030 mFlow an ideal, versatile and cost-effective all-round device for detecting and evaluating flows in the most varied of processes.
For more information contact Claudio Darpin, Gemü Valves Africa, +27 (0)11 462 7795, claudio.darpin@gemue.co.za, www.gemu-group.com
Further reading:
Safe operation of CNG stations
October 2020, SICK Automation Southern Africa , Flow Measurement & Control
The Flowsic500 compact ultrasonic gas meter enables extremely accurate natural gas distribution measurement.
Read more...
---
Ultrasonic flowmeter for wide ranges
September 2020, Instrotech , Flow Measurement & Control
Bi-directionally transmitted ultrasonic waves provide precise results of volume flow as the result of their transit time difference. Installed in any position, the units can measure ranges of 1:250.
Read more...
---
Turck standardises its fluid portfolio
September 2020, Turck Banner , Flow Measurement & Control
Turck's new portfolio of fluid sensors offers a wide range of variants and combinations, while having common key features at the same time. The compact FS+ flow sensor with IO-Link now follows the launch of the PS+ pressure sensor.
Read more...
---
Safe operation of CNG stations
August 2020, SICK Automation Southern Africa , Flow Measurement & Control
SICK's Flowsic500 gas meter, used in State Oil Company of Azerbaijan Republic's (SOCAR) transfer and measurement stations, has shown to meet stringent compressed natural gas (CNG) production protocols. 
...
Read more...
---
Flexim perfects the steam flowmeter
June 2020, Actum Group , Flow Measurement & Control
Flexim is proud to announce the manufacture of a robust, user-friendly and industry-certified ultrasonic steam flowmeter solution. For this accomplishment, the company has been nominated for the 2020 
...
Read more...
---
Emerson introduces software for flow measurement
July 2020, Emerson Automation Solutions , Flow Measurement & Control
Emerson has released Micro Motion ProcessViz, a standalone, cost-effective software solution for flowmeter process data visualisation. Having an instant visualisation of raw process data translates into 
...
Read more...
---
Exceeding the limits
June 2020, ifm - South Africa , Flow Measurement & Control
The new SM flow from ifm electronic.
Read more...
---
The complexity of water management in mines
June 2020, Endress+Hauser South Africa , Flow Measurement & Control
Water is a critical resource for the mining industry, either in the mining processes, as a feed to the beneficiation of minerals process, or for potable use. With the growing demand and increased scarcity 
...
Read more...
---
Electromagnetic flowmeter upgrade
May 2020, Instrotech , Flow Measurement & Control
Instrotech has announced that the Kobold magnetic inductive flowmeters MIM and MIS have been upgraded and further developed as follows: Kobold MIM, for measuring and monitoring of conductive liquids, 
...
Read more...
---
Ultrasonic transducer with mini horn array
May 2020, Emerson Automation Solutions , Flow Measurement & Control
Emerson has released the Daniel T-200, a titanium-housed transducer, for its gas ultrasonic flowmeter product line, marking the first use of metal 3D printing to enhance the acoustic performance of ultrasonic 
...
Read more...
---