printer friendly version
UC-8100 RISC computers expand system flexibility
January 2016
Industrial Computer Hardware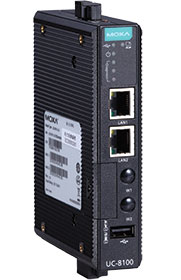 Space limitation is always a major concern in distributed IA systems, so finding a compact computing solution that fulfils application demands for high computing power, large storage capacity and flexible wireless connectivity, is a challenge. To answer this, Moxa has rolled out its new small form factor UC-8100 wireless Linux computer, specifically designed for large scale, big data WAN computing solutions.
The UC-8100 is built around an ARMv7 Cortex-A8 processor, and comes with up to two RS-422/485 serial ports alongside dual 10/100 Mbps Ethernet LAN ports. Finally, these computers also feature a Mini PCIe socket that supports a cellular interface and other modules. These versatile communication capabilities let users efficiently adapt the UC-8100 to a wide variety of complex communication and processing solutions, useful both as a communications platform in large-scale distributed applications and as a reliable and secure gateway for data acquisition and in-the-field processing.
Small and scalable design future proofs industrial automation
"The diversity of technology and the sheer pace of its development have made manufacturers work hard to find common communications interfaces. A decade ago, we were still using ISDN and POTS, people hadn't even heard of UMTS and ADSL – 3G was barely even on the horizon. Now we're looking towards 4G and beginning to speculate over the capabilities of 5 and even 6G." explains Charles Chen, embedded business development manager with Moxa Americas. "Designed with scalability and flexibility in mind, UC-8100 Linux computers are especially equipped with Wi-Fi and Mini PCIe sockets for cellular modems, plus a programmable Linux RISC computer, for a 3-in-1 communications device that saves on construction and maintenance costs."
For distributed processing applications, management and maintenance are big challenges. UC-8100 computers combine high performance RISC architectures with ample storage capacity, allowing users wide flexibility when developing new automation systems. Programmable LEDs allow integrators or end users to define unique event signalling, to aid when building troubleshooting tools into a system.
Stronger security to protect valuable data both from hardware and software aspects
UC-8100 computers also come with extremely strong protection from network attacks. Moxa has taken the powerful Trusted Platform Module (TPM) one step further, and integrated a patented secure boot algorithm that delivers extremely strong protection against kernel corruption of any sort – thus eliminating (short of physical theft of the keys) the only possible attack vector available to crackers. With the kernel protected, the computer is able to work securely with the guarantee that any communications it makes via TPM will remain confidential and safe from the possibility of exposure via a rooted system.
Credit(s)
Further reading:
Adding mobile network visibility
January 2020, RJ Connect , Fieldbus & Industrial Networking
A high-speed railway operator built a fibre Ethernet backbone for data transmission between its operational management centre and railway stations to ensure high network availability. The customer used 
...
Read more...
---
Enabling IIoT connectivity for virtual power plants
December 2019, RJ Connect , Electrical Power & Protection
The power grid has seen many changes that have enabled the integration of power from distributed energy sources (DERs).
Read more...
---
Advanced controller for data acquisition
December 2019, RJ Connect , Data Acquisition & Telemetry
The ioThinx 4530 series is an advanced modular controller product with a unique hardware design, making it an ideal solution for a variety of industrial data acquisition applications. The controller has 
...
Read more...
---
Four key factors to consider when choosing devices for the control cabinet
November 2019, RJ Connect , System Integration & Control Systems Design
Drawing from over 30 years of experience in providing reliable products for industrial control cabinets, Moxa has identified the following four key considerations for choosing the best control cabinet 
...
Read more...
---
AGV systems need wireless networks
November 2019, RJ Connect , Industrial Wireless
In order for factories to perform their tasks efficiently and optimise production, automated material handling (AMH) systems, such as AS/RS and AGVs, need the flexibility to move around on their designated 
...
Read more...
---
Intelligent wireless connectivity
September 2019, RJ Connect , Industrial Wireless
The ultimate goal of most industrial automation applications is to obtain actionable insights from data sources for more precise decision-making. To achieve this, businesses need to make their field data 
...
Read more...
---
Network management software essential for smart manufacturing
August 2019, RJ Connect , System Integration & Control Systems Design
Visibility of network devices and infrastructure is just as important as production machinery for maintaining reliable and efficient factory operations. For example, an unrecoverable fault in a network 
...
Read more...
---
Simple path to Industry 4.0-enabled process technology
Technews Industry Guide: Industrial Internet of Things & Industry 4.0, Beckhoff Automation , Industrial Computer Hardware
Ultra-compact IPCs are ideal for edge computing.
Read more...
---
Next-generation IIoT gateway solutions are transforming manufacturing
Technews Industry Guide: Industrial Internet of Things & Industry 4.0, RJ Connect , Fieldbus & Industrial Networking
Smart manufacturing and digital transformation, coupled with edge intelligence, are enabling manufacturers to increase productivity, reduce downtime, and increase product quality.
Read more...
---
High-performance rackmount computers for Industry 4.0
Technews Industry Guide: Industrial Internet of Things & Industry 4.0, RJ Connect , IT in Manufacturing
With more and more companies implementing IIoT applications, the demand to connect hundreds or thousands of devices to industrial automation systems has increased dramatically. Moxa's DA-720, a high-performance 
...
Read more...
---