printer friendly version
Energy sufficient RTU permits wireless plant monitoring
December 2015
Industrial Wireless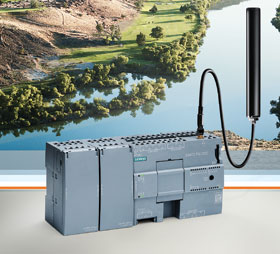 Siemens has extended its range of RTUs (remote terminal units) to include the Simatic RTU3030C, a compact energy-self-sufficient remote terminal unit. It can be used to monitor measuring points in widely distributed plants without depending on the existence of a local power supply or a hard-wired communication infrastructure. Users benefit from wireless access to key process data such as level, flow rate, fill height, temperature or pressure from distant measuring points. The RTU works fully independently with a power supply provided by batteries or a solar panel, enabling its flexible use in varied fields of application such as the water and wastewater industry, agriculture or asset tracking. The device can be deployed in applications such as leak detection or for monitoring pumping stations or water storage facilities, measuring filling levels in tanks and silos or for irrigation systems used in agriculture. The robust design enables it to be used under the toughest of ambient conditions (-40 to 70°C). An additional enclosure with a protection rating of IP68 allows reliable operation even under flood conditions.
RTUs are often deployed over widely distributed areas, in many cases at measuring points without their own communication or power supply infrastructure. This is where the energy-self-sufficient remote terminal unit RTU3030C comes into its own. It collects measurement data from connected sensors which it transmits to a control centre. The RTU can be operated using up to two high-powered industrial batteries or a rechargeable battery (combinable with a solar panel). Users also have the option of connecting a 12-24 volt DC power source where this is available. The different power supply options can be combined as required.
The RTU3030C can be operated in the sleep, update, communication and service mode. The power requirement in the sleep mode is below 2 mW, allowing reliable operation over a period of several years. The transmission of measured values to the control centre uses the integrated UMTS modem over the wireless network – with a secured OpenVPN connection or encrypted emails. Communication can be time or event controlled and also individually configured for each process value. The RTU3030C reports any values exceeding defined threshold levels immediately using SMS or email – even when in sleep mode – to enable a rapid response by service personnel. Users can switch the RTU3030C over to the service mode for maintenance operations such as exchanging batteries without loss of data.
The unit can be conveniently configured and the firmware updated with the aid of a standard web browser. It can also be linked to the control system Simatic PCS 7 or to Simatic WinCC using the TeleControl Server Basic software package. Direct connection to Simatic PCS 7 TeleControl or Simatic WinCC/TeleControl is also possible using the telecontrol protocols IEC 60870-5-104 and DNP3. In this way, support for wide-ranging telecontrol protocols enables flexible connection to any optional scada systems.
For more information contact Jennifer Naidoo, Siemens Southern Africa, +27 (0)11 652 2795, jennifer.naidoo@siemens.com, www.siemens.co.za
Credit(s)
Further reading:
DEK wireless kit
October 2021, Turck Banner , Industrial Wireless
The standalone DEK wireless kit from Turck Banner includes everything needed for a remote preventive maintenance monitoring solution.
Read more...
---
Unwired unleashes new possibilities
October 2021, RJ Connect , Industrial Wireless
In situations where it is hard to wire or reconfigure industrial operations, wireless LANs (WLANs) provide an ideal alternative.
Read more...
---
Totally Integrated Automation – added value in three dimensions
October 2021, Siemens Digital Industries , Editor's Choice, System Integration & Control Systems Design
Discover everything that's in TIA, the leading automation concept from Siemens, and how it all works together to create a unique product for machine builders and industrial enterprises.
Read more...
---
The brewery of the future
October 2021, Siemens Digital Industries, Process Dynamics , System Integration & Control Systems Design
Meeting current and future customer requirements quickly and with the highest quality is key to the food and beverage industry.
Read more...
---
Siemens' software for digital transformation of automotive design
September 2021, Siemens Digital Industries , IT in Manufacturing
Model-based development process and systems are used in Japan and globally to adapt to the biggest automotive transformation in 100 years.
Read more...
---
Tag-specific requirements in RFID systems for track and trace
September 2021, Turck Banner , Editor's Choice, Industrial Wireless
The BL ident complete RFID system from Turck Banner offers solutions in the HF or UHF range with interfaces for use in a plant or switch cabinet.
Read more...
---
Siemens gateway for the process industry
September 2021, Siemens Digital Industries , Fieldbus & Industrial Networking
Siemens has introduced the Sitrans CloudConnect 240: a new gateway for the process industry. It provides a second data channel, that is used to transmit data from any HART-based field devices to the IT world.
Read more...
---
Siemens drives digital transformation at virtual Smart Mining forum
September 2021, Siemens Digital Industries , IT in Manufacturing
With its motto: 'On the road to the digital future', Siemens hosted its virtual Smart Mining forum from 3-5 August.
Read more...
---
Are you ready for the 2G/3G sunset?
August 2021, Throughput Technologies , Industrial Wireless
With widespread adoption of 4G technology and the growing availability of 5G, older technologies (2G and 3G) are now slowly being phased out.
Read more...
---
DXM series wireless controllers
August 2021, Turck Banner , Industrial Wireless
The robust, IP67-rated housing of Turck Banner's DXM1200E easily installs in most environments without the need for an additional enclosure.
Read more...
---