printer friendly version
Nick Denbow's European report: The politics in power
December 2015
News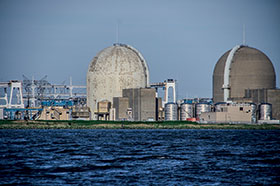 The combined effects of the erratic price of oil and natural gas supplies, modern environmental legislation requiring old polluting coal fired power stations to close down, and the UK planning laws and protestors, has produced a mismatch between the available UK power supply and the expected winter demand. The government has made strenuous efforts to patch up the gap between supply and demand: ageing nuclear power stations have been inspected and approved to continue for an extended life; polluting coal fired stations are being paid a premium to keep operating; deals have been struck with big energy users to alter their power use profiles, and switch off overnight at times of critical demand.
The National Grid says that 25 GW of power capacity has been lost from the system in the past year because of plant closures. Last winter the margin between peak demand and capacity was only 16 GW. So will the last minute deals cover the 9 GW shortfalls?
New technology will bridge the gap
New technology will provide the answer to the power gap, according to the UK government, which has been investing to encourage developments. Regrettably the pace of the development does not seem to have kept up with the expectation, in some areas.
Carbon Capture and Storage (CCS) systems will in theory reduce the carbon emissions from fossil fuel driven plants: the government has allocated £1 Bn to finance the commercialisation of such projects. One project is at Drax power station, the White Rose CCS project, which involves Alstom and BOC, plus a National Grid 75 km pipeline to deliver liquid CO2 to undersea storage caverns offshore. Drax Power itself is no longer investing in this CCS project: they will burn wood chips in some of the boilers at Drax, which are a renewable source – imported from the USA.
Another project financed under the Government scheme is on a CCGT gas-fired power station at Peterhead, in Scotland, where Shell and Scottish and Southern Electricity are the operators. Again the CO2 will be stored in depleted gas fields offshore.
In contrast, the incentives offered to UK home-owners with solar panels, for electricity delivered back to the grid, have been remarkably successful. The future commitment, over 20 years, has created a booming industry, and the government budget has been overspent – costs are £7 Bn this year. There is a significant growth in solar power generation – around 1,5% of total power, but maybe the sums were not done properly. So suddenly the scheme has been switched off, any new solar generation will only receive about 10% of the current rate. Solar cannot bridge the power gap on cold dark nights, though!
The sea provides the potential for green energy using either wave or tidal power. Research and prototype installations have been made in Portugal (providing 2,25 MW briefly in 2008) and in Australia (a buoy system, using water to drive turbines on-shore). In the UK, test and evaluation sites have been set up in the Orkneys and in Cornwall. The Scottish government set up a Pelamis based 3 MW wave farm in 2010, and more projects are being trialled. Wave power is seen as a viable technology for South Africa: the UK is volunteering to share its research along with China.
Dong Energy from Denmark has built two new offshore farms in the north of England. These give 8 MW from each 222 m tall turbine: a significant rise from the 3,6 MW 120 m units originally installed offshore – the costs per unit are not significantly higher for bigger columns. The latest developments come from Norway, where Sway Turbines has plans for a 10 MW turbine, with a 164 m diameter rotor and a 25 m open structure at the hub, which is part of the generator.
In the UK, with government funding, Blade Dynamics has developed an advanced design of wind turbine blade and tip, which can be assembled on site (https://www.youtube.com/watch?v=gz0IlPjU7Bc). A 78 m long example has recently been delivered to the government testing laboratories: Blade Dynamics was then acquired by GE, to join it with the recently acquired Alstom wind energy business.
Nuclear on the horizon?

Old technology is also on the rise, with the UK government guaranteeing a loan by the Chinese to the French owned EDF, which will build a new nuclear plant at Hinkley Point, for the UK. This is unlikely to produce any power before 2025, assuming the Areva reactor can be made to work: the two installed so far are not yet operating properly. The deal with China also involves the installation of two Chinese built reactors at sites near London, next to existing Westinghouse PWRs. The UK government pioneered and financed the first nuclear stations in the 1960s: now it seems to have turned its back on the possibilities and future potential of the new small modular reactor designs.
Nick Denbow spent 30 years as a UK-based process instrumentation marketing manager, and then changed sides – becoming a freelance editor and starting Processingtalk.com. Avoiding retirement, he published the INSIDER automation newsletter for five years, www.iainsider.com, and now acts as its EMEA editorial correspondent. His blog is on www.nickdenbow.com
Further reading:
From the editor's desk: Is additive manufacturing poised to go mainstream?
March 2021, Technews Publishing (SA Instrumentation & Control) , News
As digital manufacturing technology pushes its way further towards the production floor, additive manufacturing (3D printing) is emerging as a viable option to complement the more traditional methods 
...
Read more...
---
Female talent switches on to engineering careers with ABB
September 2021, ABB South Africa , News
ABB's Sustainability Strategy incorporates driving social progress, equality and diversity to create safe, fair and inclusive working environments and support community building.
Read more...
---
MESA Africa – call for papers 2021
September 2021, MESA Africa NPC , News
We invite you – the manufacturing community – to submit papers showcasing your success stories and inspiring ideas, coping under restrictions, and illustrating this year's theme: The Art of the Possible: Manufacturing Without Limits.
Read more...
---
Hazardous locations seminar and cable gland training
September 2021 , News
The courses equip artisans and engineers with the skills needed to gain maximum benefit from Pratley's electrical products.
Read more...
---
Endress+Hauser integrates concentration measurement specialist
September 2021, Endress+Hauser South Africa , News
SensAction was founded in 2008 and has been part of the Endress+Hauser Group since 2017.
Read more...
---
Omron joins The Valuable 500
September 2021, Omron Electronics , News
The Valuable 500 aims to get leaders of multinational companies to bring about changes in business, society and the economy so that persons with disabilities can realise their true potential.
Read more...
---
Endress+Hauser honours its inventors
September 2021, Endress+Hauser South Africa , News
More than 500 inventors gathered virtually for Endress+Hauser's 21st Innovators' Meeting.
Read more...
---
Neles to acquire the valve and pump businesses of Flowrox
September 2021, Neles South Africa , News
Neles has signed an asset purchase agreement to acquire the valve and pump businesses of the Finland-based technology company, Flowrox.
Read more...
---
Bosch Holdings celebrates 60 years
September 2021 , News
In 1961, it was inconceivable for the founders of Bosch Holdings to have known that 60 years later, the company would have expanded into a global operation.
Read more...
---
Danfoss completes acquisition of Eaton's hydraulics business
September 2021, Danfoss , News
Danfoss has officially finalised its US$3,3 billion acquisition of Eaton's hydraulics business, following confirmation of all necessary regulatory approvals and closing conditions.
Read more...
---