printer friendly version
Variable speed drive solutions from Danfoss
December 2015
Motion Control & Drives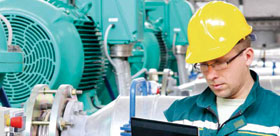 Danfoss offers a range of energy efficient products designed to enhance food preservation, care for the environment, improve comfort and optimise productivity. This includes the VLT drives range, which provides fully automated operation and substantial energy savings in diverse applications.
"VLT drives ensure easy and efficient control of any application powered by an AC motor. These applications include a fan, pump, compressor, centrifuge or hoist," says Mick Baugh, electronics sales manager, Bearing Man Group. "What sets these drives apart is that they require less energy when idle or operating with partial loads."
The drives, which have a customised programming facility, enable the user to increase automation capabilities. With this modular system – which encompasses specific power ratings, enclosure classes and fieldbus protocols – each plant can determine what parameters are essential to meet specific requirements. Included in the portfolio are new lift drives designed for quiet, comfortable and stable elevator operation.
Practical examples
The modular Danfoss VLT lift drive LD 302, with optimised software to control the motor, was installed in an existing lift system and cabin. The new components resulted in faster, more comfortable and energy efficient daily operation. This system has also reduced the operating noise levels of the elevator.
A new range of VLT line filters, which reduces line current by up to 40%, has also been launched to the local market. Line filters MCC 107 improve overall reliability of the system, by combining harmonic and EMC filters.
By reducing the voltage ripple on the DC link, drive performance is enhanced, service life is extended and operational and maintenance costs are significantly reduced. These filters also reduce the RMS value of line current, which means higher true power-factor (PF). Typically, line current can be reduced by 40% and the PF can improve from 0,4 to 0,7 for single-phase drives and from 0,47 to 0,9 for three-phase drives.
These line filters ensure compliance with EN55011 Class A1 for up to 50 m of motor cable and Class B up to 10 m of motor cable. This means the VLT micro drive and VLT line filters have outstanding EMC performance in the micro-inverter class, even with relatively long motor cables.
These line filters, with high immunity against grid disturbances, also reduce the harmonic current drawn from the grid. Another advantage is one line filter can be used for filtering several small micro drives.
The VLT Flexconcept provides system manufacturers and end-users with fully integrated drive solutions to reduce running costs and maximise efficiency. The matched design of drive components has been designed for optimum energy efficiency to exceed current and projected EU motor efficiency standards in new, retrofit or modernised systems.
This system, with fewer variants than conventional systems, simplifies project planning, installation, commissioning and maintenance, which is especially important in conveyor applications.
Danfoss was recently presented with a "Special Automation Ecohitech Award" in Italy, in the 'components, technologies and systems' category. In the motivation for this award, the judges emphasised the balance between business productivity and environmental impact made possible by integrating mechanical components and advanced electronics.
By optimising motors, gear units and frequency converters, it is now possible to reduce power consumption by up to 30%. The design of the Danfoss solution, which has been developed according to strict industry hygiene regulations, also meets the requirements of system eco-compatibility.
For more information contact Mick Baugh, Bearing Man Group, +27 (0)11 620 1538, mickb@bmgworld.net, www.bmgworld.net
Credit(s)
Further reading:
V-belts designed for food applications
September 2021, Bearing Man Group t/a BMG , Motion Control & Drives
BMG supplies a wide range of power transmission components, designed to enhance efficiency and safety in the food and beverage sector.
Read more...
---
Control automation excellence
September 2021, SEW-Eurodrive , Motion Control & Drives
Movi-C from SEW-EURODRIVE is a unique automation control system that sets a new benchmark in control automation, embracing Industry 4.0 technology.
Read more...
---
BMG boosts solutions through Heko products
August 2021, Bearing Man Group t/a BMG , News
Through the supply and support of Heko products, BMG has boosted its solutions service to customers wanting to optimise the efficiency of their bulk material conveyor systems.
Read more...
---
Locally manufactured knife gate valves
August 2021, Bearing Man Group t/a BMG , Valves, Actuators & Pump Control
BMG and Abrasive Flow Solutions (AFS) play a major role in the local valves sector, through the design, distribution, supply and support of a broad range of slurry related valves.
Read more...
---
Efficient agriculture systems from BMG
Technews Industry Guide: Sustainable Manufacturing 2021, Bearing Man Group t/a BMG , Motion Control & Drives
BMG's Boer Slim/Smart-Farming agricultural team works closely with farmers throughout southern Africa, assisting them with the selection, installation and operation of new electromechanical systems. These 
...
Read more...
---
Inertial spin filters save energy
Technews Industry Guide: Sustainable Manufacturing 2021 , Motion Control & Drives
RTS Africa's inertial spin filters provide an effective, maintenance-free solution to dust problems in MCC rooms, transformer rooms, control rooms and the like.
Read more...
---
Drives for the chemical sector
July 2021, Bearing Man Group t/a BMG , Motion Control & Drives
BMG's range of Danfoss electronic, mechanical and intelligent mechatronic devices are designed to optimise automation processes and reduce energy consumption in many sectors, including the chemical industry.  
...
Read more...
---
The benefits of mobile robots and cobots
July 2021, Omron Electronics , Motion Control & Drives
Easily configurable production lines will in future consist of collaborative and flexible transport and transfer solutions, tailored to specific production environments.
Read more...
---
XTS transport system handles demanding packaging applications
July 2021, Beckhoff Automation , Motion Control & Drives
Beckhoff's intelligent XTS transport system sorts bottles while managing automatic format changeovers.
Read more...
---
New B2C online shopping platform for engineering consumables
July 2021, Bearing Man Group t/a BMG , News
BMG's online shopping platform now encompasses a newly launched E-commerce service, designed especially for consumers, to boost their buying experience of engineering consumables.
Read more...
---