printer friendly version
Tough, safe, second to none
October 2015
Valves, Actuators & Pump Control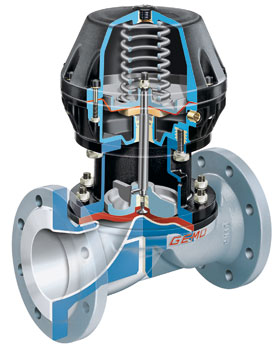 Pulping, bleaching, dewatering, recovery, papermaking, recycling are the typical processes used in the pulp and paper industry, making the demands on valves extremely varied and tough as in this industrial area.
The choice of the valve material is more often than not a compromise. On the one hand most aggressive, hot acids and other aggressive chemicals are used in such applications, and on the other, thick hot slurries having tendency to cause abrasion, erosion, scaling and packing. Last but not least, bleaching agents like chlorine dioxide with a strong oxidising character also have to be handled. Under such conditions valves that perform for years in other applications may last only a few weeks. Therefore it is important to use high quality valves meeting all necessary requirements.
For controlling all kinds of media in harsh conditions, as found in the pulp and paper industry, GEMÜ offers specially adapted product ranges.
Lined GEMÜ diaphragm valves
Lined diaphragm valves from GEMÜ are very versatile as they can withstand all kinds of chemical environments and high temperatures. They are used, for example, in the chemical industry, the paper industry and in mining, and wherever demanding operating conditions can occur.
In many cases, a valve with a full metal body cannot be used, since the corrosive medium attacks and can even destroy the material. On the other hand, a purely plastic body reaches its limits e.g. at high temperatures. GEMÜ has the right solution with its lined metal valve bodies, which meet even the strictest requirements in conjunction with the appropriate diaphragm material and thereby ensure a high degree of operational reliability. In these cases, metal bodies, e.g. made of ductile iron or investment cast stainless steel, are lined with materials such as PFA, ETFE, PP and hard or soft rubber.
PFA is one of the most chemical resistant thermoplastic materials. It has also a certain degree of elasticity, making it conditionally resistant to abrasion. GEMÜ PFA lined valves are having the highest resistance to all kinds of chemicals at elevated temperatures. The smooth surface in contact to the media is having anti-adhesive properties which can be of advantage where scaling and packing can be an issue.
In order to assure highest quality and integrity of lined diaphragm valves, means exactly defined geometric features and uniform wall thickness, high quality and reliable repeatability are obtained by injection moulding in a fully automatised process. Some of the key features include:
• Only materials featuring to quality from reputable sources are used.
• Injection tools for the plastic lining are made in-house with GEMÜ precision technology.
• The plastic lining is axially anchored to the valve body, which ensures that the lining will not separate from the body even under industrial vacuum conditions.
• Metal bodies are prepared, prior to lining, with a temperature resistant coating, so the metal surface under the plastic is rust-protected to a high degree.
• Individual testing of all components and end products, including spark testing of the lining.
Lined GEMÜ butterfly valves
The right valve for the right job, this will provide the needed performance advantages.
The GEMÜ 490 butterfly valve is fitted with a TFM liner and PFA encapsulated stainless steel disc. TFM is a further developed version of classic PTFE, whereby the outstanding properties of PTFE have been improved much further. TFM thus has an optimised surface quality, reduced gas permeability and lower cold flow properties.
The design of the butterfly valve, especially the liner, the shaft seal and backing has been optimised to reduce actuation torques, while providing increased tightness at the same time. The technical properties of the sealing concept increase the service life and reduce the probability of failure. Thanks to this feature the 490 butterfly valve is also suitable for use in temperatures up to 200°C, fulfilling standards such as the TA Luft standard (German Clean Air Act).
The GEMÜ 490 butterfly valve is used in all applications where corrosive liquids and gases are to be shut off or controlled. Thanks to its construction, it can also be used in explosion endangered areas (ATEX).
Investing in high-end technology has a direct impact on the total costs of a production plant, resulting in a positive return on investment. Even though capital costs of industrial plants have decreased significantly over the last 10 years, pressure still remains on the costs of operation, maintenance and repair.
GEMÜ Valves Africa offers a dedication to understanding customer processes to ensure the required benefits for operators and the environment. Product quality and customer relationship are the cornerstone of its success.
For more information contact Claudio Darpin, GEMÜ Valves Africa, +27 (0)11 462 7795, claudio.darpin@gemue.co.za, www.gemu-group.com
Further reading:
Protect your pump and keep it longer
July 2021, Elemental Analytics , Valves, Actuators & Pump Control
Unexpectedly losing a pump is often an expensive or even a dangerous problem in a chemical plant.
Read more...
---
Locally valves manufactured for tailings pipeline
June 2021 , Valves, Actuators & Pump Control
The AFS manufacturing plant in Benoni is equipped with advanced equipment and is supported by specialists who offer dependable technical support to ensure the optimum safety, efficiency and extended service life of every system.
Read more...
---
New flange monoblock with shut-off valve
March 2021, WIKA Instruments , Valves, Actuators & Pump Control
WIKA's new monoblock with flange design integrates a shut-off valve to separate the process from the instrument side.
Read more...
---
The Stafsjö HX story – greater demand calls for action
February 2021, Valve & Automation , Valves, Actuators & Pump Control
As a knife gate valve supplier, Stafsjö supplies product solutions to realise efficiency and production goals in pulp and paper applications.
Read more...
---
Drives for solar-powered pump systems
February 2021, Bearing Man Group t/a BMG , Valves, Actuators & Pump Control
BMG advises on how to optimise efficiency and extend the service life of solar-powered pumping systems by selecting the correct drives.
Read more...
---
Optimise fermentation in alcoholic beverage manufacturing through proper valve selection
February 2021, ASCO , Valves, Actuators & Pump Control
Emerson can help select the right fluid automation products to meet all unique requirements.
Read more...
---
Smart positioners of the future
January 2021, SMC Corporation South Africa , Valves, Actuators & Pump Control
SMC's new range of Smart Positioners was designed to pair perfectly with a variety of process control valves and actuators.
Read more...
---
Robust control valve proves itself in the construction materials industry
November 2020, Macsteel Fluid Control , Valves, Actuators & Pump Control
Ball sector valves from Schubert & Salzer excel in abrasive slurry applications.
Read more...
---
Check valve with redundant sealing
September 2020, WIKA Instruments , Valves, Actuators & Pump Control
The new model CV check valve from WIKA is designed for a wide range of applications in the process industry. Its sealing system reliably prevents backflow of liquid and gaseous media.
Read more...
---
Sustainability through packaging efficiency
August 2020, Valve & Automation , Valves, Actuators & Pump Control
There is probably no other term that has been used and interpreted in recent years in so many ways as the term 'sustainability'. Originating from forestry, today the principle of sustainability is comprehensively 
...
Read more...
---