printer friendly version
Innovative flow technology for ­water applications
October 2015
Flow Measurement & Control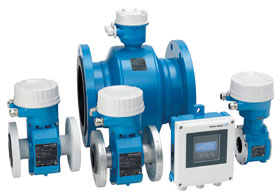 Whether potable water, industrial water or wastewater, whether in urban or rural areas, water has become a scarce resource due to worldwide population growth and the associated urbanisation. As South Africa is a semi-arid country it must have a sustainable water management system which includes increasing the population's access to potable water and sanitation. Due to the high cost of purification and distribution of this limited resource, losses should be minimised and every drop accounted for. Currently South Africa's non-revenue water is at 36.8%. At the heart of this is leaks, un-billed (not measured), water theft as well as the agreed free water quota. Without accurate and reliable water flow measurement, this figure cannot be improved on. The new Promag 400 from Endress+Hauser offers excellent advantages precisely in such applications ensuring cost and time saving operation.
The Promag 400 is based on over 35 years of industry experience. Important requirements for the water management industry such as accuracy, approvals, remote operation and data security are met by Promag without any compromise. The fields of application include:
• Volumetric flow measurement of drinking water, industrial water, irrigation water or wastewater.
• Applications in small plant engineering or in large-scale projects.
• Measurement in distribution networks, pump systems or in pits.
• Monitoring, regulation, billing and leak detection.
Innovative flow measuring technology
The Promag 400 seamlessly integrates via HART, EtherNet/IP, PROFIBUS DP as well as Modbus RS-485. The standard-integrated Webserver in the Promag 400 provides one-of-a-kind options for service:
• Simple access to device and diagnostic data.
• Onsite configuration of functions without additional interfaces.
• Upload and download of configuration data for commissioning other identical measuring points.
Self monitoring functions and a service friendly data storage concept (HistoROM) guarantee seamless operation around the clock. Furthermore, the battery powered Promag 800 makes versatile and standalone use possible, even at locations without power supply. With the integrated GSM/GPRS modem, measured values and diagnostic data can be queried or sent via e-mail or SMS worldwide.
Verification with Heartbeat Technology
In the water industry a highly accurate and reliable measurement is absolutely essential throughout the treatment and distribution process. Heartbeat Technology is a new function integrated into the Proline measuring electronics that, in addition to stable long-term measurement with the Promag 400, enables continuous diagnostics as well as comprehensive device verification. This makes it possible to fulfil the traceability requirements in the context of ISO 9001 without problems – where and when requested and without interrupting the measuring operation:
• No need to dismantle the device.
• Creation of inspection reports via web server or asset management system.
• Complete documentation of a measuring device's performance.
• Automatic saving of verification (TUV approved) results directly in the device.
Sensors for every application
All three sensors – Promag L, W and D – possess internationally recognised drinking water approvals (KTW/W270, ACS, NSF 61, WRAS BS 6920) as well as approvals for custody transfer in accordance with the water meter standards OIML R49 and MI-001. For installation in piping systems, users can select between various nominal diameters (DN 25 to 2400), process connections (flange, lap-joint flange, wafer) and linings (polyurethane, hard rubber, PTFE).
As a fully welded version in IP68 ingress protection (Type 6P enclosure) and with certified corrosion protection (EN ISO 12944), the Promag W sensor offers the unique option of long-term installation underwater, underground, in a saline environment or in regions with greatly fluctuating humidity or temperature.
The user benefits of Promag 400 include:
• Accurate measurement of the supplied water volumes.
• Assured compliance with guidelines and regulations.
• Reduced operating costs by means of proven, innovative and maintenance-free measuring technology.
For more information contact Hennie Pretorius, Endress+Hauser, +27 (0)11 262 8068, hennie.pretorius@za.endress.com, www.za.endress.com
Credit(s)
Further reading:
Accurate flow measurement on a conveyor
August 2021, SICK Automation Southern Africa , Flow Measurement & Control
Heidelberg Cement in Lengfurt, Germany, needed a solution for the accurate metred supply of secondary material on its conveying system.
Read more...
---
Flowmeter with IO-Link
August 2021, GHM Messtechnik SA , Flow Measurement & Control
The calorimetric measuring principle makes this new Honsberg meter practically wear-free and gives users the ability to record media temperature in addition to flow measurement.
Read more...
---
Ready for use anywhere
August 2021, Endress+Hauser South Africa , Level Measurement & Control
The first 2-wire loop-powered compact transmitter enters the market.
Read more...
---
Electronic flow switch with display
August 2021, WIKA Instruments , Flow Measurement & Control
The new model FSD-4 electronic flow switch from WIKA offers full flexibility in monitoring and controlling flow based on the velocities of liquid media.
Read more...
---
Endress+Hauser opens vaccination centre
July 2021, Endress+Hauser South Africa , News
As part of a model project, Endress+Hauser is operating a vaccination centre for employees in Maulburg.
Read more...
---
Key factors for picking the optimal flowmeter
July 2021, KROHNE , Flow Measurement & Control
While a variety of factors impact meter performance, the most common culprits are flawed sizing and failing to choose the most appropriate technology.
Read more...
---
A new generation of sensors for liquid analysis
May 2021, Endress+Hauser South Africa , News
Endress+Hauser introduces the next generation of Memosens digital technology for simple, safe and connected liquid analysis.
Read more...
---
Endress+Hauser holds its ground despite the pandemic
June 2021, Endress+Hauser South Africa , News
Endress+Hauser weathered the 2020 pandemic year well. The Group created new jobs and expanded its global sales and production network.
Read more...
---
Memosens 2.0: simple, safe and connected for future-proof applications
June 2021, Endress+Hauser South Africa , Sensors & Transducers
Memosens 2.0 represents the next, future-proof step in the evolution of Endress+Hauser's Memosens technology, while maintaining all of the familiar and well-established advantages.
Read more...
---
24/7 boiler monitoring with the SWAS Compact
June 2021, Endress+Hauser South Africa , Analytical Instrumentation & Environmental Monitoring
Endress+Hauser has developed a compact new steam analysis device for continuous boiler water monitoring.
Read more...
---