printer friendly version
Valves switch up to four times ­faster
October 2015
Valves, Actuators & Pump Control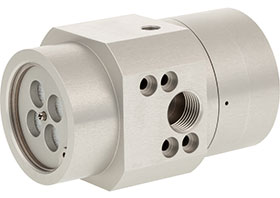 Pneumatic positioners match the particular current valve setting with the set-point signal as a control value. The control air, as the input quantity, generally corresponds to a unit signal of 0,2 to 1 bar. Positioners are also volume boosters which convert the control air at a minimal pressure to a proportional, high control pressure for the positioning of the valve.
However, control valves with large volume, pneumatically-operated, part-turn and piston actuators, usually need several seconds for large positioning processes or to close or open fully. Concerning valves from DN 150 upwards, this can often result in restrictions in control quality. Now, with the newly developed, high precision 4090 pneumatic volume booster from Schubert & Salzer Control Systems, it is possible to amplify the air strength of the set-point signal from positioner to actuator such that these control valves – depending on nom­inal valve size – operate up to four times faster without any further modification.
Pneumatic volume booster
The pneumatic volume booster is based on a diaphragm system with which the pressure and volumetric flow of the control air are increased up to 6 bar through the controlled insertion of supply air. In the volume booster, the control air is fed through an adjustable bypass to the actuator. By controlling the flow rate in the bypass, the switching threshold for activating the amplifying air can be controlled precisely. This ensures that the pneumatic volume booster applies the default amount of supply air to the actuator with small changes in pressure, i.e. small control interventions. When the adjustable bypass pressure threshold is exceeded, the pneumatic volume booster is activated and releases the additional pressure amplification for the control air so that the adjustment of the valve stroke or, respectively, the part-turn actuator is substantially faster.
In the venting also of the actuator, the pneumatic volume booster adopts the same function and makes a vent valve operate when the supply air pressure is reduced. An exhaust air filter fitted here minimises sound emission.
The 4090 pneumatic volume booster enables significant reductions in switching times both in the closing as well as the opening of a valve. Using a DN 300 ball sector valve for a direct comparison, the closing time for a single-acting actuator falls from 43 seconds to 21.5 seconds with a standard setting and to just 10 seconds with an "aggressive" bypass setting on the booster. This new pneumatic volume booster not only shortens switching times significantly but also optimises the control quality particularly for control valves in the larger nominal sizes.
The volume booster can also be connected retroactively with ease to G 1/4" inline linear actuators and to part-turn actuators with a Namur (1/4") interface.
For more information contact Keith Hedges, Macsteel Fluid Control, +27 (0)82 575 9354, keith.hedges@macfluid.co.za, www.macsteel.co.za
Credit(s)
Further reading:
Protect your pump and keep it longer
July 2021, Elemental Analytics , Valves, Actuators & Pump Control
Unexpectedly losing a pump is often an expensive or even a dangerous problem in a chemical plant.
Read more...
---
Locally valves manufactured for tailings pipeline
June 2021 , Valves, Actuators & Pump Control
The AFS manufacturing plant in Benoni is equipped with advanced equipment and is supported by specialists who offer dependable technical support to ensure the optimum safety, efficiency and extended service life of every system.
Read more...
---
New flange monoblock with shut-off valve
March 2021, WIKA Instruments , Valves, Actuators & Pump Control
WIKA's new monoblock with flange design integrates a shut-off valve to separate the process from the instrument side.
Read more...
---
The Stafsjö HX story – greater demand calls for action
February 2021, Valve & Automation , Valves, Actuators & Pump Control
As a knife gate valve supplier, Stafsjö supplies product solutions to realise efficiency and production goals in pulp and paper applications.
Read more...
---
Drives for solar-powered pump systems
February 2021, Bearing Man Group t/a BMG , Valves, Actuators & Pump Control
BMG advises on how to optimise efficiency and extend the service life of solar-powered pumping systems by selecting the correct drives.
Read more...
---
Optimise fermentation in alcoholic beverage manufacturing through proper valve selection
February 2021, ASCO , Valves, Actuators & Pump Control
Emerson can help select the right fluid automation products to meet all unique requirements.
Read more...
---
Smart positioners of the future
January 2021, SMC Corporation South Africa , Valves, Actuators & Pump Control
SMC's new range of Smart Positioners was designed to pair perfectly with a variety of process control valves and actuators.
Read more...
---
Robust control valve proves itself in the construction materials industry
November 2020, Macsteel Fluid Control , Valves, Actuators & Pump Control
Ball sector valves from Schubert & Salzer excel in abrasive slurry applications.
Read more...
---
Check valve with redundant sealing
September 2020, WIKA Instruments , Valves, Actuators & Pump Control
The new model CV check valve from WIKA is designed for a wide range of applications in the process industry. Its sealing system reliably prevents backflow of liquid and gaseous media.
Read more...
---
Sustainability through packaging efficiency
August 2020, Valve & Automation , Valves, Actuators & Pump Control
There is probably no other term that has been used and interpreted in recent years in so many ways as the term 'sustainability'. Originating from forestry, today the principle of sustainability is comprehensively 
...
Read more...
---