printer friendly version
Efficient closing of shutoff valves
October 2015
Valves, Actuators & Pump Control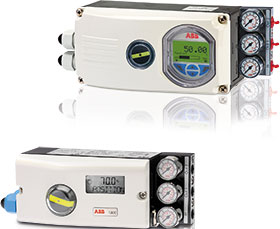 Butterfly valves, ball valves and plug valves are frequently used as shutoff valves since they produce only negligible pressure losses, and thus energy losses, when fully opened. This is an important aspect in times of rising energy costs. These types of valves typically have a flow characteristic where the flow reacts to small positioning steps with over-proportionally large flow variations in the range of small flow cross sections.
This behaviour is reversed in the range of large flow cross sections, which means that even large positioning steps, and thus large variations of the cross section, will cause comparatively marginal flow variations. A typical example for this are valves with equal percentage characteristics where a defined positioning step results in a defined percentage variation of the cross section.
Efficient fast closing of shutoff valves with non-linear characteristic curves
For plants where large mass flows have to be controlled, this behaviour during the closing of the valve is very problematic due to the inertia, and the energy stored in it. In worst case, uncontrolled closing can cause a water hammer, i.e. a pressure peak which may lead to overstraining or even to the destruction of the valve. Pipe implosions can also be caused as a result of the vacuum which may occur upstream of the valve due to the un-retarded continued mass flow.
Really critical are output ranges <15% where almost 50% of the mass flow has to be retarded with less than a fifth of the open cross section. It is state of the art to close pipes, flanges and valves that are subject to water hammer in a controlled way using special mechanical-pneumatic devices or electric actuators, involving the use of additional pipe protection devices.
ABB's new positioned
The ABB Positioner TZIDC Rev. 2.00 already offered a suitable way for the controlled, slow closing of such critical valves by means of a configurable set point ramp which internally converts step changes of the set point to an elongated linear set point variation. Since the set point ramp function also increases the stroking speed in output ranges without critical flow change, and thus pressure change, the secure closing in TZIDC Rev. 2.00 was however traded off for an unnecessarily long closing time.
The new version, TZIDC Rev. 3.00 now allows the combination of set point ramp with an output characteristic. The described combination allows a fast positioning of the valve in output ranges with uncritical pressure increase, combined with positioning in a manner which controls the pressure increase in the 'critical' output ranges.
Customer benefit
Up until now, complex and thus expensive mechanical and pneumatic devices had to be used to ensure a controlled secure closing of shutoff valves with equal percentage characteristic. This function is now simply and efficiently realised via the digital positioner TZIDC. In addition, it integrates several options for the feedback of the current position, independently fed if required.
For more information contact Jacolize Goosen, ABB South Africa, +27 (0)10 202 5000, jacolize.goosen@za.abb.com, www.abb.com/za
Credit(s)
Further reading:
ABB launches new MCB range
July 2021, ABB South Africa , Electrical Power & Protection
The circuit breaker industry sees the local launch of a high-quality product as ABB Electrification introduces its new range of 3 kA SR200T miniature circuit breakers.
Read more...
---
Protect your pump and keep it longer
July 2021, Elemental Analytics , Valves, Actuators & Pump Control
Unexpectedly losing a pump is often an expensive or even a dangerous problem in a chemical plant.
Read more...
---
ABB technology can help make SA steel industry competitive
June 2021, ABB South Africa , IT in Manufacturing
South Africa's steel industry needs to invest in technology like automation and data analytics if it is to improve its productivity to the point where it is globally competitive.
Read more...
---
Locally valves manufactured for tailings pipeline
June 2021 , Valves, Actuators & Pump Control
The AFS manufacturing plant in Benoni is equipped with advanced equipment and is supported by specialists who offer dependable technical support to ensure the optimum safety, efficiency and extended service life of every system.
Read more...
---
New flange monoblock with shut-off valve
March 2021, WIKA Instruments , Valves, Actuators & Pump Control
WIKA's new monoblock with flange design integrates a shut-off valve to separate the process from the instrument side.
Read more...
---
Cable, components and critical space exploration
February 2021, ABB South Africa , News
ABB provides Ty-Rap cable ties for NASA Mars 2020 Perseverance Rover mission.
Read more...
---
ABB sensor onboard SpaceX rocket to detect greenhouse gas emissions
February 2021, ABB South Africa , News
An optical sensor manufactured by ABB was deployed with the successful launch of satellite Hugo from GHGSat, the emerging leader in greenhouse gas sensing services in space.
Read more...
---
ABB urges adoption of high-efficiency motors to combat climate change
April 2021, ABB South Africa , Analytical Instrumentation & Environmental Monitoring, Electrical Power & Protection
Global electricity consumption could be reduced by 10%.
Read more...
---
The Stafsjö HX story – greater demand calls for action
February 2021, Valve & Automation , Valves, Actuators & Pump Control
As a knife gate valve supplier, Stafsjö supplies product solutions to realise efficiency and production goals in pulp and paper applications.
Read more...
---
ABB Food Safe motors for wash-down cycles
February 2021, ABB South Africa , Motion Control & Drives
ABB Food Safe motors address the wash-down challenge as they feature a stainless steel housing to resist corrosion and IP69 ingress protection.
Read more...
---