printer friendly version
Frost & Sullivan recognises ­Setpoint's condition monitoring ­solution
October 2015
Maintenance, Test & Measurement, Calibration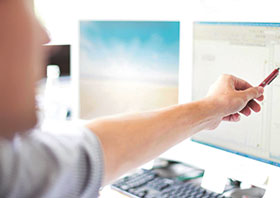 In a market where the online condition monitoring trend is gaining prominence, and diagnostics and predictive maintenance strategies are becoming more important in understanding the causes for machine failure, Frost & Sullivan awarded Setpoint with the 2014 Global Frost & Sullivan Award for Customer Value Leadership. Companies that are able to deliver and communicate the value and cost benefits of such hardware and software condition monitoring solutions are expected to be highly successful in this market.
Universal monitoring module
In 2011, the Setpoint team added condition monitoring software to its portfolio and entered into a partnership with OSIsoft, – maker of the PI System software. Together, they showed that high-bandwidth, sub-millisecond vibration waveform data could be streamed directly into a PI database, something that had been routinely dismissed by the vibration industry as 'impractical' or even 'impossible'. In less than 12 months, the performance capabilities of the PI System continued along its Moore's Law trajectory, doubling in speed and making high-speed, online vibration data collection completely practical.
The Setpoint team's decision to harness the power and installed base of the PI System, rather than developing a standalone condition monitoring infrastructure, has been recognised as insightful and strategic. The PI System is a data infrastructure that captures, manages, analyses, and visualises, real-time data.
Strategically, the Setpoint team was able to reduce time to market by not reinventing a real-time data infrastructure and simply using the PI System instead. It was also able to tap directly into the huge installed base of PI System users globally, eliminating the need for the customer to invest in a separate condition monitoring software system. This results in significant cost savings by utilising an already existing software platform in the PI System, instead of making additional investments into IT and operations infrastructure and maintaining two separate ecosystems.
Growth potential
A primary reason behind Setpoint's strategic partnership with OSIsoft is the elimination of redundant computing, network, and software infrastructure, using the existing PI System to do more for its customers. Another reason is OSIsoft's ability to envision future market dynamics and mega trends that could affect the businesses, economies, and societies of tomorrow. A third reason is that making quick and informed decisions on the condition of an asset requires real-time analysis of large volumes of data.
Performance value
The open infrastructure of the PI System enables cross collaboration and knowledge sharing among its partners through a common platform by using a vast amount of historical and real-time data. Capabilities such as expert system anomaly detection, thermodynamic performance monitoring, statistical data mining, reporting tools, Microsoft Office integration, and many others are available through this network of partners and their shared use of the PI System as the data infrastructure. Also, it is more likely that the required application already exists within OSIsoft's Partner ecosystem.
Setpoint's smartphone-like approach to hardware and its use of the customer's existing PI System data infrastructure demonstrates that it is possible to be innovative in this industry by tapping into unmet and unarticulated needs. The company has recognised the pervasiveness and widespread use of the PI System and offered a solution that replaces a separate condition monitoring silo with the PI System the customer is already using.
In a market characterised by limited technology progress and development, Setpoint's innovative approach to product development has produced several unique solutions, resolving the most critical challenges of its customers.
Credit(s)
Further reading:
Lubrication oil filtering and monitoring with Hydrasales
July 2021, Hydrasales , Maintenance, Test & Measurement, Calibration
The viscosity of oil in a lubricating system and its impact on bearings if not appropriately filtered, can adversely impact on system performance and even have catastrophic consequences.
Read more...
---
Five considerations when creating a wastewater machine monitoring plan
July 2021, TANDM Technologies , Maintenance, Test & Measurement, Calibration
In a water scarce country like South Africa, handling wastewater correctly is not a luxury but an essential service.
Read more...
---
Monitored cathodic systems
July 2021, Omniflex Remote Monitoring Specialists , Maintenance, Test & Measurement, Calibration
Omniflex partners with IEV to bring remotely monitored cathodic protection systems to South East Asia.
Read more...
---
Wide range of bonding adhesives available from BI
July 2021 , Maintenance, Test & Measurement, Calibration
Bearings International carries a wide range of instant and structural bonding adhesives throughout its extensive branch network in South Africa.
Read more...
---
Industry first for pump testing laboratory
June 2021, Instrotech , Maintenance, Test & Measurement, Calibration
When a local fire pump test facility needed to eliminate human error from its test procedures, it contacted Instrotech for advice.
Read more...
---
Advances in pipeline leak detection
June 2021, KROHNE , Maintenance, Test & Measurement, Calibration
The high rate of false alarms in standard pipeline leak detection systems can force system operators to waste labour chasing down problems that do not exist. Fortunately, newer technology provides an alternative.
Read more...
---
The LinkIQ Cable+Network Tester
June 2021 , Maintenance, Test & Measurement, Calibration
With the launch of the LinkIQ Cable+Network Tester, users are now able to verify cable performance and solve network connectivity issues.
Read more...
---
Measuring viscosity made easy
June 2021 , Maintenance, Test & Measurement, Calibration
Condition monitoring specialists, WearCheck, recently launched a quick, cost-effective viscosity test kit known as the WearCheck Rheo-stick.
Read more...
---
Kito hoists for safe and stable operation
June 2021 , Maintenance, Test & Measurement, Calibration
Becker Mining has secured an order for Kito electric and manual chain hoists and accessories, for a processing plant at a mine in the North West Province.
Read more...
---
Accurate power quality analysis
June 2021, Comtest , Maintenance, Test & Measurement, Calibration
Fluke range of three-phase power quality loggers gives users fast, easy access to the data they need to make critical power quality and energy decisions in real-time.
Read more...
---