printer friendly version
Belt rip detection
October 2015
Maintenance, Test & Measurement, Calibration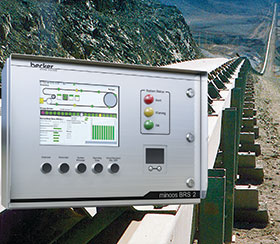 Becker Mining South Africa has launched its latest BRS-2 belt rip detection system, which has been designed to increase the productivity of conveyor belts by detecting belt rips as soon as they occur.
"This belt rip detection system, which is based on the highly efficient design of the original BRS-1 system, is used to detect longitudinal rips on steel cable and fibre conveyor belts," says Andrew Trentelman, senior general manager: electronics, Becker Mining South Africa. "The BRS-2 uses real time loop diagnostics to continuously monitor the status of the belt and, in the event of a rip, stops the belt drives, which reduces any further damage and minimises downtime."
To monitor the status of a belt, inductive loops are embedded in the belt. Once installed, the BRS-2 system carries out an identification run and the processor of the belt rip detection system unit (BRS/CU) stores the necessary data. Parameters include the succession of loops in the belt, belt speed and start up time of conveyors. Stored values are protected against power loss and can be entered or changed when necessary.
When the belt is in operation, these inductive loops pass over the transmitter and receiver, which are positioned opposite each other on either side of the belt. An electro-magnetic signal is transmitted via the inductance loop from the transmitter into the receiver. Because this system has recorded the distance between successive loops and belt velocity, it can automatically calculate the time intervals between each loop.
The belt rip sensor that is embedded in the belt operates like a bridge between transmitter and receiver of the belt rip scanner sensor interface (BRS/SI). If a belt is ripped, the BRS/SI cannot measure any analog values from the destroyed loop.
Apart from the detection of belt rips, this system is designed for monitoring belt speed, the detection of belt slip and also for belt sequence control. Access and monitoring of the system is simple, either locally with its 12" TFT screen, five shortcut buttons, a mouse pad and virtual keypad, or remotely via TCP/IP or other bus standards. Other features include real-time graphics, a forward and reverse capability, local and remote password protection and a record of the last 10 000 system changes.
This device can withstand operation in arduous conditions and has a robust stainless steel housing with an IP65 index protection rating to guard against the ingress of dust and water.
This advanced belt rip detection system is designed for use in diverse industries, including manufacturing, food and beverage conveying, packaging and mining applications.
BRS-2 systems enhance Becker Mining South Africa's extensive range of reliable inter-operable communications, automation and safety systems. These systems include distributed antenna configurations, leaky feeder communications and industrial Wi-Fi systems, as well as tagging and tracking systems, real-time location solutions, traffic information and control systems. They also encompass remote evacuation signalling systems, environmental monitoring equipment and terrestrial radio and data equipment.
For more information contact Andrew Trentelman, Becker Mining South Africa, +27 (0)11 617 6300, info@za.becker-mining.com, www.za.becker-mining.com
Credit(s)
Further reading:
Lubrication oil filtering and monitoring with Hydrasales
July 2021, Hydrasales , Maintenance, Test & Measurement, Calibration
The viscosity of oil in a lubricating system and its impact on bearings if not appropriately filtered, can adversely impact on system performance and even have catastrophic consequences.
Read more...
---
Five considerations when creating a wastewater machine monitoring plan
July 2021, TANDM Technologies , Maintenance, Test & Measurement, Calibration
In a water scarce country like South Africa, handling wastewater correctly is not a luxury but an essential service.
Read more...
---
Monitored cathodic systems
July 2021, Omniflex Remote Monitoring Specialists , Maintenance, Test & Measurement, Calibration
Omniflex partners with IEV to bring remotely monitored cathodic protection systems to South East Asia.
Read more...
---
Wide range of bonding adhesives available from BI
July 2021 , Maintenance, Test & Measurement, Calibration
Bearings International carries a wide range of instant and structural bonding adhesives throughout its extensive branch network in South Africa.
Read more...
---
Industry first for pump testing laboratory
June 2021, Instrotech , Maintenance, Test & Measurement, Calibration
When a local fire pump test facility needed to eliminate human error from its test procedures, it contacted Instrotech for advice.
Read more...
---
Advances in pipeline leak detection
June 2021, KROHNE , Maintenance, Test & Measurement, Calibration
The high rate of false alarms in standard pipeline leak detection systems can force system operators to waste labour chasing down problems that do not exist. Fortunately, newer technology provides an alternative.
Read more...
---
The LinkIQ Cable+Network Tester
June 2021 , Maintenance, Test & Measurement, Calibration
With the launch of the LinkIQ Cable+Network Tester, users are now able to verify cable performance and solve network connectivity issues.
Read more...
---
Measuring viscosity made easy
June 2021 , Maintenance, Test & Measurement, Calibration
Condition monitoring specialists, WearCheck, recently launched a quick, cost-effective viscosity test kit known as the WearCheck Rheo-stick.
Read more...
---
Kito hoists for safe and stable operation
June 2021 , Maintenance, Test & Measurement, Calibration
Becker Mining has secured an order for Kito electric and manual chain hoists and accessories, for a processing plant at a mine in the North West Province.
Read more...
---
Accurate power quality analysis
June 2021, Comtest , Maintenance, Test & Measurement, Calibration
Fluke range of three-phase power quality loggers gives users fast, easy access to the data they need to make critical power quality and energy decisions in real-time.
Read more...
---