printer friendly version
Thermal imaging cameras can avert disaster
September 2015
IS & Ex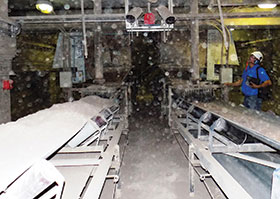 Advanced thermal imaging cameras are being used as a frontline defence against fires on conveyor belts transporting warm materials, or in instances where a risk of fires poses a danger to people or process equipment.
Although infrared thermal imaging cameras are not new in military and law enforcement circles, the adaptation of the cameras to meet industrial applications is quite unique. Ruggedised versions from specialist manufacturer, Land, have been designed to work in harsh industrial applications using non-military type technology, which circumvents the need for expensive export licences.
Introduced locally by process specialists, Protea Automation, the new range of cameras can operate in dirty, dusty and high temperature applications found in mining and industrial sites, and are designed to operate reliably over extended periods of time with little need for maintenance.
Automated solution
According to Protea Automation's product manager, Gavin Westley, the cameras are used to detect hotspots that are above a desired temperature in the material being transported on a conveyor belt. With parameters stored on the camera, as well as on the Arc Land Imaging Processing Software (LIPS), the detection of a hotspot will trigger an alarm and set in motion a sequence of measures to prevent fire and avoid damage to the belt.
In the event of the scada or control system being unavailable for whatever reason, the onboard intelligence of the camera acts as a failsafe system and still triggers an alarm which allows appropriate action to be taken.
"Management of hot materials on conveyors is topical following a recent fire which destroyed an entire incline conveyor system at a lime manufacturing plant in the Northern Cape, which caused millions of Rand in damages to the plant and led to a considerable loss of production," says Westley.
Preventative measures
"Following the catastrophe we were called in to design and install a system to prevent a recurrence of this type of event, and have subsequently installed Land Arc thermal cameras as well as scanners to identify hotspots in the temperature of klinker from the rotary kilns. With the equipment and procedures in place, the plant is now able to eliminate costly belt repairs, reduce downtime and prevent dangerous situations from occurring in the future," explains Westley.
He adds that many materials which are transported on rubber conveyors contain hot inclusions that can damage the belt or cause material fires. As a result processing plants usually make use of traditional temperature measurement methods to detect hot materials, but in many instances these are unable to detect small hotspots on the moving conveyor.
The addition of Land thermal cameras allows users to monitor the entire conveyor width simultaneously for temperatures in the range from -20 to 1000°C, continuously. The live imaging and software automatically detect temperature variations, and can trigger a number of responses via onboard I/O that set off sprinklers, alarms, strobes or stop the belt or feeders, whichever is most appropriate. Images may also be transmitted to an operator for further action, while simultaneously recording alarm conditions for review at a later stage.
About the camera
The Land Arc range of cameras are general purpose radiometric thermal imaging cameras designed for rugged industrial applications, while still being small enough for use in confined areas. The cameras are able to provide detailed high resolution thermal images with high temperature accuracy. They are supplied with viewer software as standard and have direct connection to a range of I/O modules through industrial Ethernet. A choice of enclosures allows them to be used in a wide variety of applications
For more information contact Gavin Westley, Protea Automation, +27 (0)11 719 5700, gavinw@protea.co.za, www.protea.co.za
Credit(s)
Further reading:
Sensor technology for explosion-protected areas
Pepperl+Fuchs IS & Ex
To enable customers to use Pepperl+Fuchs sensors in explosion-protected areas, the company has made sensors suitable for use in Zones 1 or 21, and Zones 2 or 22.
Read more...
---
Vibration pen for hazardous areas
R&C Instrumentation IS & Ex
Vibration and temperature are the most common parameters measured on process plants to predict equipment failure or process problems. As part of the extensive range of vibration measurement products and IS rated instruments from R&C Instrumentation, the TV712 series from Time now comes in IS versions for EX Hazardous areas such as coal mines and chemical plants.
Read more...
---
Training courses for hazardous areas
Extech Safety Systems IS & Ex
Extech Safety Systems has announced a partnership with Trainor to offer online training courses for hazardous areas.
Read more...
---
Process safety transformed by TDL technology
Elemental Analytics IS & Ex
Servomex has introduced a new advantage to safety systems with its unique line lock technology incorporated into the latest tunable diode laser (TDL) analysers.
Read more...
---
Reduce the risk of shock and arc flash
Comtest IS & Ex
Comtest now offers a new Fluke tester to the market, which sources both AC and DC steady-state voltage for Hi-Z and Lo-Z instruments, thus simplifying safety compliance testing.
Read more...
---
Three key principles to build a strong safety culture
Comtest IS & Ex
To build a strong culture of safety, one first needs to create a climate that allows for adaptation and change.
Read more...
---
Preconfigured fail-safe circuit from Festo
Festo South Africa IS & Ex
The preconfigured Festo fail-safe circuit is ready to install in the control cabinet as a safe and low-cost alternative when it comes to fail-safe technology.
Read more...
---
Flameproof cable glands
Pratley IS & Ex
A new flameproof cable gland range from Pratley allows for soft-bedding cables like PVC to be fitted to flameproof equipment without any concern regarding cable damage.
Read more...
---
Gigabit intrinsically safe Ethernet
Extech Safety Systems IS & Ex
Eaton's 9470 product range provides cost-effective intrinsically safe (IS) Gigabit Ethernet equipment that can be installed and maintained easily in hazardous areas.
Read more...
---
Safety over IO-Link
ifm - South Africa IS & Ex
With the new AL200S PROFIsafe IO-Link module from ifm electronic, it is now possible to operate standard safety sensors and actuators via IO-Link.
Read more...
---