printer friendly version
Rheonik Coriolis flowmeter proves itself
September 2015
Mass Measurement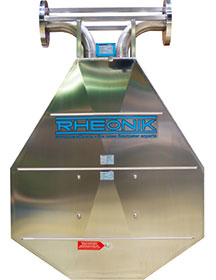 Independent tests carried out in the Middle East have demonstrated that Rheonik Coriolis large size flowmeters from GE's Measurement & Control, can now be calibrated on compact provers without the need for intermediate turbine meters to validate use for custody transfer.
Pipe provers have been used in the oil and gas industry for many years to prove meters to custody transfer and fiscal standards. Over the past 20 years, small volume or compact provers have proved a viable alternative but experience has shown that certain types of meter do not calibrate well because of the small volumes used in compact provers. Coriolis meters have been particularly difficult to prove using this equipment because these meters, which measure mass flow, use a sampling and calculation system that integrates data over a short period and produces an output which lags behind the actual flow at any point in time. If this integration period is not compatible with the time taken for the piston of a small volume prover to complete its pass between detectors, then errors will occur. Historically, one way around this problem has been first to prove a turbine meter over the required flow range, and then use this proven meter as the transfer standard for the Coriolis meter.
The latest tests have been carried out using only a compact prover, an Omni flow computer and a density meter. The configuration involved setting up the flow computer to accept the density measurement at the flowmeter outlet connection. The verified results show an average stable meter factor and a repeatability of less than 0,1% and the flowmeter's proven ranged go up to 12".
As Uwe Hettrich, product manager for GE's Rheonik product line, explains, "The Rheonik Omega tube Coriolis meter is one of the most versatile meters on the market. It offers high accuracy and fast response and is unaffected by viscosity, density or pressure changes. It can be used in an extremely wide range of line sizes, pressures and temperatures and has hazardous area approvals covering most of the world. Its ability to be calibrated by a compact prover, without the need for an intermediate turbine meter, further extends its versatility."
The performance capabilities of the Rheonik range of Coriolis mass flowmeters can be attributed to the patented design features incorporating the dual Omega shaped tubes together with the mass beams and torsion rods. The Omega shape provides a half round active measurement section which keeps its form at any pressure. The mass bars then serve to decouple the active portion of the Omega shape from the process connections resulting in drastically reduced influence from vibration.
The mass bars and torsion rods work together to provide an harmonically swinging system that requires very little energy and at the same time provides stability and large amplitudes resulting in large signal to noise ratios. As a result, even the smallest flow rates can be measured reliably. Straight tube CMFs have a low signal to noise ratio. The Rheonik provides very high accuracy under real-life conditions.
Further reading:
Make bin level sensors redundant
November 2020, DRH Components , Mass Measurement
Today it is critical to know and understand inventory down to the last unit in order to be efficient.
Read more...
---
Belt conveyor weighing applications
June 2020, Loadtech Loadcells , Mass Measurement
Loadtech's LT1320 is a precision digital indicator for belt weighing applications. The unit takes the weight and speed information from a belt conveyor system and accurately calculates the rate and total 
...
Read more...
---
Positive displacement vs Coriolis meters
March 2020, Soliflo , Mass Measurement
Positive displacement (PD) is a practical and accurate method to achieve volumetric measurement of refined hydrocarbons, according to tests undertaken by Brodie International in the USA.
Read more...
---
Ultra-compact weighing electronics
March 2020, Siemens Digital Industries , Mass Measurement
Siwarex WP351 is Siemens' newest solution for intelligent weighing automation. Measuring 20 mm width by 65 mm height, the module is one of the smallest weighing electronics units available. The device's 
...
Read more...
---
A real-time alternative to radiometric density measurement
September 2019, Endress+Hauser South Africa , Mass Measurement
Currently, in mining applications, radiometric measurement has been the only way to measure the density of slurry. Until recently, and due to the harsh and abrasive environment of slurry, no other measuring 
...
Read more...
---
What is the next big thing in Coriolis mass flowmeters?
June 2019, KROHNE , Mass Measurement
With such fast moving technology it can be difficult to forecast the 'next big thing', but it is possible to focus on two recent developments that look set to influence the market in the near future: high capacity flowmeters; and the ability of Coriolis meters to measure liquids with entrained gas.
Read more...
---
Taking the air out of dairy
May 2019, Endress+Hauser South Africa , Mass Measurement
The dairy industry has been plagued for years with the challenge of accurate flow measurement in both processing and offloading applications. Often, the most common cause of inaccuracies in flow measurement 
...
Read more...
---
Small and powerful weighing indicator
Africa Automation Fair 2019 Preview, Richter Scale Co. , Mass Measurement
Specially developed for devices and machines which control limit values via weight measurements, Richter Scale's SMART-2 is a small and simple weighing indicator with a rugged and durable housing. It 
...
Read more...
---
Mass flow measurement of gases
November 2018, Instrotech , Mass Measurement
The Kobold MAS mass flowmeter works according to the calorimetric method and was conceived for gas flow measurement. Since gases can be compressed, the volume changes with pressure and temperature. In 
...
Read more...
---
Mechanical density meter
July 2018, Instrotech , Mass Measurement
Whether dealing with the concentration or the mixing ratio, the density of liquid media is of high importance in processes such as the food or chemical industry. Kobold's DWF mechanical density meter 
...
Read more...
---