printer friendly version
Radical information management overhaul at SA Mint
August 2015
SCADA/HMI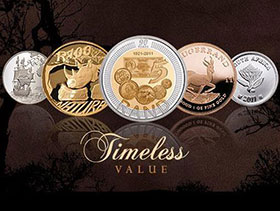 Struggling with a manufacturing information management system that was installed in 1992 and last updated in 2000, SA Mint decided that it was time for a radical upgrade that would involve the latest MES and EMI technologies and approaches commensurate with the company's product excellence and world-wide reputation.
The manufacturing process at SA Mint is characterised by a need for efficiency, security and tight production accounting – not to mention consistent product quality and dependable automation. The company bears a unique responsibility for delivering high quality products consistently, on time and in large volumes. This is an environment that has little or no tolerance for unreliable performance or lack of control and which has to meet the budget constraints of 21st century economics.
The production process is quite complex and has a large number of steps that must be followed precisely to make a single coin but, although this was already being handled, the real problem lay with management information – there wasn't any. This meant that business continuity management couldn't be guaranteed and reporting was a tedious business which was seldom on time to be effective.
Other concerns were that the existing solution couldn't be integrated with others, depended on only one person for support and was based on very old operating and database management systems as well as an ancient technology infrastructure that was no longer supported.
"A decision was made to completely overhaul and enhance our factory systems," says Lungile Binza, CIO at the South African Mint Company. "This was the start of project Pelo, a Sesotho word for heart, as this would be the heart of our operations. The plant needed a system that would provide material traceability, ensure data integrity and provide a solution flexible enough to accommodate changes in our manufacturing environment. The system would also have to assist with inventory optimisation by providing information about the availability and location of inventory items. We were looking forward to far greater visibility into our KPIs while the system facilitated production flow without compromising control or security at the same time as providing real-time production information including OEE."
After a false start, project Pelo was put back on track based on SA Mint's business needs rather than the process requirements. "At the time of this restart, the MES workflow technology was brand new and there were no referral sites in South Africa. We knew that we couldn't tolerate anything going wrong and adopting this technology was initially considered too risky and the proposals were rejected. We were not going to have a guinea-pig experience," continues Binza. "But a top-level presentation by Wonderware showed us their commitment to a future where model-driven MES and workflow management would become the norm because that's what customers wanted. This new paradigm would be introduced, supported and training would be provided just as had happened with the rest of Wonderware's product range. In fact, because of the needed human interaction and decision-making at the MES level, it soon became apparent that the integration of workflows would become the norm rather than the exception. Even so, the board of SA Mint insisted on introducing a system of checks and balances - but more about that later."
Implementation
In 2012, Pelo phase 3 was started and the first step was to address the needs of the plating area where business objectives included:
• Allowing the business to schedule any denomination through the plating area at any time.
• Assisting the production team with the on-time delivery of products through planning methodologies such as theory of constraints (ToC) and lean manufacturing practices.
• Manufacturing good quality products.
• Providing production management the information to reduce manufacturing costs.
• Replacing the current factory and material handling systems.
• Interfacing with other systems such as the ERP and material handling systems.
Next in line were the plating area's operational requirements:
• Promoting the flow of material through in-line processing.
• Improving the traceability of the material by ensuring that, in case of a breakdown of the upstream equipment, there is off-loading capacity of the work in process at both the QA stations and the furnace exit.
• Eliminating storing material on the shop floor.
• Minimising manual movement of the material in and out of the line and across the plating lines (i.e. furnace and polishing).
• Creating customer value and continually reducing waste.
• Embedding 5S principles and improving housekeeping.
SA Mint selected system integrator, Systems Anywhere Coastal to assist with the implementation because of the company's track record of successfully supplying multi-level decision support solutions to many companies in the mining and manufacturing industries. "We needed to track production, downtimes, shifts and running times as well as monitor the status of machine and production weights," says Systems Anywhere Coastal software engineer, Paut Kotze. "All development had to comply with SA Mint's standards and quality criteria and this was especially important in the case of validating manual entries through the 14 InTouch HMI stations. These display production input, output and stoppages in real time. We also developed our own security features for linking to other systems."
Wonderware's System Platform, host to all applications including the model-driven MES and business intelligence solutions, provided easier system maintenance and the management of standards through its centralised Integrated Development Environment. "By providing a single source for software management, the definition, deployment and maintenance of standards as well as the integration of third-party solutions, System Platform justified its reputation as industry's operating system," says Kotze.
System development took about three months, with a further two months of extremely thorough integration testing. Commissioning took two weeks and another two weeks was spent monitoring the interaction between the operators and the system. This was followed by two months of factory acceptance testing and finally a two-month stabilisation period.
Wonderware Skelta BPM is central to the implementation because it manages the workflow between people. It could be considered as process control at the human level. "No longer did we have to write multiple scripts in order to check if something had been done," says Binza. "The application gave us drag-and-drop simplicity so that we could easily develop and maintain workflows while referencing various databases as well as the scada systems. It helped us enforce business rules and standards as well as traceability of users and production." The Enterprise Manufacturing Intelligence (EMI) aspect of the project is not only helping SA Mint collate valuable decision and management support information but also provides access to the areas of mobile reporting, analysis and control as well as cloud computing and the ability to make sense out of big data. The next challenge for SA Mint is the design and implementation of phase 4 which will include the final products area.
But had it all been worthwhile? Had the project provided SA Mint with real business benefits? On acceptance of this project, the board and steering committee of SA Mint insisted on verifiable checks and balances and appointed an independent auditing company to verify any business benefits the mint had realised through this exercise. The findings showed the following benefits:
• Enhanced production, performance reporting and the realisation of business goals.
• Easy enhancements and the flexibility to cope with changes in the manufacturing environment.
• Accurate reporting of up and down times (data integrity).
• OEE reporting to help optimise plant availability and performance.
• Inventory optimisation though the availability and location of inventory items.
• Real-time production information measured per line and per machine.
• Limited manual reporting.
• Ease of integration with other systems, especially with the ERP system.
The proven effectiveness of modern process control principles on the shop floor has been applied to driving collaboration across people, processes and systems by streamlining workflow, enforcing business rules and monitoring the responses of responsible parties. Embedding workflow software within the production environment enables SA Mint to implement standard operating procedures and corrective actions by structuring repeatable, managed responses to process exceptions across the enterprise. This can be especially effective for processes and workflows that cross organisational boundaries such as operations, maintenance, laboratories and other business domains.
Credit(s)
Further reading:
IS³ accelerates digital transformation through its AVEVA Select partnership
July 2021, IS³ - Industry Software, Solutions & Support , News
IS³ has announced that it has become the first AVEVA Select partner in the EMEA region, making it the only authorised distributor for AVEVA products in southern Africa.
Read more...
---
IS³ accelerates digital transformation through its AVEVA Select partnership
July 2021, IS³ - Industry Software, Solutions & Support , News
IS³ has announced that it has become the first AVEVA Select partner in the EMEA region, making it the only authorised distributor for AVEVA products in southern Africa.
Read more...
---
Robust HMI devices with all-round IP67 protection
January 2021, Turck Banner , SCADA/HMI
Turck Banner's new TXF700 series offers an ultra-robust HMI series with complete all-round protection to IP67 for use at temperatures between -20°C and 55°C.
Read more...
---
Turck Banner expands HMI range
January 2021, Turck Banner , SCADA/HMI
Turck Banner has expanded its TX700 HMI/PLC device series with new variants for food and beverage applications, as well as high-brightness displays for sunlight readability.
Read more...
---
Asset Performance Management 4.0 and beyond with risk-based maintenance
Technews Industry Guide: Maintenance, Reliability & Asset Optimisation 2020, IS³ - Industry Software, Solutions & Support , Maintenance, Test & Measurement, Calibration
Implementing Asset Performance Management (APM) 4.0 enables the transition to full risk-based maintenance for improved asset performance, increased asset reliability, reduced risk, and ultimately, maximum return on asset investments.
Read more...
---
IS3 partners with Izinga Integrated Solutions
September 2019, IS³ - Industry Software, Solutions & Support , News
On 24 July, IS³ – Industry Software Solutions and Support welcomed Izinga Integrated Solutions as a strategic solutions provider for AVEVA's asset performance management (APM) Solutions. Izinga is a 
...
Read more...
---
Will the IIoT kill scada, or lift it to new heights?
Technews Industry Guide: Industrial Internet of Things & Industry 4.0, Adroit Technologies , SCADA/HMI
Dave Wibberley, managing director, Adroit Technologies, shares his views on where scada is headed in the era of the Industrial Internet of Things.
Read more...
---
A technology evolution unfolds at X-Change 2019
May 2019, IS³ - Industry Software, Solutions & Support , News
IS
3
and AVEVA reimagine asset optimisation and new ways of work in tomorrow's digitally enhanced manufacturing plants.
Read more...
---
Collaborative robots
Africa Automation Fair 2019 Preview , SCADA/HMI
Cobots is showcasing its range of collaborative robots. These robots make it simple and affordable for humans and machines to work together without a safety cage. Cobots can easily be implemented in small 
...
Read more...
---
Management overview of assets
Africa Automation Fair 2019 Preview, IS³ - Industry Software, Solutions & Support , IT in Manufacturing
IS³ is showcasing the Integrated Command and Control Centre, which can be used as a management overview of assets. This features AVEVA Software Solutions, including Predictive Analytics, AVEVA Net, Control 
...
Read more...
---