printer friendly version
Yokogawa's Enterprise Pipeline Management Solution
August 2015
IT in Manufacturing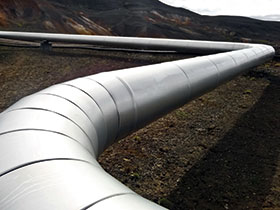 Yokogawa has announced the release of the Enterprise Pipeline Management Solution (EPMS), a modular software suite that is the product of over 20 years of practical experience in implementing pipeline management solutions globally.
Developed for deployment at the heart of the pipeline operations management environment, the EPMS supplements the basic pipeline management system with specific gas and liquid applications that enable a pipeline operator to manage delivery contracts and associated logistics in a time and energy efficient manner. With a scada platform covering monitoring, alarming, trending and reporting, the EPMS handles functions such as metering, batch scheduling and tracking, leak detection and energy management, all within the same unified user environment.
Many pipeline systems in use today have been tailored to suit a specific set of circumstances and lack both a standard system foundation for supporting pluggable application modules and a core design that ensures interoperability with enterprise IT environments and policies. The maintenance and upgrade of tailor-made applications, and their often complex system architectures to protect them from breaches and security compromises, poses increasing challenges for pipeline operators.
Key benefits
Unified user environment based on a modular design
Based on a well-designed modular platform that is both IT friendly and secure, the EPMS is a sustainable solution that can deliver pipeline applications in combination with common supervisory and monitoring functions. As no two pipeline applications are identical and operational philosophies can differ from one pipeline operator to the next, the EPMS's templates and functions can be easily modified without having to call in pipeline application experts.
Contextual online integrity management
The EPMS features improved alarm and human machine interface (HMI) management functions, and both it and its application platform were developed based on standards put forward by the American Petroleum Institute (API) and the International Society of Automation (ISA), and comply with the strict regulations of the US Department of Transportation's Pipeline and Hazardous Materials Safety Administration (PHMSA). The EPMS employs leak detection, compensated volume balancing, and hydraulic profiling methodologies to monitor pipeline integrity under every type of operating condition. The EPMS is thus able to register possible integrity violations together with contextual information about the operational state of the pipeline so that personnel can quickly get to the bottom of any problem.
Reduced energy consumption
The EPMS continuously makes adjustments to the setpoint so that both compressors and pumps can be operated as close as possible to the optimal efficiency point. To manage exceptions during startup, the EPMS allows the assignment of business rules for the management of load sharing, compressor/pump restrictions, and alarm notifications at the compressor/pump station level. To identify areas for improvement, the EPMS can also record all key power statistics.
Less product waste at batch delivery points
To minimise product waste, the EPMS measures and calculates the position of batches as well as anomalies such as trans-mix on a near real-time basis, and reports on the inventory balances.
Enhanced gas and liquid metering
With its transparent management of parameter exchange and the measurement of gas, liquids, and gas composition, the EPMS easily adapts to the desired measurement methodology and the level of intelligence of intermediate devices like flow computers, remote terminal units (RTU), and instruments. It processes the available inputs into normalised flow, volume, and energy values in accordance with the applicable American Gas Association (AGA) and API standards.
For more information contact Christie Cronje, Yokogawa South Africa, +27 (0)11 831 6300, christie.cronje@za.yokogawa.com, www.yokogawa.com/za
Credit(s)
Further reading:
Siemens' software for digital transformation of automotive design
September 2021, Siemens Digital Industries , IT in Manufacturing
Model-based development process and systems are used in Japan and globally to adapt to the biggest automotive transformation in 100 years.
Read more...
---
Is track and trace through the factory a waste of time?
September 2021, Iritron , IT in Manufacturing
Modern track and trace solutions are purpose-built to introduce as little disruption to the existing production process as possible, while also being flexible enough to cater for plants that range from fully manual to fully automated.
Read more...
---
Modularity for scalability
September 2021, RJ Connect , IT in Manufacturing
Businesses are looking for versatile solutions that are easy to maintain to ensure smooth operations while keeping costs down.
Read more...
---
Saryx launches TMP
September 2021 , IT in Manufacturing
The digital transformation that has swept the world in the past few years has fundamentally altered most people's approach to technology, with an increasing number seeking the ability to manage their 
...
Read more...
---
Secure boundaries enhance industrial cybersecurity
September 2021, RJ Connect , IT in Manufacturing
When enhancing cybersecurity, it is important to understand how industrial systems are exchanging data and how they connect to IT-level systems.
Read more...
---
Siemens drives digital transformation at virtual Smart Mining forum
September 2021, Siemens Digital Industries , IT in Manufacturing
With its motto: 'On the road to the digital future', Siemens hosted its virtual Smart Mining forum from 3-5 August.
Read more...
---
Deep-learning AI made accessible
September 2021, SICK Automation Southern Africa , IT in Manufacturing
SICK Automation has launched a set of deep-learning software and services called dStudio, making artificial intelligence (AI) more accessible to the southern African market. This software works with machine 
...
Read more...
---
How safe are our factories? Part 1: Cybersecurity for operational technology.
August 2021, Wolfpack Information Risk , IT in Manufacturing
If companies are regularly being subjected to cyber hacks overseas, isn't it only a matter of time before someone with enough motivation, skill and resources targets us?
Read more...
---
HSEC Online simplifies health and safety compliance for companies
Technews Industry Guide: Sustainable Manufacturing 2021 , IT in Manufacturing
This automated, cloud-based solution provides a transparent, collaborative workflow platform which eliminates most of the manual complexities of health and safety document management compliance.
Read more...
---
Creating factories of the future
Technews Industry Guide: Sustainable Manufacturing 2021, SEW-Eurodrive , IT in Manufacturing
Raymond Obermeyer, managing director of SEW-Eurodrive South Africa, explains that Industry 4.0 includes all the opportunities for digitally networked production.
Read more...
---